Thailand: new dedicated international cruise/yacht terminals before 2029 in Krabi, Pattaya, Phuket and Samui?
Despite being a popular destination for cruise ships, Thailand still lacks proper cruise facilities. The Thai Marine Department is now looking at accelerating the construction of four facilities at Krabi, Phuket and Samui Island in the South as well as Pattaya. Proposals will be submit to Thailand new cabinet with priority given to Pattaya for the Kingdom's first large-scale international yacht/cruise ship port. Transformation is also on the way for Phuket Deep Sea Port. If all endorsed, the facilities should be completed by 2028 or 2029.
Thailand Marine Department is conscious that cruise facilities are sub-standard in the Kingdom despite the popularity of Thailand as a cruise destination. According to Mr. Wannachai Butthongdee, Director of the Engineering Division of the Marine Department, Thailand is ranked third as the most popular destination in Asia in terms of the number of visits by large luxury yachts. Every year, the country welcomes an average of 500 luxury cruise liners bringing to the shores of the Kingdom some 1,000 passengers on average. Back to 2018, 219 cruise ships stopped over in Phuket, followed by Bangkok Port and Laem Chabang Port in Chonburi with 149 vessels, and then Koh Samui with 89 ships.
However, facilities do not cope with the image of Thailand as a first-class cruise destination. Current ports in Phuket and Pattaya are actually temporary structures built inside port facilities mostly dedicated to freight. The Marine Department is now pushing for the development of a dedicated cruise terminal in Krabi, Phuket, Koh Samui and Pattaya in an effort to tap into the rapidly growing sector, a source in the department said.
Providing first-class facilities for cruises all across Thailand
Cited by Thai media, Director Wannachai Butthongdee admits that temporary anchoring methods and smaller boats to transfer passengers to the short from a large cruise line is not convenient. Although Bangkok Port and Laem Chabang Port have the potential to accommodate luxury cruise ships, they primarily serve as cargo ports, lacking convenience to welcome tourists.

The Marine Department is then looking at constructing new facilities all across the country. The most ambitious plan to date is a mega project in Pattaya, worth US$212 million (THB7.4 billion). The project would be located one km away from the coastline.
Planning foresees the construction of a cruise terminal with a capacity of accommodating up to 1,500 passengers when used as a home port. Capacity would be set between 3,500 and 4,000 passengers per hour when used as port of call. This will give the possibility to accommodate two luxury cruise ships simultaneously. If the project is approved by the Cabinet, the construction would begin in 2026 and finish in 2029.
Another project in the making is the transformation of Phuket Deep Sea Port into a fully dedicated facility for luxury cruise liners. The project has been stalled for a while but former cargo facilities have been reconstructed and transformed into cruise passengers facilities. The port is due to accommodate in its first phase development up to 1,000 travellers. In successive phases, a new terminal would be constructed with adjacent facilities such as hotels, restaurants and shops added to transform Phuket Deep Sea Port into a destination on its own.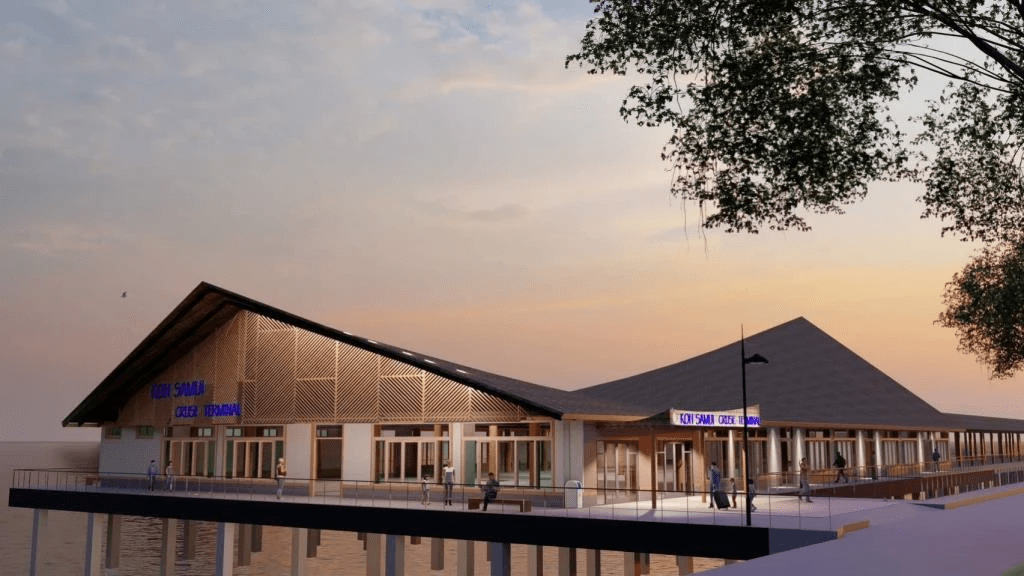 Planning a large cruise terminal on Samui Island
The Marine Department is also planning to develop cruise ports in Koh Samui in Surat Thani province as well as in Krabi province. Plans for Koh Samui were revealed to the public in 2022.
Thailand's marine officials are considering building a cruise ship terminal in Samui at Laem Hin Khom on the southwest tip of the island as it is considered a suitable location for a deep-water terminal. The facility is expected to be large enough to dock two cruise ships, 80 yachts, and six ferries at the same time.