Thailand to integrate fashion to boost its tourism strategy
Thailand continues to look at positioning itself as a value-added destination especially in the fields of creativity. Among them are design and fashion, two soft powers which are attracting a rising number of travellers -especially Millenials and Generation-Z.
Thailand wants to move away from its image of cheap destination which someones plagued its image. The Kingdom is indeed far more sophisticated than "cliché-style" images of young backpackers eating street food on Khao San Road in Bangkok or laying on a beach in Pattaya or Phuket.
Boosting the value of Thailand's creative economy using five soft powers is the way Thailand wants to promote itself to the outside world. And creates what the Tourism Authority of Thailand (TAT) describes as a "meaningful travel experience".
Some of these soft powers are evident such as food. Over the last two decades, Thailand rose its profile as a premium gastronomy destination collecting awards and praise for its outstanding culinary and its very diversified cuisine and bars scene. Another soft power element has been the traditional Muay Thai activity -traditional Thai fighting. Fighting shows, special dedicated courses towards women or seniors has turned Muay Thai into an increasingly sophisticated sport activity. Festivals are another field where Thailand has been able to stress its uniqueness. The Ministry of Culture recently earmarked 16 distinctive Thai festivals to be promoted internationally.
It is now the turn to fashion and design to be more integrated into Thailand tourism experience. In a recent event "From Tour to Runway" at the General Post Office in Bangkok, the Tourism Authority of Thailand deputy director for activities, Mr Weerapong Pongsawat, highlighted the fact that fashion was a part of the government's strategy to boost the value of Thailand's creative economy. The tourism agency has been looking at working closely with designers to promote tourism through fashion.
The textile industry has played a very important role in promoting Thailand tourism. From the 1960s, a fashion house such as Jim Thompson has been a driver for the silk industry, often associated with tourism. Queen Mother of Thailand Queen Sirikit has been for years the most graceful icon of the Thai Silk industry blending often a Western inspired design (created by French fashion designer Pierre Balmain) with the most exquisite pieces of Thai silk. Queen Sirikit Fashion Museum inside the Royal Palace is a fine example of that.
TAT event was organised to hand out prizes to designers and promote local culture to foreign travellers.
Mixing Thai brands and Thai craft together
Weerapong Pongsawat added that the TAT is ready to stimulate tourism this year, focusing on creating valuable and meaningful travel experiences, promoting responsible tourism and preserving the local culture and help showing community products.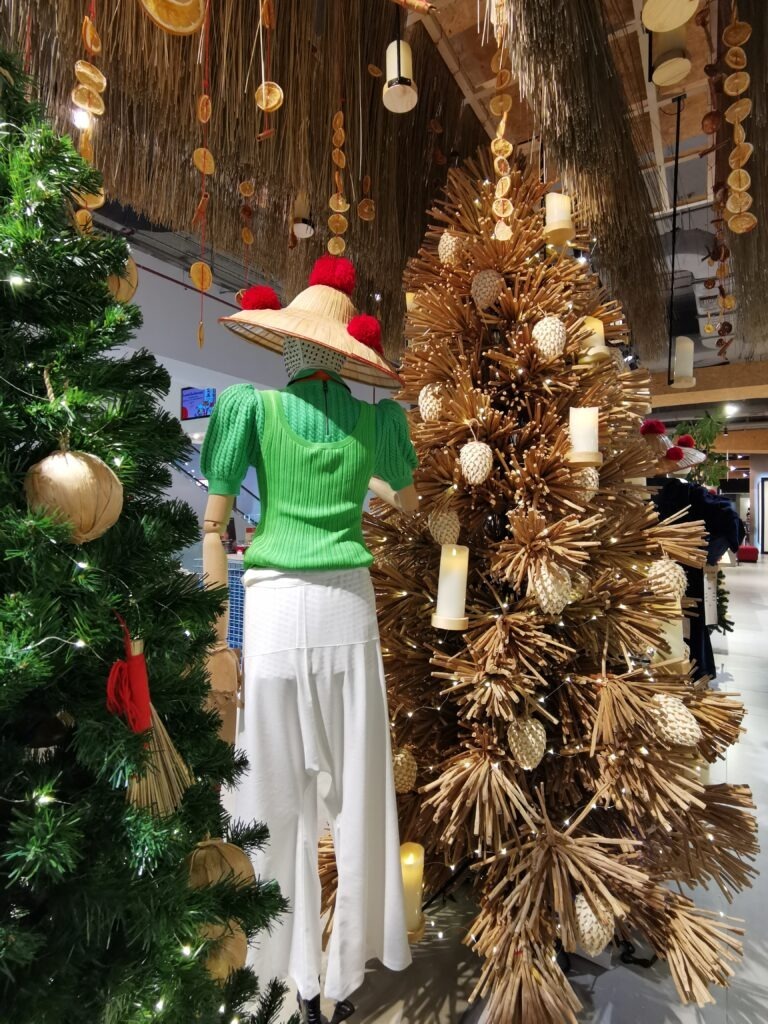 Big departments stores such as Central and the ones under the Siam Piwat company (Siam Paragon, Icon Siam, Siam Discovery among many) are turning into ambassadors of Thai brands and designs. They often show creations of young designers and well-established Thai brands. Malls such as Siam Center or Terminal 21 have even turned into the showcase place for local fashion. While Siam Center has shops of famous Thai brands such as Asava, Backing Soda, Disaya, Kloset, Taktai or Rotsanyom, Terminal 21 carry outlets of small and very creative designers. It is also the case for the famous Chatuchak Market where many young designers make their first steps towards an international crowd.
Last year, Christmas decorations from Central Pattana owned department stores (Central Chitlom or Central World) used traditional materials and textiles from Northeast and Northern Thailand as decorations or fashion objects.
The project of pushing for fashion and design aims to create sustainable tourism trends. And encourage generations of tourists -particularly Millennials and Generation Z- to look at Thailand in a new shade…