EGYPT AWARDS DEUTSCHE BAHN CONTRACT TO RUN AFRICA'S BIGGEST HIGH SPEED RAIL NETWORK STARTING IN 2025
The recent UN Climate Change Conference (COP27), hosted in Sharm el-Sheikh, was an opportunity for the Egyptian government to award German Rail operator, Deutsche Bahn, for operating and maintaining Egypt's future high speed train network, the largest of its kind in Africa.
The Egyptian government has finalised a contract between Deutsche Bahn, Germany's national train company and its Egyptian partner Elsewedy Electric (EE) to operate the country's first high-speed rail network. The three parties signed the agreement at the beginning of the 10-day long UN Climate Change Conference in Sharm el-Sheikh. The contract, which has an initial term of 15 years, is worth over a billion euros.
DB International Operations (DB IO), a subsidiary of Deutsche Bahn, will take on the largest rail project in Egypt's history. With a length of 2,000 kilometres, Egypt will gain the world 6th-largest high-speed network and the largest one on the African continent.
A consortium led by Siemens Mobility is currently building the infrastructure and will supply the passenger trains and freight locomotives. Siemens Mobility will provide 41 Velaro eight car high-speed trains, 94 Desiro high-capacity four car regional train sets and 41 Vectron freight locomotives. Passengers' trains will be able to operate at up to 230 km/h.
"We are helping to bring modern mobility to millions of people in Egypt and are ensuring climate-friendly freight transport by rail," said Niko Warbanoff, CEO of the DB E.C.O. Group. "The new rail system will drive Egypt's economic development and help to protect the climate, which will benefit all of us."
First part of the new high speed rail to open in 2025
The first line of the transport network will connect the metropolitan regions of Alexandria, Cairo and the New Administrative Capital (dubbed the "Suez Canal on rails") as early as 2025. Two additional lines and 60 stations will eventually connect Abu Simbel, Luxor and the Red Sea port of Hurghada to Cairo and the rail network. Once the new network is completed, 90% of Egypt's population will have access to rail.
The high speed network will help to alleviate increasing congestion on Egypt's roads. Especially as experts estimate that the country's population is expected to grow from 105 million today to 160 million by 2050.
The joint venture between DB IO and EE will take over operation of the infrastructure and rolling stock for high-speed, regional and freight services, as well as maintenance of the stations and depots.
"We are delighted that by operating the new system we will be making a significant contribution to the modal shift to rail and will be actively protecting the climate and supporting Egypt's economic development," Warbanoff explained during the COP27. "In addition to its political relevance, especially for active climate protection and the promotion of economic development, the project offers potential for Strong Rail in Germany in terms of technology cooperation and securing skilled workers."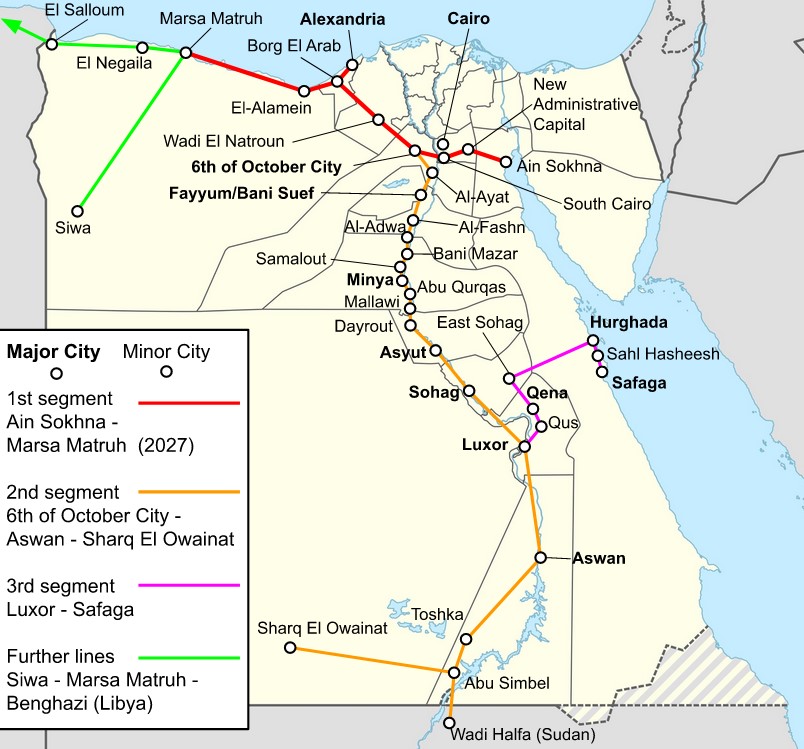 Travel time cut by 50%
The new high-performance rail system will be a central pillar of the sustainable expansion of Egypt's public transport infrastructure. In addition to cutting travel time in half for 30 million people as a result of Line 1 alone, the project will also improve traffic safety and curb air pollution.
Germany's rail system will benefit from the mega project as well. The technology and knowledge gained and the insight from the technology cooperation with Siemens Mobility will be put to use in domestic projects. The profits generated will be reinvested in the further modernisation of Germany's public transport.
DB IO specialises in operating and maintaining rail transport systems and is responsible for DB's international operator projects outside Europe. Following major contracts in Canada and India, the project in Egypt is the third major international transport project awarded to DB IO in 2022.