LINZ TRIALS AUTONOMOUS AERIAL VEHICLES
The dream of "personal drone" transport is coming a step closer, as the Austrian city of Linz is set to trial autonomous aerial vehicles in the near future.
Growing urban populations are causing increasingly serious traffic jams in major cities around the world, spawning "Urban Air Mobility", a new solution to transporting passengers or goods with autonomous aerial vehicles within or between cities.
China-based EHang Holdings has announced it is progress of implementing a trial UAM operation in Austria's third largest city. EHang, which claims to be the world's leading autonomous aerial vehicle ("AAV") technology platform company, says this will be a first in Europe, under a UAM pilot city partnership with Linz AG.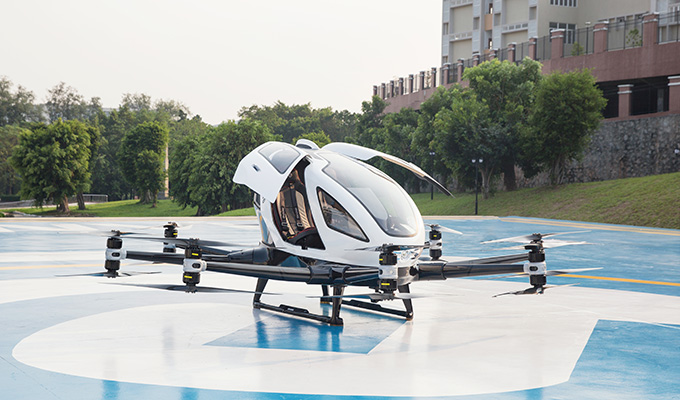 EHang established strategic partnerships in 2019 with FACC and LINZ AG, local partners with rich experience in urban public transportation and infrastructure. The three parties agreed to join hands in building Linz into a UAM pilot city, conducting passenger flights and goods transportation with autonomous air taxis in urban areas.
Suitable eco-friendly electric motors and powerful batteries with short charging times already exist. So far, stable 5G infrastructure is available to ensure real time communication and precision for navigation during flight and landing. Next, a suitable testing route running over uninhabited areas to the vertiports will be determined within the city of Linz. While construction is planned for 2021, trial flights are planned in the near future.
In the course of the test flight, various aspects will be carefully studied including the practicality of implementation in urban areas, acceptance by the populace and the expected positive impact on the environment.
Already in July, EHang began conducting sightseeing trial flights in Yantai, a coastal city in East China. An EHang 216 took four passengers to the air for sightseeing tours over the sea around the beautiful Fisherman's Wharf in Yantai city.
EHang Founder, Chairman and CEO Huazhi Hu said, "We will implement the whole value chain that is necessary for UAM operations, as well as demonstrate passenger experience journeys as well. Bookings systems, boarding processes and aftermarket service questions will play a role. In the course of the end-to-end process we will also be able to learn and improve our solutions on the go. We need to start thinking about implementation today, parallel to the ongoing regulatory processes as both will benefit from each other. Last but not least, we want to involve the people and let them touch, feel and experience UAM as far as possible today."
Agreements have also been concluded between EHang and authorities in Norway and Spain (Seville and Llíria) for the eventual roll-out of this futuristic mode of transport… Watch this space!