Wild camping in Oman: Get close to nature
ITB Newsroom reveals Oman's best spots for wild camping along with recommendations for those seeking a campfire romance away from home
Omanis could be considered a nation of campers, with the country's young population in particular setting the trend. And it's no surprise.
Underneath the open sky, in the midst of the Sultanate's spectacular landscapes, travellers can experience a closeness to nature and the glow of the stars in the night sky, where distant galaxies shine in competition.
But how does wild camping work in Oman, what do travellers need to bear in mind, and where are the most beautiful spots?
We look at all this in our brief guide to wild camping in Oman.
A nation known for its warm welcome towards tourists, very low crime rates, and warm, sunny weather, Oman claims to be one of the safest countries in the world. All this, together with its low population density, create the best conditions for camping experiences in the south-east of the Arab Peninsula.
Outdoor lovers hardly need to worry about rain, cold or even dangerous animals in Oman – instead, a fresh breeze drives away the heat of the day, while impressive landscapes show their best side in the evening light or at sunrise and usually without any visitor traffic.
Nature lovers can camp almost anywhere in the country at the site of their choice and free of charge. Restrictions only apply to nature reserves such as Ras al Jinz, private grounds and the Muscat Governorate, where a camping permit has had to be applied for since the end of last year. In addition, a respectful distance should be kept from villages and other inhabited areas.
Otherwise, there are no limits to the spirit of adventure. Whether in the midst of fjord landscapes or lonely sandy deserts, on a rocky outcrop in the high mountains or between turquoise-blue natural pools in a wadi – on the road in a rented off-road vehicle with a normal tent or roof tent or even in a camper van, the fascinating Sultanate can be explored particularly well "off road".
The most beautiful camping spots include: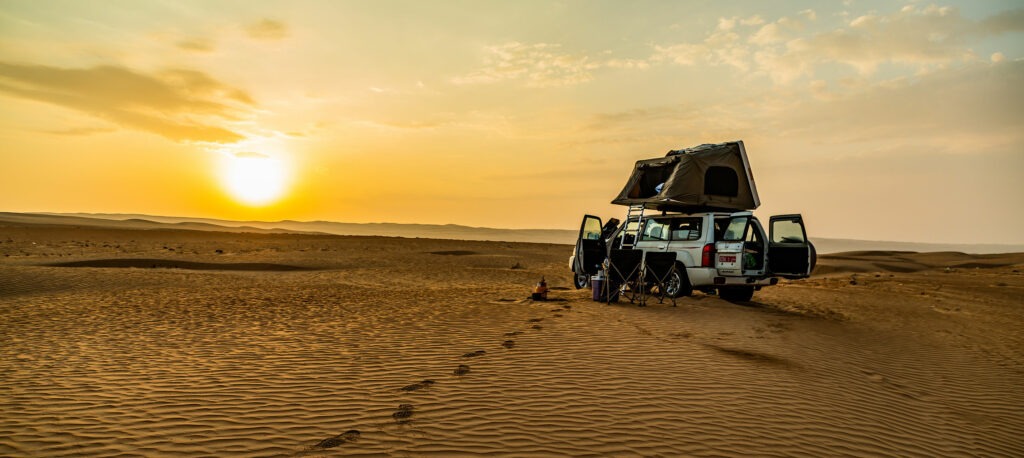 Dream beaches: Those who like to spend the night directly on the beach will find beautiful places to stay at Ras Madrakah Beach near Duqm, which lies between black rocks, on the sandy beach west of Khasab in Musandam or Al Fazayah Beach south of Salalah in Dhofar. Close to the capital lies Al Sifah Beach with golden sand and a dune at the back as shelter from the winds.
Mountain panorama: On the plateau of Oman's highest mountain lies the Jabal Shams, sitting at 3,075 metres. Travellers can spend the night on the edge of a canyon that drops almost 1,000 metres. The camping site of Jabal Akhdar is located on the Saiq plateau at around 2,300 metres where, in addition to 360-degree views, the rose blossom beckons in the month of April. Those who prefer an even more remote location can visit the traditional mountain village of Wakan, surrounded by terraced gardens and especially popular with hikers. Campers should note however that it can get very cold at night in the high mountain areas.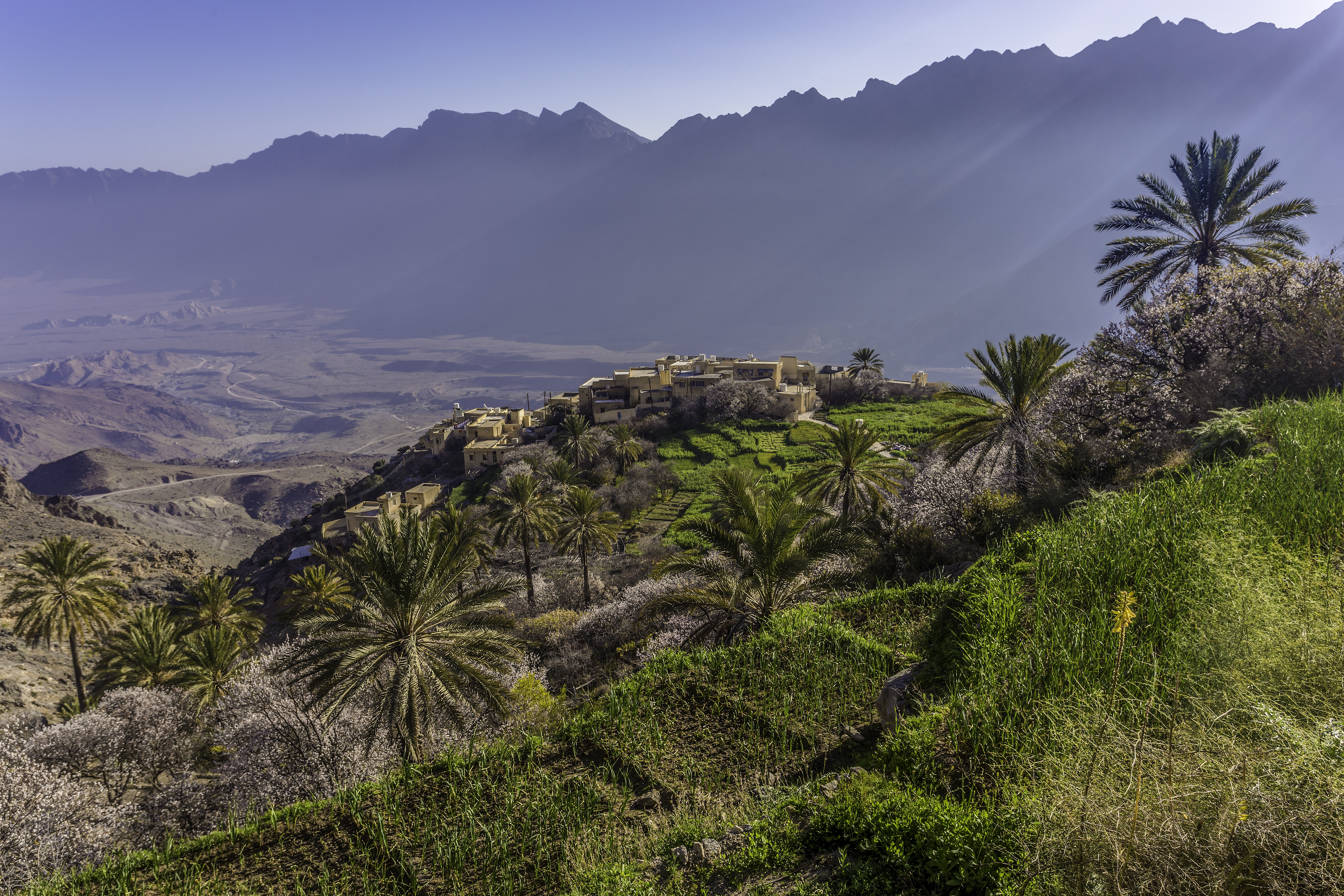 Picture-perfect deserts: The sand deserts of Sharqiya Sands, about three hours by car from the capital Muscat, and Rub al-Khali, with its up to 300-metre-high dunes northwest of Salalah, promise campfire romance in lonely desert areas. An exceptional camping site located in the first-mentioned desert represent the Sugar Dunes near Al Khaluf, where the desert merges directly into the sea.
More obscure spots: A walk through the salt flats off Masirah Island brings bird lovers with portable tents to Barr al Hikman, where a lagoon lines the white sand beach. Here, flamingos, spoonbills and great egrets can be seen. On Masirah Island itself, where it can sometimes get stormy, endless beaches await camping enthusiasts. Thanks to the prevailing wind conditions, it also plays host to the best kite spots in the country.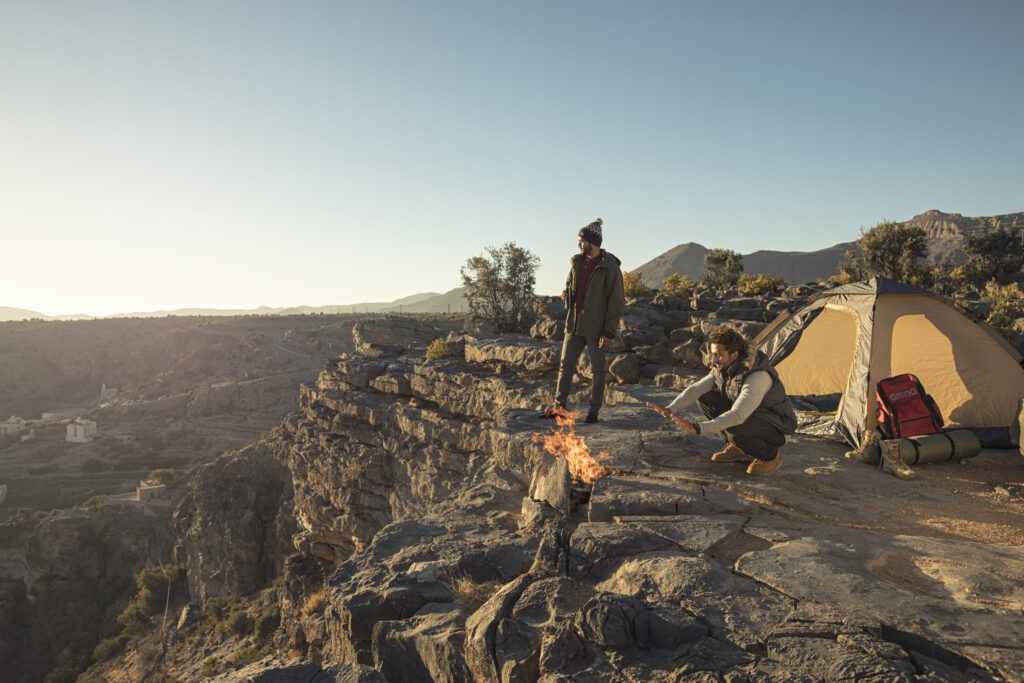 Since there are hardly any permanent campsites with showers and toilets or power stations in the Sultanate, the motto is explicitly wild camping. Many supermarkets for food are located in larger shopping centres, where clean toilets and sometimes even showers are available. These, in turn, can be used for hygiene during a camping trip. It is also a good idea to visit a permanent accommodation now and then. Information on campsites, supermarkets, freshwater stations, petrol stations, etc. is provided by various apps, such as the iOverlander app. A vehicle with four-wheel drive is not a must, but highly recommended so even remote locations can be reached.
When renting a vehicle with a roof tent in Oman, a cool box, cooking utensils, solar shower, water canister, sleeping bags, table and chairs as well as many other amenities are usually included. Interested parties can book such vehicles for example via the experienceoman.om website. Those who prefer to travel with more comfort can rent a fully equipped motorhome including generators, for example with the provider Oman Motor Homes, from 80 OMR (about 195 EUR) per day. Travellers who prefer to stay in permanent accommodation, but still don't want to miss out on a tent experience, will find a variety of luxurious tented camps in Sharqiya Sands which are suitable for a desert adventure.
(Credit Cover Image: Canvas Club Tents)