ITB BERLIN CONVENTION 2023: NEW BOARD OF EXPERTS, PARTNERS NEUSTA/NEUSTA GRAFENSTEIN AND BEFTEA BRING LEADING INTERNATIONAL SPEAKERS LIVE TO BERLIN
ITB Berlin Convention, the world's largest international travel industry event of its kind, is repositioning itself for 2023 with a new team of curators, new experts and partners and a digital event that will make the forum accessible for a wider audience.
ITB Berlin Convention 2023 is taking shape. The focus of the event – which takes place from March 7 to 9, 2023, will be on proven quality and numerous innovations.
Next year's convention will also focus on solutions surrounding digitalisation, sustainability and resilience, and for attendees from around the world will feature the latest best practices, as well as keynote speeches, panel discussions, interviews with experts and awards. It will cover the entire range of topics under the headings Travel Technology, Destinations, Marketing & Distribution, Future Travel, MICE, Business Travel, Transportation, Sustainability, Social Responsibility, Hospitality, Future Work and many others besides.
New event dates
In 2023, unlike in previous years and parallel with the ITB Berlin trade show, the industry's largest think-tank will for the first time begin a day early and run from Tuesday 7 to Thursday, 9 March. It will take place in Halls 7.1a and 7.1b as well as on the convention stages in Halls 6.1. and 3.1 on the Berlin Exhibition Grounds. As usual, for exhibitors, trade visitors and the media, admission to the World's Largest Travel Trade Show is included in a ticket to ITB Berlin. For more information on ITB Berlin Convention, visit itb.com/convention.
Together with innovative partners, the ITB Berlin Convention remains the place for global trends
For the first time the World's Leading Travel Trade Show is collaborating with two new partners. Together with the event agency Beeftea and the tourism marketing specialists team neusta/ neusta Grafenstein, both from Berlin, ITB Berlin is once again making sure there will be a line-up of leading international speakers, who with their unique knowledge and latest insights will address the most pressing topics to the global travel industry.
Board of Experts: an experienced team of curators
Also making its debut will be the Board of Experts, whose members will be responsible for one or more of the planned theme tracks. Taking place on their respective stages, the tracks will replace the themed days at previous events.
ITB Berlin was able to secure curators as specialists in their relevant fields: Prof. Dr. Heinz-Dieter Quack, Professor for Destination Management at Ostfalia HaW, is responsible for the topics Future Travel, Destination Management and Future Work, supported by Prof. Dr. Harald Pechlaner, Professor for Tourism at the Catholic University Eichstätt-Ingolstadt and Dirk Rogl, founder Travel.Commerce. Prof. Dr. Willy Legrand, professor at the International University of Applied Sciences, will be in charge of CSR/Resilience; Dr. Karoline Wiegerink, professor of City Hospitality, Hotelschool Den Haag, will be responsible for the Hospitality segment, Lea Jordan, co-founder of techtalk.travel, will be in charge of Digitalisation, Travel Technology and Startups; and Dr. Markus Heller, managing partner at Dr. Fried & Partner GmbH, will be responsible for Tour Operators, Travel Sales, Cruises, Carriers and Transformation Processes.
Not least, ITB Berlin with its world-renowned convention also relies on the specialist support of numerous other experts – the so-called "friends" of the convention. Currently, these include Charlotte Lamp-Davies, founder of A Bright Approach; Thomas Bömkes, managing director of Diversity Tourism GmbH, Marc Aeberhardt, founder and proprietor of Luxury Hotel & Spa Management Ltd. and Douglas Quinby, co-founder and CEO of Arival. They will be responsible among other things for Technology, Tours & Activities, Medical Tourism, Luxury Tourism, LGBTQ+, Commerce and Marketing. Many of them are already long-standing partners of the convention. Others will be announced soon.
Fascinating content, including in digital form: ITBxplore
As in previous years, next year's ITB Convention again awaits numerous attendees from around the world. Parallel with the in-person event in the German capital, 2023 will see the launch of the web and app-based digital platform ITBxplore, where users can stream selected content from stage events. Independent of the convention, preparations are under way for a hybrid studio and a whole series of virtual presentations, which users can also stream on ITBxplore.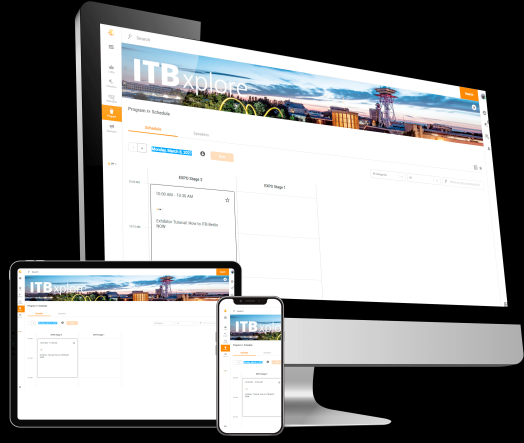 This content is not curated by the Board of Experts. It is instead available to companies and organisations to allow them to present themselves to a wide audience. Further details will be announced soon.
Media representatives and bloggers can obtain accreditation online as of December 2022.
About ITB Berlin and the ITB Berlin Convention
ITB Berlin 2023 will take place from Tuesday, 7 March, to Thursday, 9 March, as a pure B2B event. Since 1966, ITB Berlin has been the World's Leading Travel Trade Show. The internationally renowned ITB Berlin Convention will take place parallel to the show and will be held live on the Berlin Exhibition Grounds – selected sessions will be streamed on ITBxplore.
The ITB Berlin convention is the world's largest travel industry event of its kind. In 2022 it took place as a virtual event on the brand's website itb.com and registered 60,700 attendees from 125 countries who took part in more than 100 sessions featuring 223 speakers. In 2022, under the heading 'TRVLX by ITB', ITB Berlin has planned a series of B2B networking events in European markets – the kick-off event took place in May in Georgia.
Before the pandemic at ITB Berlin 2019, around 10,000 exhibitors from 181 countries displayed their products and services to some 160,000 visitors, including 113,500 trade visitors. Additional information is available atwww.itb.com and from the ITB Newsroom & Social Media.
Join the Official ITB Newsroom on LinkedIn.
Become a fan of ITB Berlin at www.facebook.de/ITBBerlin.
Follow ITB Berlin on www.twitter.com/ITB_Berlin.
Get the latest updates from the ITB Social Media Newsroom at Newsroom.
PRESS RELEASESare online on itb.com – Press – Press Release