EXPLORA JOURNEYS UNVEILS NEW RESTAURANT CONCEPT FOR 2023 LUXURY LINE. WHAT'S ON THE MENU?
Explora Journeys, the luxury travel brand, has announced the launch of its unique culinary and beverage "journey of discovery" when it welcomes guests onboard EXPLORA I for its inaugural journey next May.
Explora Journeys' 922 passenger ship will showcase 11 culinary experiences across six vibrant restaurants plus in-suite dining. Guests can choose between 12 bars and lounges, including four outdoor, and grab the opportunity to have an onboard Chef's Experience for an extra charge.
Franck Garanger, head of culinary at Explora Journeys, comments: "Worldly and well-travelled, our team bring enthusiasm for provenance along with a plethora of stories about the rare ingredients, which are hand-selected just for Explora Journeys."
Sommeliers will source boutique wine labels which will reflect the regional areas where the ship sails throughout the year. For example, Chardonnay will not come from the expected places such as the Napa Valley, but from emerging and niche regions such as Switzerland and other European countries.
An exclusive mixology programme has been curated by Explora including a signature `Ocean State of Mind` cocktail using gin made with seaweed algae. Exclusive wine, whisky and spirit tastings, pairings, cocktail-making masterclasses and 'Meet the Winemaker' events will be held onboard, as well as wine-themed destination experiences ashore.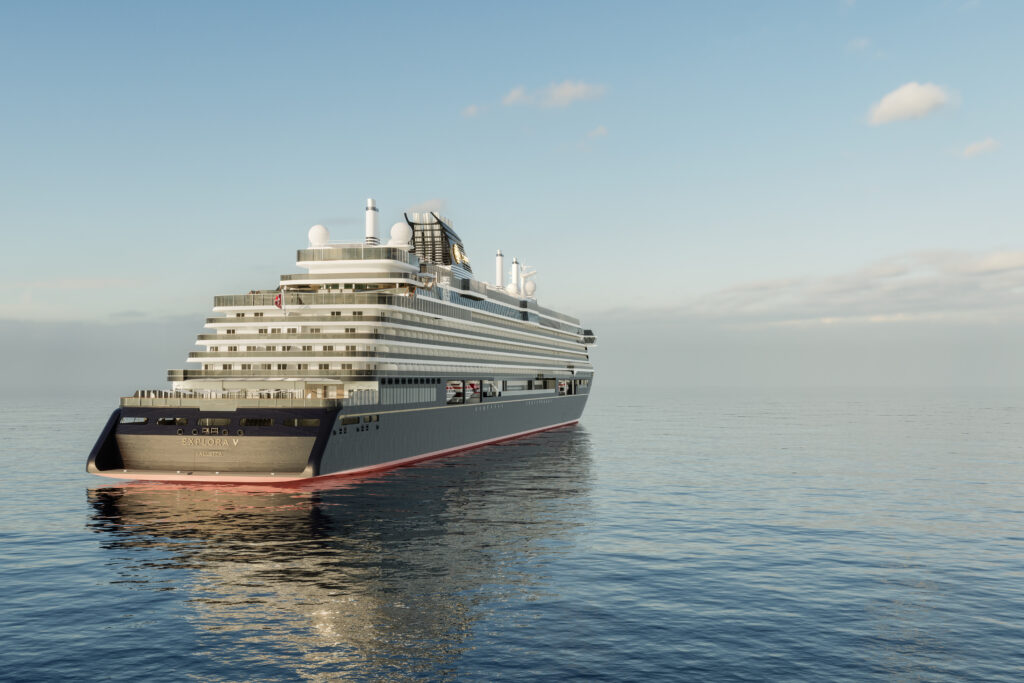 Discover Explora Journeys' six onboard restaurants
Anthology: The restaurant acting as a culinary stage for guest chefs to curate menus showcasing global cuisines. Exquisite dishes celebrate the talent and masterpiece specialities of guest chefs from around the world, reflecting the journey and its destination with unique wine parings in a setting of contemporary refined elegance
Sakura: An immersive and authentic dining experience offering the finest Pan-Asian cuisine, representing Japanese, Thai, Vietnamese, and Malaysian. Expansive ocean views, bold design with distinct Japanese cues, Asian-influenced beverages, and a Sake sommelier, combined with seamless service and modern Asian music create a dynamic dining experience
Marble & Co. Grill: A refined European steakhouse experience inspired by marbling found in only the finest beef, serving exceptional cuts personally sourced and sustainably farmed
Med Yacht Club: Inspired by sailings across crystal clear waters, this restaurant is influenced by sophisticated, beachside Mediterranean cuisine with infused tastes and textures of Italy, Spain, Greece and France
Emporium Marketplace: Effortless all-day dining, bringing the flobal culinary talen and produce to the forefront with a focus on diverse cuisines and quality produce inspired by local destinations. Bathed in natural bright light, 18 sepearte cooking stations evolve throughout teh day with dishes representing every corner of the globe
Fil Rouge: A common thread that unites international flavours with a French influence. A sophisticated and intimate restaurant offering a global tasting tour of French-inspired international cuisine. An elegal desert cart tempts with the freshest creations served tableside, and a superb wine selection showcased the best of both the Old and New World vineyards.
In-suite dining is also available with a 24-hour refined dining cart brought to guests' suite or private terrace.