ALL THAT MOSCOW OFFERS IS AT DISCOVERMOSCOW.COM
Visitors to Moscow can find out about attractions, restaurants, theatres, shopping malls, parks and a great deal more on the award-winning website discovermoscow.com.
Whether they are seeking a Michelin-starred restaurant or an interesting museum, daring architecture or a relaxing park, the site has everything tourists may want – including stunning photos.
Indeed, Moscow City Tourism Committee has been working hard to innovate and provide visitors and travel professionals with relevant and useful online tools… and this commitment is paying off: Available in Russian, English and Chinese, discovermoscow.com has been viewed by more than 400,000 people since it was launched in July 2021, and in December won a top tourism award.
Sections include News, which outlines latest developments in the Russian capital, including current events, useful services and new opportunities for tourists.
Places, meanwhile, details the city's main attractions, ranging from museums to cafes, theatres and major buildings.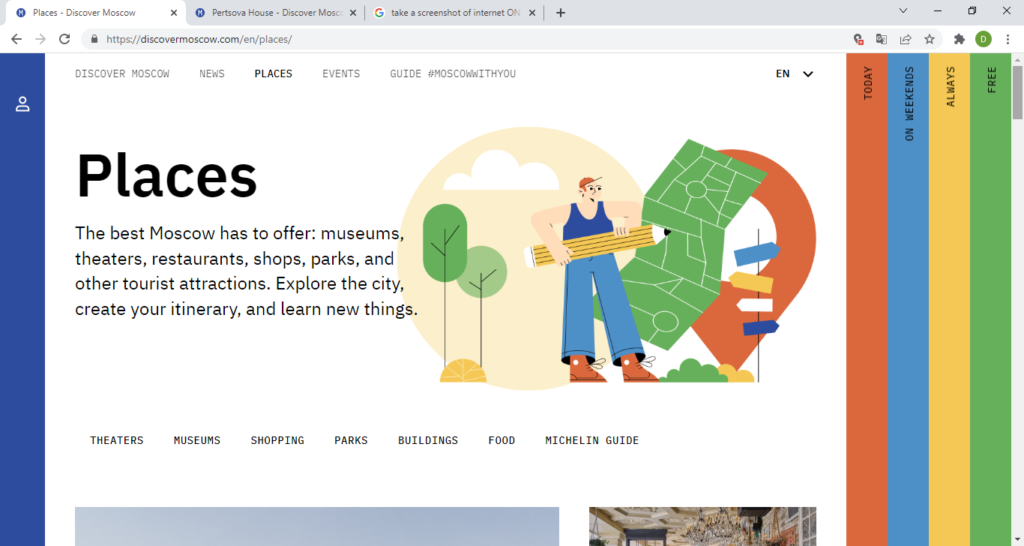 Visitors can discover, for example, the North River Terminal, a modern cultural centre located in a striking Stalinist building.
To give a few other examples, there is Terletsky Park, a beautifully landscaped area with cascading ponds, Mokh, a cutting-edge vegan restaurant, and Pertsova House, a mansion nicknamed the Crocodile House because of its striking balcony supports.
In total the site features nearly 600 cultural centres, leisure facilities, attractions, cafes and restaurants.
Also included is an Events section with festivals, exhibitions, concerts, lectures and sports competitions.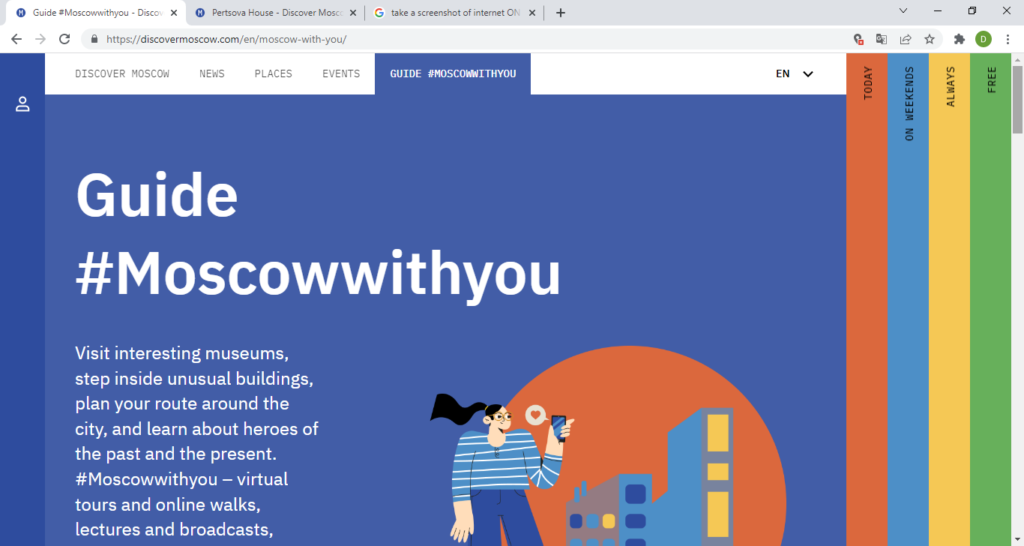 The Guide #Moscowwithyou section offers key practical information, including public transport, WiFi and mobile services, and tours.
Separate tabs allow users to highlight attractions open on that day, on weekends and every day, and things that can be enjoyed for free.
Among the free attractions is Tyufeleva Roshcha Park, an automotive plant converted into the perfect spot for a picnic, and Derozhinskaya House, an elegant mansion by Fyodor Schechtel, a renowned Russian architect.
Also included at discovermoscow.com are informative videos, thematic long-reads, interviews and even virtual walks through museums and streets.
Check out discovermoscow.com and read more articles about Moscow here.