ALL LAOS TO BE CONNECTED BY RAIL IN 2021
For the first time in its history, Laos is to benefit from a rail line connecting the north and south of the country.
The first nationwide rail track is due to be finished by December 2021 and will offer a direct rail connection from Yunnan to Thailand via the land-locked country… a massive investment financed by Chinese loans.
A dream will thus soon come true for Lao PDR as the only land-locked country in Southeast Asia without an access to the sea, will soon have its own full-fledged rail service. Laos currently has a rail connection to Thailand, but it is a rather tiny one. Since 2009, twice a day, a train connects the border city of Nong Khai to Thanaleng, a suburb located 15 km away from Laos capital Vientiane. The ride from the Thai border to Thanaleng is however less than 4 km long, and it sees very few travellers due to inconvenient timing.
But it is all due to change by the end of 2021. The China-Laos railway line will offer, for the first time, a rail connection from the northern part of the country to Thanaleng through Vientiane.
The cost of the project is estimated at over US$6bn. The very high price tag is due to engineering challenges posed by Laos's mountainous terrain. The project was originally to be entirely funded by China. Finally, a loan from the Export Import Bank of China (US$3.6 bn) with the rest of the money from a China-Laos joint-venture company will be repaid in the future by the Laotian government. Financial experts are worried that Laos might be trapped into a high level of debts with its northern neighbour.
Construction started in 2016 for the 422-km Boten-Vientiane rail line cutting through mountains. Almost half of the rail line (197 km) will pass through 75 tunnels and 15% will run over 164 viaducts and bridges. Seven rail stations will serve passengers inside Laos.
In a recent interview, Ju Guojiang, Chairman of China Railway International Co., Ltd. and Chairman of Laos-China Railway Co., Ltd., said that all the engaged construction units applied very strict precaution measures against the covid-19 pandemic, as to achieve uninterrupted construction with zero infection cases. Chinese engineers present on the construction sites were only allowed if free of any covid virus.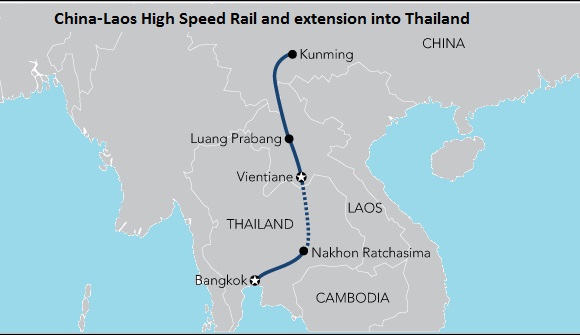 Connecting in the long-term Kunming to Bangkok via Vientiane
Trains are due to run at an operating speed of 160 km per hour. Once reaching the northern border of Laos in Boten, the line will go on to reach Kunming, Yunnan's regional capital. The more than 1,000-km long rail link between Vientiane and Kunming will help slash the travel time between the two cities to half a day. It will also give China its first direct rail connection into ASEAN.
China will also upgrade the tracks from Thanaleng to Nong Khai in Thailand. Once completed in 2023, it will then be possible to have the same train linking Kunming to Bangkok, although trains will go slower inside Thailand. The first part of a high speed rail link will only go halfway from Bangkok to Korat by 2023.
On the Laotian side, most important is the rail connection between Vientiane and Luang Prabang, the former royal capital. Luang Prabang is considered the primary tourism destination for the country. The high speed train will put the historical city at less than two hours away from Vientiane. The rail line will stop also in Vang Vien, a popular adventure tourism destination.
Both destinations are likely to see an influx of travellers, particularly from China. Luang Prabang will face the challenge of preserving its slow pace of life, made of derelict French villas and century-old temples. Plans for a new city a few kilometres away from the historical town might definitely change Luang Prabang's peaceful facade.