SAUDI ARABIA PURSUES MASSIVE TOURISM DEVELOPMENT UNTIL 2030
US$ 110 billion in investment for over 310,000 hotel rooms and an objective to welcome 100 million tourists a year. These are the ambitious projects of Saudi Arabia as analysed in a report by privately-owned property consultancy Knight Frank Middle East. Ambitions that are also confirmed by the CEO of Saudi's Tourism Authority, Fahd Hamidaddin.
Giga-projects, a millennial ambition: this is how the Kingdom of Saudi Arabia looks at Vision 2030. In a report recently released about Saudi Arabia, property consultancy Knight Frank Middle East highlights how Vision 2030 is set to transform Saudi Arabia's real estate landscape, standard of living and lifestyle offering, but perhaps most importantly, showcase the Kingdom's vision for an ultra-modern future to a global audience.
Tourism will be one of the drivers of the Kingdom's transformation. According to Knight Frank, the aggressive targets laid out by the government are aimed at attracting 100 million annual visitors to the country by 2030. That would be approximately six times more travellers than in 2019, the last normal year before the pandemic. And the Kingdom is well on target. Fahd Hamidaddin, CEO of Saudi's Tourism Authority, explained that "While the travel and tourism sector was paralysed globally, Saudi Arabia kept moving. Although the priority was to save lives, we were also committed to protecting livelihoods and saving jobs through our successful domestic tourism campaign, which resulted in a 33% increase in spending, hotel occupancy was at 50%, and the number of Destination Marketing Companies (DMCs) within the Kingdom increased from 17 to 93."
It will be essential to rapidly develop new first-class infrastructure able to cope with the rising visitor numbers. The Kingdom is rapidly developping new airports, rail network, cruise ports and also hotels and residences. Total investment is due to exceed US$1 trillion!
"Investing in tourism is a social and economic engine to Saudi Arabia's transformation"
New cities to stimulate hotel development
The "icing on the cake" is the development of at least eight new cities, mostly on the country's western seaboard, along the Red Sea coast. The Kingdom is planning to spend an amazing total of US$ 575 billion on these "Giga-projects". From that sum, the futuristic city called "NEOM" will benefit of US$500 billion. Describing the project, Knight Frank explains that the new metropolis will not be just another smart city, but one with cutting edge technology to create the future of urban life with sustainability and innovation at heart.
Over 100,000 hotel rooms by the end of the decade. The number will be the biggest hotel supply pipeline ever planned in the region. Currently, the total number of branded hotel keys in the Kingdom is around 61,400 in the first quarter of 2022. This represents an increase of more than 4% compared to the same period of 2021 – equivalent to 2,500 keys.
According to Knight Frank projections, the Accor Group is poised to be Saudi Arabia's largest hotel room operator. By 2030, its portfolio in the country should have doubled to almost 28,000 rooms. The Hilton Group would follow with a portfolio of almost 19,000 rooms under management by 2030. Saudi Arabia giga-projects account for nearly 73% of the hotel supply pipeline across the country, Knight Frank research showed.
Looking at the general picture, the consultancy group forecasts a surge of over 63% in the number of deluxe and first-class properties until 2030.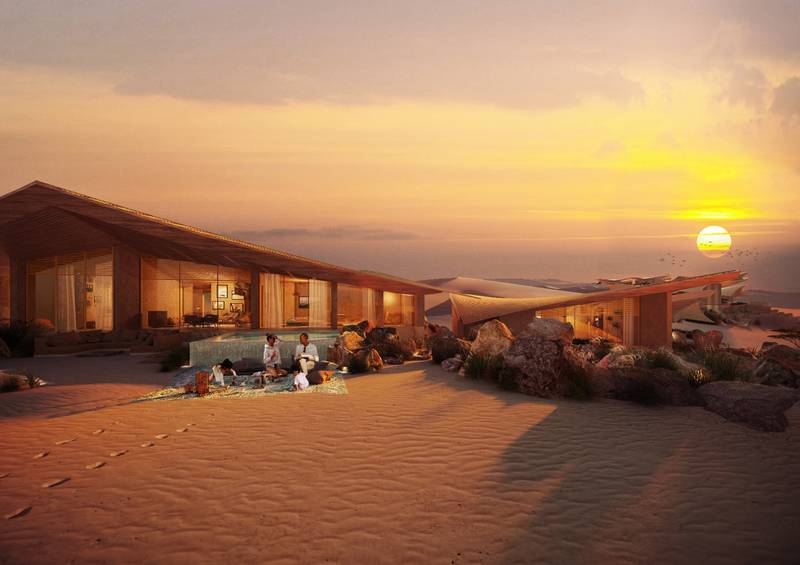 Boosting transport infrastructure
On the infrastructure front, Saudi Arabia will spend approximately US$300 billion for its Vision 2030 transportation plan. This includes the brand-new Riyadh International Airport (US$147 billion) with a new Saudi carrier based there. The future carrier will mostly concentrate on leisure and business travellers, while Saudia will be specialized on carrying pilgrim travellers and be further based in Jeddah.
They are also further developments planned for a new pan-Saudi passengers' rail network. A new cruise terminal has already been inaugurated at Jeddah Islamic Port. The cruise industry itself is set to create up to 50,000 jobs nationally, according to the Public Investment Fund and 1.5 million cruise visitors are expected annually by 2028.
"Investing in tourism is a social and economic engine to Saudi Arabia's transformation. The country is opening its doors to the world and we give full support to realize this potential," said Fahd Hamidaddin.