Boosting education at heart of Malta and Switzerland agreement
The agreement, which was signed by Malta and Switzerland at the end of last year, focuses on strengthening tourism education.
It was signed at the end of last year at the European Maltese Governement Building in Valletta, Malta's capital. The important strategic agreement took place between the Institute for Tourism Studies (ITS) and the Bella Vista Institute of Higher Education Switzerland (BVIS). It will offer Undergraduate and Graduate degree programs in Hospitality and Tourism starting in from this year.
Mr Rui Zhou, Chairman of the Board at BVIS, noted that the company looks forward to establishing future initiatives with ITS and the Maltese government. He then stated: "Together, we will cultivate the appropriate tourist human resources to satisfy current and future market demands, thereby enhancing the sector's competitiveness and sustainability. These future improvements in education are in direct accordance with UNWTO directives, with a focus on delivering tourism and hospitality research and training in several critical areas. The most recent was the ESG (Environment, Sustainability, and Governance) project developed by BVIS,which will also be introduced within future curriculum development."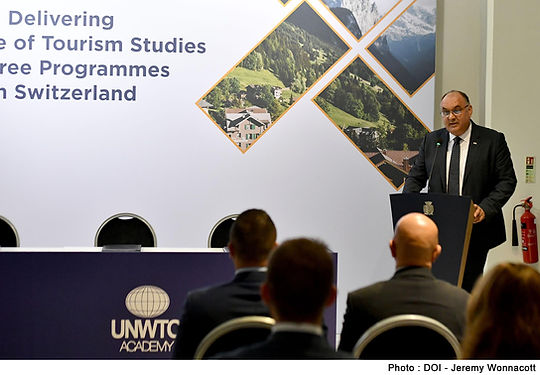 During the event's opening statement, the CEO of ITS, Pierre Fenech, and the President of the Board of BVIS, Dr. Istvan Ujhelyi, reiterated their commitments to bring these educational institutions closer together and to further develop cooperation between Malta and Switzerland in tourism education.
Dr. Clayton Bartolo, the Maltese Minister for Tourism, stated that this agreement aligns with the government's policy. This is to transform ITS into a centre of excellence in which the government will invest further, with a multimillion-euro investment project designated for a campus within the Smart City initiative.
The courses are expected to start being offered in Switzerland this year with the two institutions are in advanced discussions to have more similar educational programs in the coming years.
The Bella Vista Institute of Higher Education Switzerland is an international center associated with the academy of the United Nations World Tourism Organisation (UNWTO) on behalf of Switzerland. "This agreement goes hand in hand with the government's strategy to make ITS a center of excellence in the Mediterranean for hospitality and tourism studies. The internalisation of this institute will not only include the ambition for international students to come to Malta to study locally, but also for education offered in our country to run on an international platform," pointed out Minister Bartolo.
For more travel and tourism industry news, click here.