Amiens: Discover Jules Verne's legacy
Amiens' most famous citizen is French writer Jules Verne, one of the pioneers of science fiction literature.
The city in Northern France offers to visitors an interactive trail around Verne's personality which provides an excellent opportunity to discover this dynamic city: 2022 was the anniversary of Jules Verne's death and Amiens launched the Aronnax Trail to celebrate France most famous science-fiction writer.
The trail's name comes from an important figure in the novel 'Twenty Thousand Leagues Under the Seas'. The writer spent 34 years in Amiens, from 1871 to 1905, the year of his death.
Last year, Amiens recorded more than 60,000 visitors on the trail, of which 20% were non-French speaking. Tourists following the trail can discover the city through a literary, tourist and cultural tour. The trail has 18 stops in various places dedicated to the creative genius and imagination of Jules Verne in the centre of Amiens.
Capitalising on this success, Amiens is consequently enriching the circuit this year. The city launches the Inclusive Journeys, 6 inclusive experiences on the existing Aronnax stages. People suffering from disabilities are now able to access now Jules Verne's heritage in the city.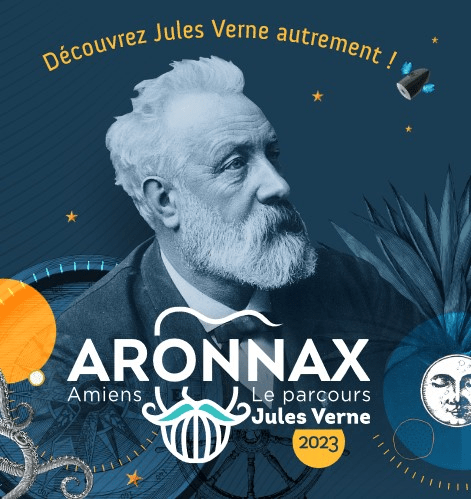 Jules Verne's daily life, intimacy and creativity can be explored in the Maison à la Tour, the nickname given to the 19th-century mansion, where Jules Verne lived for 18 years and wrote most of his "Voyages Extraordinaires". More than 700 objects evoke the personality, sources of inspiration and memories of Jules Verne. And what better way to visit the house than in the framework of the animated "theatrical visits", in the company of Jules Verne himself, his publisher, his wife or one of the characters straight out of his novels: Passepartout, Princess Aouda or Robur the Conqueror
who prefers to be called "Master of the World"…
To further enjoy Jules Verne's heritage, the Museum of Picardy dedicates its main exhibition to 'Twenty Thousand Leagues Under the Seas' while giant videos are projected on a giant water wall every evening in the city centre, immersing Amiens' visitors into Verne's most famous novels.