Bordeaux's hospitality shines in 2023 as new properties open their doors
Over the past decade, Bordeaux has transformed into one of France's most popular destinations for both leisure and business travelers. The opening of several new hotels throughout 2023 confirms the increasing popularity of this Nouvelle-Aquitaine metropolis and its strong appeal to international visitors.
With 6.4 million recorded overnight stays in 2022, Bordeaux is definitely back on track and expects to reach pre-Covid numbers this year
In 2022, hotels achieved an occupancy rate of 63%, only 6 points lower than in 2019. However, during Bordeaux's busiest months of June and September last year, occupancy managed to reach 80% to 90%. Business tourism accounted for 56% of these overnight stays.
These numbers demonstrate the robust recovery of tourism in 2022. According to Bordeaux Tourisme & Congrès, 2023 will further enhance the city's tourism performance while prioritizing sustainability and environmental-friendly practices.
Bordeaux secured the 5th position in the 2022 Global Destination Sustainability Index (GDS-Index), an international benchmark that analyzes the responsible performance of 65 destinations worldwide. It achieved an overall score of 85.1%. The GDS-Index recognized the city's significant progress in its fourth year of participation. Notably, Bordeaux expanded its bicycle lane system to over 330 km in the metropolitan area and connected the Bordeaux tramway to 28 cities within the region. The latest addition is the Bordeaux International Airport, which now has a direct tramway line connecting it to Bordeaux city center in just 35 minutes since April 2023.
The booming tourism in Bordeaux has prompted investors to develop new hotels. Between 2022 and 2023, the city will witness the opening of half a dozen hotels, each showcasing creativity with audacious designs, hybrid concepts, and even public spaces. Some hotels retain a classical style that reflects Bordeaux's timeless elegance.
Hyatt, Sheraton and more
Many properties are opening around Bordeaux's main rail station and the 1970s-style district of Mériadeck. In late last year, Jost, a lifestyle hotel with 80 rooms and 200 beds, opened its doors, featuring a rooftop swimming pool, a cabaret, and a venue for performing arts. Since mid-January, Hyatt's First Name, a 4-star hotel, has opened in the heart of Mériadeck. This hotel, with its 70s brutalist style, offers 150 rooms and has quickly become a popular meeting point, thanks to its monumental bar adorned with noticeable marble and woodwork. Additionally, a Hampton by Hilton with 128 rooms is planned to open in 2024 in the vicinity.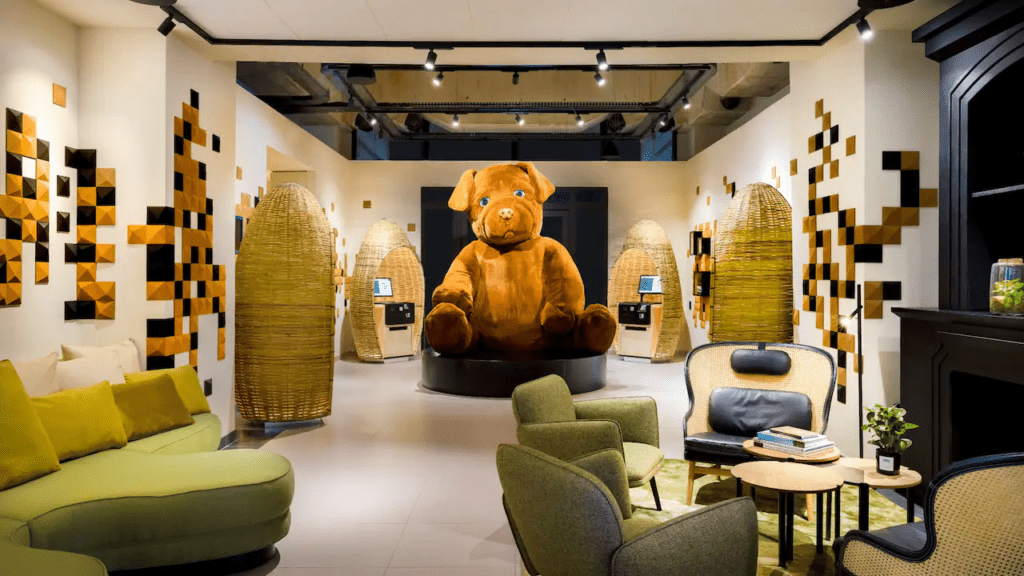 Among the luxury properties, the Burdigala Hotel, a prestigious 5-star establishment, will reopen before the end of the year following an 18-month full renovation. The hotel will offer 83 rooms. Additionally, the Château de Léognan, located a 30-minute ride from Bordeaux's city center, has recently expanded the luxury accommodation options. This hotel estate, with 51 rooms, provides an exceptional wine tourism experience in the heart of the famous Pessac-Léognan vineyards. In the Chartrons district, once the center of wine exports, the 5-star Mondrian les Carmes hotel, designed by Philippe Starck, will open this year on the site of former 19th-century wine cellars, featuring an XXL restaurant, bar, and spa.
There are also new accommodation developments at the airport. Located just a few minutes away from the terminal, Sheraton Bordeaux Airport is a contemporary 4-star property with 177 rooms and a stylish design. It also features a conference center called "45ème Parallèle," which can accommodate up to 300 participants. The property serves as a great alternative to hotels in the city center, especially with the convenience of the newly opened tramway connecting the airport and Mérignac, where the property is situated.