Vjosa in Albania becomes Europe's 1st Wild River National Park
On March 13, 2023, Albania's Vjosa became the first Wild River National Park in Europe, solidifying its status as one of the country's natural wonders. The river is actually one of the last wild ones of Europe. In future, the Vjosa will be conserved as a living, free-flowing river, to the benefit of people and nature as the result of a unique collaboration between the Albanian Government, local and international experts and environmental NGOs.
The Vjosa and its main tributaries run freely for over 400km, from the Pindus Mountain Range in Greece, where it is called Aoös, to the Adriatic coast in Albania. The river and its surrounding areas are ecosystems of substantial biodiversity and are home to over 1,100 species of animals, including 13 animal species and two plant species assessed as globally threatened by the International Union for Conservation of Nature and Natural Resources (IUCN).
The river in Albania is home to more than 1,100 species and authentic communities, including a diverse fish fauna with high percentages of endemic species of the Balkans. With lush vegetation surrounding it, Vjosa is a prime location for adventure enthusiasts to explore and relax. 
For over a decade, environmental experts and tourism activists – including EcoAlbania, Patagonia, Riverwatch, Euronatur, and others from the Save the Blue Heart campaign – along with residents of the communities surrounding Vjosa, media, artists, tour operators have been devoted to working toward the goal of protecting Vjosa for generations to come.
The Vjosa Wild River National Park nomination facilitates now solutions to challenges faced by the river such as water and land pollution, waste management, and deforestation. Additionally, the National Park creates economic opportunities for local communities, through responsible tourism, and help address the problem of depopulation from the area.
"The establishment of Vjosa as a unique National Park in Albania and Europe marks a significant milestone, elevating our country to a new level on the European tourism map and paving the way for sustainable economic and social development," Prime Minister Edi Rama announced during the official Vjosa National Park declaration. "Currently, almost 21% of Albania's territory is designated as a protected area, and we are continuously expanding this area each year towards achieving our target of having 30% of Albania's land as a protected area by 2030."
Gaining IUCN Category II National Park status means the Vjosa will be afforded protection, to the highest international standards, ensuring its ecological integrity, allowing natural processes to occur, and sustaining populations of all native species.
The designation takes place in two phases :
In Phase I, the active channel of the river has been given National Park status, plus some lands and river vegetation within the active channel, or at risk of flooding or erosion – over 400km in total length. The area will be managed as a National Park and is expected to be fully operational by early 2024.
In Phase II, which will be implemented over the coming years, other free-flowing tributaries and areas that are integral to the river's ecosystem, plus some private land, following consultation with stakeholders. 
For Mirela Kumbaro Furxhi, Minister of Tourism and Environment, Albania, "Vjosa is a symbol of human history and also a very important part of the history of our country. Maybe Albania does not have the power to change the world, but it can create successful models of protecting biodiversity and natural assets and we are proud to announce the creation of this first National Park on one of the last wild rivers in Europe. The Albanian government has taken the bold decision to create a National Park of 12,727 hectares, including the 190 kilometers long Vjosa, where over 60,000 people have lived for centuries.
Now a new phase begins – that of drawing up the management plan to give people the opportunity to build their lives in a sustainable way. This is our vision: sustainable and environmentally responsible development, which protects biodiversity and gives people the opportunity to prosper in their homelands."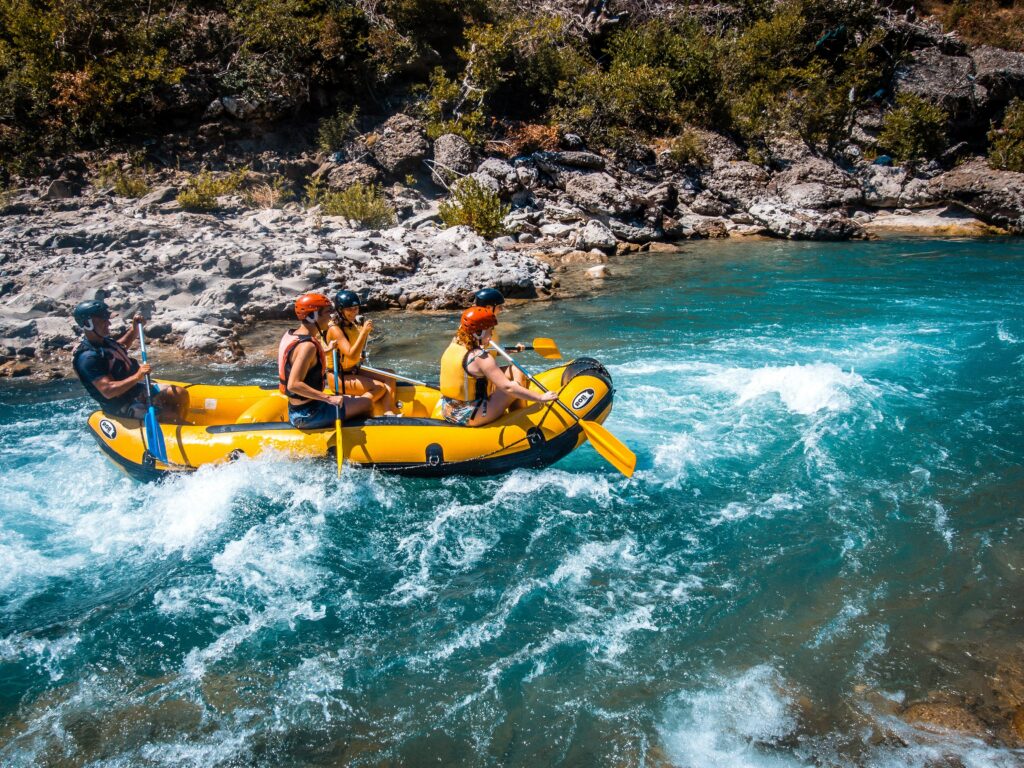 Ecotourism is Vjosa Wild River National Park DNA
Existing studies on Vjosa River biodiversity highlight the river valley's significance as a "hot spot" in Albania, providing habitats for aquatic species. Vjosa is home to 13 globally threatened animal species and two plant species. In Albania endangered flora and fauna list, the river records as at some 50 animal species and 24 botanical species.
The Vjosa River is also seen as a top destination for ecotourism. Its pristine waters, its preserved scenery and its biodiversity make it a perfect nature-based destination. The river offers opportunities for kayaking, climbing, rafting, wilderness camping, paddling, cycling, hiking, and mountain climbing, providing visitors with ways to engage with the river's natural beauty.
The Vjosa River has also a range of cultural monuments and traditional villages that showcase Albania's rich history and local traditions. Visitors can then learn and discover Albania's local culture by exploring ancient ruins, visiting local markets, and enjoying traditional cuisine. Development policies should consequently foster the establishment of eco-friendly hotels and accommodation, sustainable transport solution as well as tourism activities with a minimal impact on nature.
Sustainable tourism in the Vjosa River region can provide many benefits, including income for local communities, increased awareness of the importance of conservation, and funding for conservation efforts. With careful planning and collaboration, the Vjosa River can become a model for sustainable ecotourism in Europe.