HOW WALES' INTERNATIONAL CONVENTION CENTRE REVIVED ITSELF AND THE LOCAL AREA
Newport's International Convention Centre had a staggered start. Now, ICC Wales is open again, with a sharper focus on the greater community.
ICC Wales is a key destination for business travel in Wales and the United Kingdom. The 5,000-capacity event centre opened in 2019, in the city of Newport, South Wales. The centre was partly constructed to bring the community together, with those from surrounding areas invited to visit, work or collaborate with the centre.
The natural progression and evolution of ICC Wales was disrupted by the global Covid-19 pandemic, which affected the centre for 18 months.
"We opened in September 2019, but unfortunately then closed in March 2020, so we didn't really get a huge run establishing what our kind of core business was", Danielle Bounds, sales director of ICC Wales, told Conference News. "But looking at the calendar moving forward, we've got a wide variety of events including national and international associations, we've got corporate conferences, awards, dinners, sporting events, concerts, there's a real varied mix".
A new era for ICC Wales
With many pandemic-related restrictions being lifted, the ICC Wales is able to enjoy the proper start it deserved in 2019. There are new client demands and requirements for the event space, and the event space must provide a longer timeline for non-contact returns. As well as this, there are apparently more processes involved before contracts and terms and conditions are approved.
That said, ICC Wales is marking its reopening by launching a campaign to promote itself to the conference industry. Named ReImagine, ReEngage, ReConnect, the ambitious campaign looks to engage with the conference industry at large, in turn driving visitors to the city of Newport.
"We wanted to create a campaign that gave us the opportunity to breathe new life into conference meetings and events. ICC Wales was only open for six months before Covid-19, effectively, for us, it's a relaunch as we are still having people ask whether we even open", Bounds told Conference News.
Making an event space "future proof"
It has been reported that ICC Wales drew on thought-leadership from within the conference industry in order to create a venue that is "future proof".
As the venue is relatively new, staff were able to survey peers in the industry to help guide its design. "The feedback we got was things like a pillarless base, to create a flexible space, so clients don't have to contract additional space unnecessarily, the room and that concept is much more cost effective for them", Bounds explained.
"Inclusivity" is one theme that the ICC Wales looks to champion in the future. "That goes across so many levels, it's not just diversity and inclusion, it's making people included in an event, whether they want to attend in person, hybrid, only attend certain sessions and how you can make things relevant for them", the sales director said.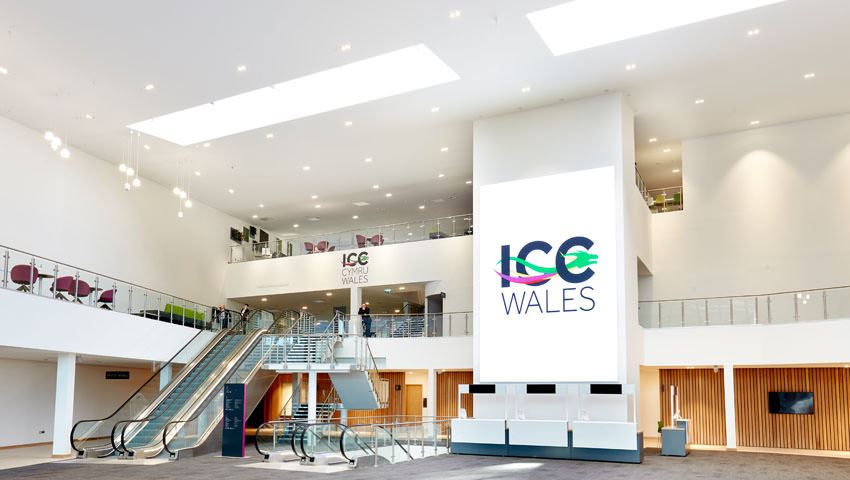 Impact on the local area
ICC Wales almost has a duty to its community, as the event space was invested in by the Welsh Government. The intention is not just for the centre to draw events, but also to guarantee that the surrounding area can also see the benefits of this investment and project.
To achieve this, the team at ICC Wales communicated with local businesses, finding out how to maximise the effects of the centre's global impact. Local hoteliers were consulted with, along with restaurants and even local taxi drivers, who were given a tour of the centre so future guests can arrive with someone familiar with the destination.
"We were very conscious that you're only as strong as your weakest link. The first person they see, normally when they get off a train is a taxi driver, if they don't have the best reception it's all downhill from there", Bounds explained.