SEOUL DISTINGUISHED AS THE "ASIA PACIFIC HUB" FOR 2021 ICCA CONGRESS
The ICCA Congress is a four-day event, based in Colombia, from October 24 to 27. For the occasion, Seoul has been upgraded from "Hub City" to "Regional Hub" of Asia Pacific.
Seoul Tourism Organisation signed a business agreement with ICCA, the International Congress and Convention Association, to take part in the second multi-hub hybrid meeting, "2021 ICCA Congress", as a hub for the Asia Pacific Region.
The business agreement, signed on July 15th, designates Seoul two years in a row as a business partner. Seoul participated as a "Hub City" last year, but this year, Seoul will serve as Asia Pacific's "Regional Hub". ICCA and Seoul Tourism Organisation pledged to share and agree on overall event organisation, local programmes, and COVID-19 protocol for safe and stable events.
ICCA, which owns the largest global network of convention agencies, switched last year's annual congress to a "multi-hub hybrid" format due to the COVID-19 pandemic. The multi-hub hybrid format assigns hub cities for each continent and region to hold meetings concurrently. ICCA and the hosting city Cartagena de Indias plan to select hub cities representing Europe, Africa, the Middle East, and the Asia Pacific regions. Last year, Seoul attended with ICCA's members, academics, and associations in Korea. This year, however, Seoul will be a regional hub representing the Asia Pacific.
"Asia Pacific Hub Seoul" will be held at COEX for two days, on 26-27 of October. The event consists of ICCA headquarters' online programmes from Cartagena de Indias and Seoul's local programmes. All off-line sessions assembled in Seoul will be broadcast live for the Asia Pacific region's online participants who cannot sit in the headquarters' programme due to time differences.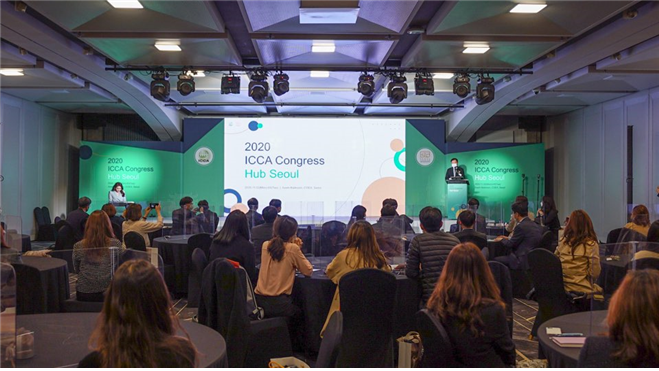 Seoul professional solutions for hybrid event format
Seoul is the first Asian member of the Hybrid City Alliance set up to provide professional solutions for hybrid event format, led by the Hague, Geneva, Prague, and Ottawa. A Seoul Tourism Organisation official commented, "We have know-how as an Alliance member city, such as the Alliance website that recently launched and the white paper that contains solutions for hybrid events. In addition, we will utilise last year's hosting experience to upgrade Seoul's position as the optimal hosting destination for hybrid MICE events.
Acting MICE Support team director of Seoul Tourism Organisation Dohwi Kwak said, "We are aimed at heightening Seoul's position as a MICE destination by hosting high-quality international events in a hybrid format and contributing to the stagnant MICE industry in the COVID-19 era."
Seoul has been effectively pro-active in attracting conferences and congresses despite difficult conditions for foreign travellers to come into South Korea. Seoul Convention Bureau offers financial, technical and marketing supports for international conferences that meet a few criteria set up by the SCB according to the event type. A plus in benefiting SCB incentives is that online participants registered outside Korea are counted as overseas participants for online and hybrid conferences.
The support can go as far as providing accommodation or flights for some attendees, helping to the development of a virtual platform for online participants, covering some of the costs for cancellation due to Covid-19 issues or for high tech equipment.
Additionally, the Seoul MICE Safety Care Service provides -as long as Seoul is considered to be under pandemic conditions – medical care, with ways to solve medical expenses; a special airport desk operation to solve visas, ticketing and desk operations at the airport, travel within Seoul under Safety Care conditions with specific cars, drivers or hotel reservations. It also provides 24-hour translation and counselling services if necessary as well as providing insurance.