Hawaiian Airlines redefines travel to the island with luxurious Leihōkū Suites and Boeing Dreamliner
A new era of luxury travel is about to have lift off for Hawaiian Airlines which is launching a new class of premium service inspired by early Polynesian voyages
The airline introduced its stunning Boeing 787-9 Dreamliner interior and a new class of premium service called the Leihōkū Suites. Starting early next year, guests traveling on Hawaiian's 787 will experience a cabin that immerses them in the natural beauty of Hawaii through captivating design elements.
Avi Mannis, Chief Marketing and Communications Officer at Hawaiian Airlines, expressed his enthusiasm, commenting: "The combination of our evocative cabin design and unparalleled service will make our 787 the most relaxing and enjoyable choice for travel to and from Hawaii.
"We take pride in sharing our home with our guests, and the design and details of this product truly reflect what it means to be the flagship carrier of the Hawaiian Islands."
The Leihōkū Suites, the airline's newest premium offering, consists of 34 tranquil and elegant suites that envelop guests in a world of serenity.
The fully lie-flat seating, along with an 18-inch in-flight entertainment screen, personal outlets, wireless charging, and direct aisle access, ensures a luxurious and comfortable journey.
Configured in a 1-2-1 arrangement with doors, these suites offer the perfect blend of privacy and shared experience, with the option for couples to enjoy combined double seats while gazing at the starlit ceiling.
In a groundbreaking collaboration, Hawaiian Airlines partnered with Adient Aerospace, a joint venture between the Boeing Company and Adient, a leading automotive seat manufacturer.
Tony Guy, CEO of Adient Aerospace, expressed his satisfaction, saying: "It was evident from the beginning that Hawaiian Airlines is very passionate about its culture and branding, and making sure that this came through in the design language and in the passenger experience. It is so rewarding to bring this vision collaboratively to life and see it realised in the delivered product."
The Main Cabin of Hawaiian's 787 Dreamliner features 266 ergonomically contoured Collins Aerospace Aspire seats, designed to provide utmost comfort to guests. The modern, lightweight design maximises seat space, offering more shoulder and hip room. Each seat is equipped with a 12-inch seatback monitor and USB-A and USB-C charging ports. Additionally, the Extra Comfort seats provide ample legroom and access to AC outlets for enhanced convenience.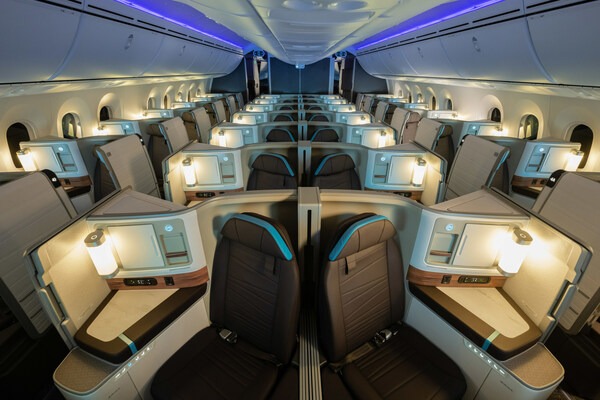 The design elements throughout the Hawaiian's 787 Dreamliner thoughtfully celebrate the rich heritage of Polynesian navigators who once sailed the Pacific, relying on the stars, sun, winds, waves, and wildlife. Teague, the design consultant, worked closely with the airline to bring Hawaiian's vision of honouring Pacific navigation to life in a modern aircraft. Loreto Julian, Interior Design and Surface Textile Design Manager at Teague, said, "Working alongside such an iconic brand in Hawaiian Airlines, we were able to create an experience that is true and authentic to what is Hawaii. Along the journey, guests will be able to appreciate the culture of Hawaii and be surprised with discoverable moments."
The Boeing 787 Dreamliner offers several features that contribute to a smooth and high-tech travel experience. Enhanced cabin air filtration ensures fresh air circulation, and the carbon-fiber composite airframe allows for a lower cabin altitude, resulting in a more comfortable flight. The acoustic-treated engine inlets minimize cabin noise, while the extra-large, dimmable windows, spacious overhead bins, and touchless-activated lavatory facilities further enhance passenger comfort.
Sustainability is at the core of Hawaiian's operations, and the 787 Dreamliner aligns with the airline's commitment to eco-friendly travel. The aircraft's lightweight construction, innovative aerodynamics, and modern General Electric GEnx engines make it the most fuel-efficient widebody aircraft in the airline's fleet. Compared to previous-generation aircraft of similar size, the 787 significantly reduces fuel consumption.
As guests embark on their Hawaiian voyage, they will be surrounded by design elements paying homage to the pristine environment of Hawaiʻi. The interior features wall panels depicting native wood grains, and the lavatory floor is inspired by shimmering black volcanic sand. 'Ōlelo Hawaiʻi, the Hawaiian language, is integrated into seat row numbers and placards, providing guests with a truly immersive experience. Laminates and fabrics throughout the cabin reflect the forms of native plants, connecting passengers with the natural beauty of the islands.
Read more: Airline retail and travel tech trends for 2023 revealed