Experience Georgia's Infinite Hospitality at ITB Berlin
Georgia, the ITB Berlin 2023 host country, is presenting a wealth of activities and attractions at the world's leading travel trade show
ADVERTORIAL
Under the slogan 'Infinite Hospitality', Georgia is taking centre stage at hub27 and in Hall 4.1, with an impressive range of tourism attractions and events. Daily activities include culinary attractions and handicrafts sessions, as well as presentations devoted to MICE audiences in Hall 3.1.
The Georgian National Tourism Administration (GNTA) kicked off with its opening press conference yesterday morning, when the country's Minister of Economy and Sustainable Development Levan Davitashvili greeted attendees at Palais am Funkturm. This was followed by an official opening gala at the CityCube Berlin that evening, featuring impressive performances under the heading 'Infinite Georgian Culture – from the beginnings of viniculture to modern avant-garde art'.

Today at 3pm, Georgia is presenting its latest offerings along with its tourism highlights at the CityCube Berlin in room M6. In the framework of the event, the country's deputy minister of economy and sustainable development Mariam Kvrivishvili will provide the audience with significant information about its tourism potential. This namely includes developments and trends, offerings and competitive tourism products, plus new policies and initiatives to support the sustainable tourism development.

On Wednesday, the destination will host a networking event at its stand in hub27 from 3pm to 4 pm. Earlier that day in Hall 5.3, in the Hybrid Studio, a session on "Discovering Adventure Tourism in Georgia" will be held from 2pm to 3 pm with speakers from the International Federation of Mountain Guides Association and Georgian Incoming Tour Operators. Visitors can also enjoy daily DJ music and coffee at the south entrance to the exhibition from 9.30am to 11am as well as music and Georgian wine from 4.30pm to 6pm.

MICE audiences
At the MICE Hub in Hall 3.1, the Convention and Exhibition Bureau of Georgia will highlight the country's potential in the MICE sector with twice daily presentations. The group belongs to the Georgian Tourism Board and the Georgian Ministry of Economy and Sustainable Development. The GCEB was set up in 2016 and is a member-based organisation which aims to establish Georgia as an attractive MICE destination on the global business travel map. Its main goal is to increase the number of international events, conferences and meetings in the country.
hub27 / Stand 201
Hall 4.1 / Stand 200
Photo: © Neil Sengupta – unsplash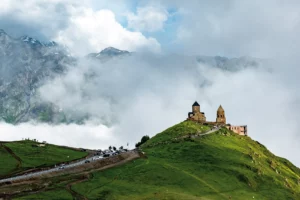 ---
Culinary attractions and handicrafts: hub27
Around 80 exhibitors from the tourism, hotel and aviation industries are represented on Georgia's stand occupying around 705 square metres and two floors in hub27. Daily activities include culinary masterclasses, handicraft workshops and a calligraphy masterclass from 10am to 6pm, when Georgian Saperavi wine will be served. The host country is also represented in Hall 4.1, home of the youth travel, accommodation, adventure travel and responsible tourism segments. A representative for Georgia will open this stand with a speech at 2pm today.
Adventure & Sustainability Stand Opening,
2pm today,
Location: Hall 4.1
---
Panel Discussion
Don't miss ITB Berlin's fascinating panel discussion titled "Adventurous Georgia – Possibilities, Offers and Challenges". Audience members will learn about the country's adventure tourism, latest initiatives, and sustainable development vision as well as its gorgeous hiking regions and dense forests.
Georgia ‒ ITB Berlin Official Host Country: Adventurous Georgia – Possibilities, offers and challenges
7 March 2023, 2:10 – 2:30pm.
Location: Hall 4.1 ITB Lighthouse Stage
---
Additional events featuring Georgia
Georgia will also be taking part in the Ministers Round Table: "Ministers Round Table: Mastering Transformation on a Global Scale" which takes place today from 1pm to 1.45pm in Hall 7.1. It follows the ITB Berlin Convention session from 10.30am to 11.10am, titled "Gender Equality in Tourism", when a Georgian representative will take the floor at the "Green Stage" in Hall 3.1.
Ministers Round Table: Mastering Transformation on a Global Scale [supported by UNWTO]
Tuesday, 7 March 2023, 13:00 – 13:45
Hall 7.1a Orange Stage
Gender Equality: Tourism as a door opener for female empowerment & the role of gender equality in addressing the climate crisis
Tuesday, 7 March 2023, 10:30 – 11:10
Location: Hall 3.1 Green Stage