HOW NEW MARKETING TECHNOLOGY IS HELPING VIENNA HOUSE STAY AHEAD OF THE CURVE
Austrian hospitality group, Vienna House, has implemented a distinct digital strategy, making it one of the leading hotel groups in the world of marketing technology.
Led by Adrian Schmidt, the corporate director of commercial marketing and digital strategy, Vienna House has become a tech-forward boutique hotel group in Europe.
Investments in website and other marketing technology
Vienna House has invested in its website and internet marketing, hoping to execute a successful and sustainable marketing technology strategy. The group set out to improve organic traffic, implementing an organic Search Engine Optimisation (SEO) strategy in a sustainable way.
There was also investment in its website, providing a pleasant user experience for leads. Technically sound websites rank better on search engines, yet Schmidt has noted that many hotels should make improvements in this regard. A website that is both user- and mobile-friendly, with a dynamic user experience, should be guaranteed to rise the ranks of search engines.
Content itself is also a key part of the boutique group's successful marketing technology. Ensuring that important content is easy to find on the website has been highlighted as integral by Schmidt.
The importance of mobile concierge technology
Vienna House started using mobile concierge technology back in 2016. This was reportedly a lot earlier than its peers. "There are two ways you can use new marketing technology in hospitality", Schmidt told Shiji Insights, the news resource of SHIJI Group. "You can either save money on the payroll side […] or you can use new technology to add value to your existing hotel experience".
In automating the more "boring" aspects of the hotel experience, the group has provided an engaging digital journey for its leads and returning customers. Part of this is using technology that gives customers the option to pay or check out before they leave the hotel. That way, customers can do two less enjoyable activities (paying and waiting to check out).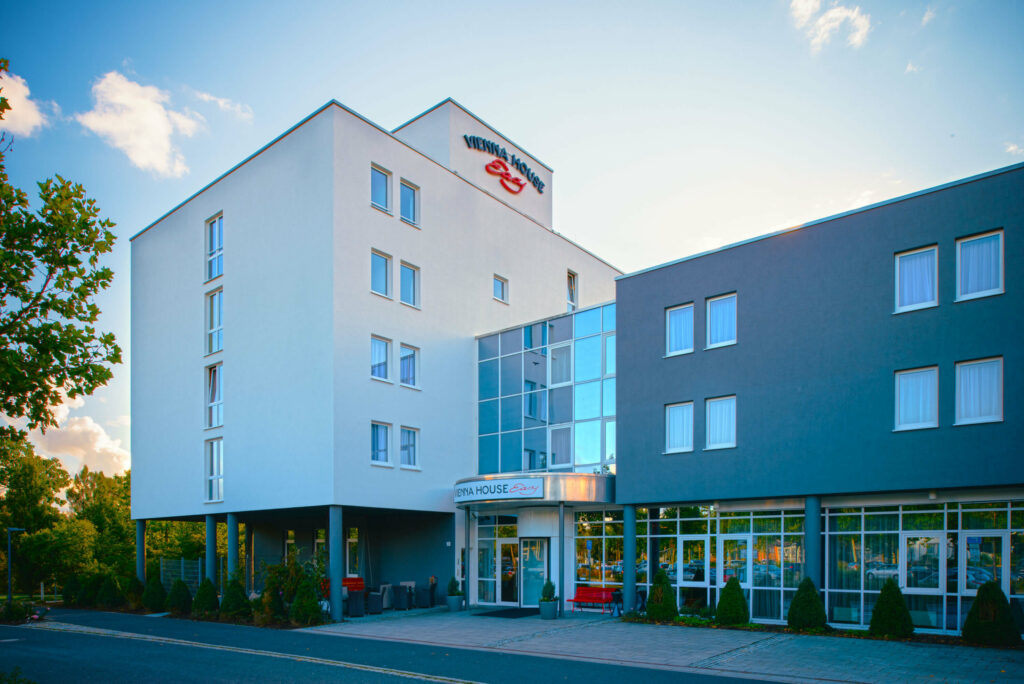 Future trends in marketing technology
It is key that companies like Vienna House continue to innovate where it matters. The boutique group recently updated its user experience research methodology. This was done by implementing statistically-optimised testing. Therefore, the aforementioned website can become almost tailor-made for certain guests, depending on specific results.
Elsewhere, the company is looking at improving its software development, through emerging technologies like Low Code and open API (Application Programming Interface). Through open APIs, a boutique hotel group could receive custom reports on specific subjects. "For instance, forecasting breakfast services and knowing what supplies you need to buy or measuring food waste", explained Schmidt.
These reports could be the key to optimising content creation and online services. "If you look at other industries, like the digital marketing industry, there are newsletter tools and [customer relationship management] which are not industry-specific but have open APIs". Schmidt noted. This means there could be more room for automation, and more power for groups like Vienna House. "This movement towards open APIs, to build things on your own, maybe hire your own developers, is finally attainable for medium-sized, even small hotel chains".
Understanding the importance of data
Vienna House has also made strides in understanding the evolving role of user data in marketing technology. Data science and big data is integral, especially analysis of guest data. "However, many companies collect data and just put it in a silo and nobody uses it", Schmidt told Insights. "In reality, hotels fail to use the data fully, overspending on collecting data rather than utilising it". It is possible that open APIs could be an improved way of understanding and analysing customer data.