TRENITALIA TO BOOST RAIL COMPETITION IN SPAIN WITH LAUNCH OF NEW HIGH-SPEED SERVICES BY END OF 2022
Italian rail operator Trenitalia, and its partner Air Nostrum, are currently testing out Freccarossia trains along the Madrid-Barcelona high speed track before making their official debut in Spain at the end of 2022.
The ILSA rail consortium which is owned by Trenitalia (FS Italiane Group) and regional air carrier Air Nostrum will start competing with Spanish rail company Renfe and French rail service Ouigo.
ILSA has been carrying out technical trials of the Frecciarossa 1000 trains on lines between Madrid and Barcelona – the last step before the train is given final approval for use on the Spanish rail network. The company has already ordered 20 next-generation Hitachi-Bombardier trains to serve the Spanish market.
That will allow iryo, the company's commercial name, to offer passengers a new high-speed option by the end of 2022, with tickets set to go on sale between September and October. The company sees a potential target of 30 million travellers.
The trains will be used in eight cities initially
The possibility of providing high-speed connections in Spain is part of a process that began in November 2019 with the award by ADIF, the controller of Spanish railway infrastructure, of 30% of the trains on the high-speed network – that amount is second only to Renfe, the Spanish national operator.
In the first phase, iryo will join Madrid, Barcelona, Seville, Malaga, Cordoba, Valencia, Alicante and Zaragoza, before expanding to include other destinations with a possible Madrid-Lisbon link in the longer term. According to the company website, iryo will propose 32 return trips along the line Barcelona-Zaragoza-Madrid. In total, iryo plans to offer up to 40 return in the Spanish market.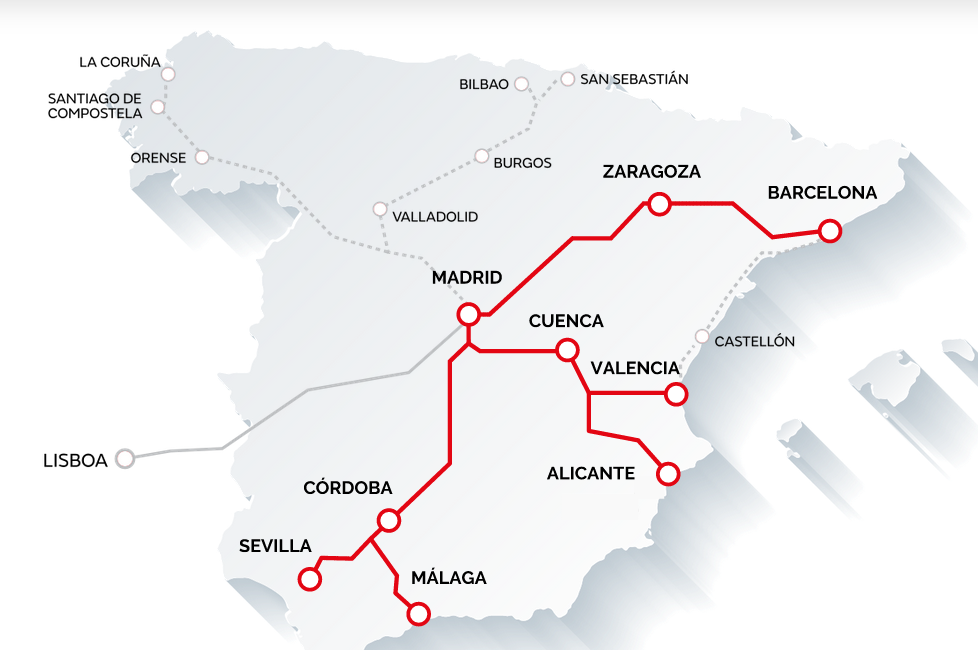 The project, by Trenitalia in Spain, is aimed at enticing a more people to choose the train to get around, in accordance with the European Union's sustainability goals. Sharing of the know-how that was developed in Italy with the high-speed system, and over ten years' experience of running Frecciarossa routes, will allow significant further development of rail transport between the major Spanish cities.
The train convoy which is carrying out the technical trials is one of the twenty new Frecciarossa 1000s built by Hitachi in Italian workshops with the same characteristics as those used in Italy. The trains can be nearly completely recycled, and that means an 80% reduction in carbon dioxide emissions per passenger journey and, precisely for that reason, it has been awarded the EPD Environmental Product Declaration.
Trenitalia to face strong competition with Renfe and SNCF
The FS Italiane Group, of which Trenitalia is the lead company, is also present in the passenger business in Europe through Trenitalia France, that runs trains between Milan and Paris, and Paris and Lyons, with the Frecciarossa 1000, in the UK with Avanti West Coast and c2c, in Germany with Netinera, a regional transport operator, in Grecia with Hellenic Train and in the Netherlands with the road operator, Qbuzz.
In another development, French train operator SNCF, which operates low-cost high speed trains Ouigo between Barcelona and Madrid, will launch in October a new line linking Madrid to Valencia. While Renfe recently boosted its offer on the same Barcelona-Madrid line with a 30-minute tact during peak hours. RENFE ACE link now up to 17 times a day both metropolis with AVE and AVLO (low-cost) trains.
Renfe however faces difficulties to start operating in France due mostly to the reluctance of French authorities to attribute frequencies. The Spanish operator was due to start its AVE services this year but it now believes that it will delay entry into the French domestic high-speed market until 2024. Renfe wants to compete on Paris-Lyon and Lyon-Marseille lines.