SINGAPORE AIRLINES' SPECTACULAR REVAMP OF LOUNGES AT CHANGI TERMINAL 3
May 31, 2022 marked the reopening of all Singapore Airlines lounges at Changi International Airport. With many innovative products and services as well as bigger facilities.
Singapore Airlines' famed excellence in service is also reflected on the ground of its main hub of Changi in Singapore, of which lounges play a huge part. This is more true than ever following the complete revamp and expansion of all of the airline's lounges at Changi Terminal 3.
The airline used the covid-19 crisis and the closure of most facilities at the airport to speed up the lounge renovation project, which had previously seen only minor upgrades since the opening of terminal 3 in 2008.
Singapore Airlines Private Room, the First Class section of the SilverKris Lounge, the Business Class section of the SilverKris Lounge, and the KrisFlyer Gold Lounge can collectively accommodate around 1,150 customers within their 6,100 m2.
"This represents an additional seating and space capacity of 30%," said Marvin Tan, Senior Vice-President customer services and operations. "We took into consideration the new needs of our customers but also the feedback we collected over months before starting the renovation process."
A particular focus of the renovation project was on the culinary selection – one of SIA's strong points. Both the SilverKris Lounge and the Krysflyer Gold now offer buffets with a wide range of Asian and Western dishes. In the Private Room, a private space standing exclusively for SIA Suites and First Class travellers, there is an a-la-carte fine dining restaurant. Baristas have also been trained to serve cocktails and coffee. All food outlets in lounges offer regional specialities alongside international classics.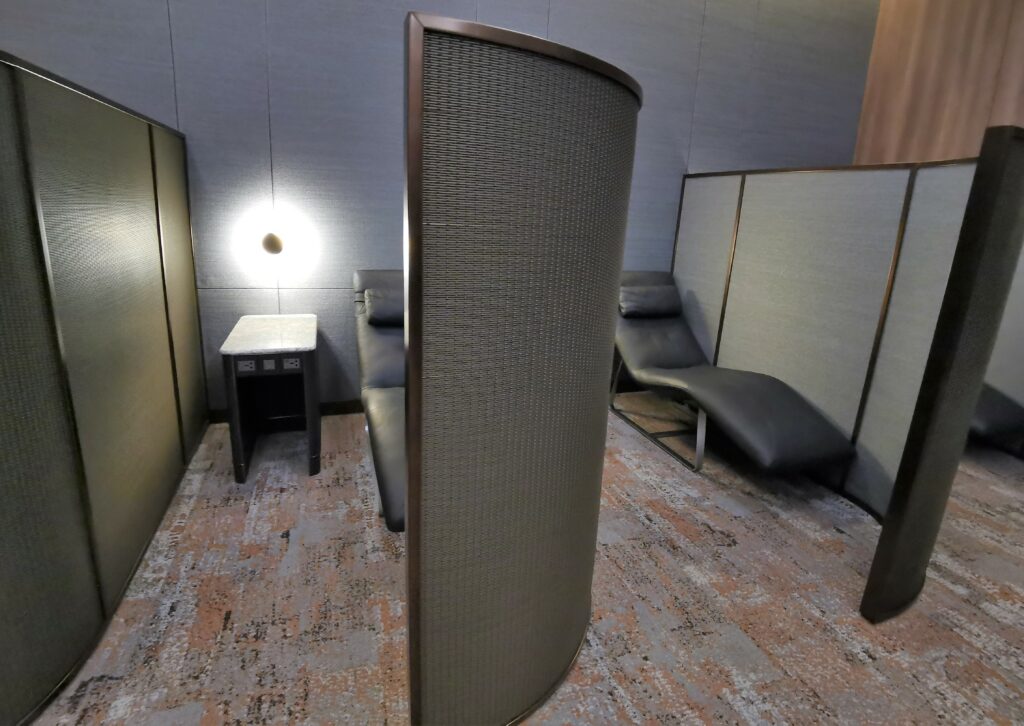 New features
SIA's biggest novelty in the terminal is the Private Room, the most exclusive space within the SilverKris Lounge. It provides an elegant atmosphere with luxurious elements such as a custom-designed Lalique light dome welcomes every customer at the lobby. With a capacity for 78 customers, it includes booth seats for increased intimacy but also four day rooms that look more like a small luxurious hotel bedroom.The rooms are managed by Como Shambhalan, a company behind a number of urban resorts in Singapore.
The First Class section also has a new day room, designed with transit passengers in mind. It has 14 recliners and, as it is completely isolated from the rest of the lounge, offers a relaxing and restful space.
Another big change is the KrisFlyer Gold Lounge, which is opened to all members of Star Alliance with a gold status. It offers not only more space but has an open and contemporary design with an expansive view of the airport runway and day light. In response to customer feedback, the lounge now includes an expanded dining area and open concept working spaces, as well as dedicated restrooms and shower facilities. Customers can enjoy a wide variety of meal and drink options including favourites such as laksa, chwee kueh, and freshly steamed dim sum.
The reopening of the lounges come at the right time as Singapore Airlines is enjoying a strong rebound in traffic since the country lifted all of its restrictions imposed during the Covid-19 pandemic. Capacity and network is now at 61% of pre-pandemic levels. SIA management predicts it to reach 67% of the pre-pandemic capacity by September and even a higher percentage before year-end.