NEW INTERNATIONAL AIR TERMINAL SET TO OPEN AT INDIA'S CHENNAI AIRPORT
Chennai International Airport will welcome passengers via a brand new international terminal from June.
The new facility is part of the Airports Authority of India (AAI) Phase II modernisation programme Chennai airport, one of the most important airports in India and a major gateway to the south of the country.
Chennai's new international terminal is considered not only a major transportation hub but also an "embassy" of local culture. From wavy roofs that bear resemblance of Bharatanatyam dancer's pleats to kolam-like patterns -traditional painted motives- over the ceilings, Chennai international Airport's interiors have been designed to provide travellers with a glimpse of Tamil Nadu arts and culture.
It will be also an environment friendly structure: The terminal combines 'green' features such as roof insulation, double insulated glass to maximise daylight but also water conservation and energy-efficient equipment and lighting.
Officials of the Airports Authority of India (AAI) highlights that the new integrated terminal will comprise domestic and international counters in one large building. However, when the terminal opens in June, it will initially only be open for international passenger operations.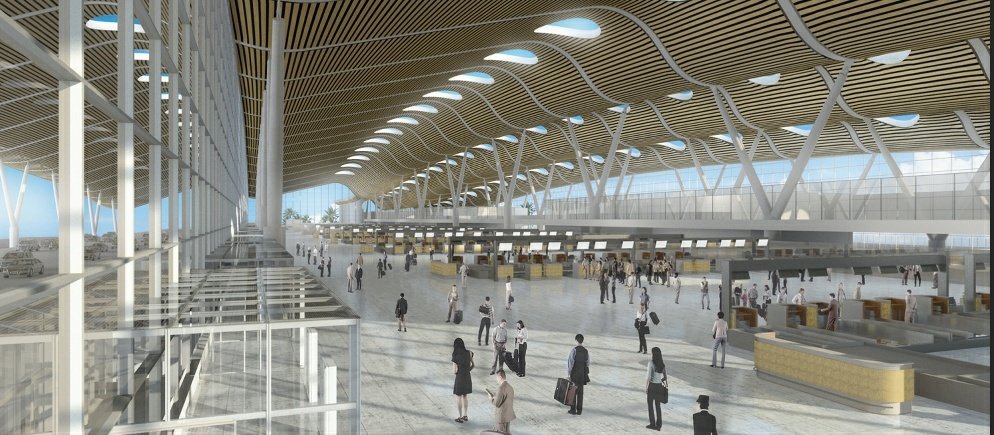 Domestic section to come by 2024
Construction of the domestic area of the terminal is now starting. But according to the officials from the Airports Authority of India, the work may take a year to complete.
"The whole integrated terminal will be ready with both domestic and international operations by the end of 2024," officials from AAI said. "Escalators will be installed within the terminal to link the domestic and international counters. In the new set up, international operations will function in the right and left part of the building while the domestic operations will be located in the centre. The connectivity will be seamless."