No passwords or login necessary with IHG Hotels & Resorts effortless Wi-Fi Connection for guests
Available since June, the new Wi-Fi Auto Connect feature seamlessly connects loyalty members' mobile devices upon entering hotels. The revolutionary service is now available at more than 5,000 IHG hotels worldwide.
IHG Hotels & Resorts (IHG), one of the world's largest hotel company with a global presence, recently announced the launch of a new mobile product feature – IHG Wi-Fi Auto Connect. A first-of-its-kind innovation available at scale in hotels, the feature is now available exclusively in the company's mobile app for both iOS and Android users and will automatically connect members to Wi-Fi upon arrival at more than 5,000 hotels of the group worldwide. The best of the new service is that the system does not request separate passwords or logins !
IHG Wi-Fi Auto Connect is enabled by the newly redesigned app and the proprietary internet solution of the hotel group. Globally, the company logs more than 5.3 million monthly Wi-Fi logins. With this new solution, guests who opt-in via their mobile devices will join the internet upon entering a hotel without having to worry about separate login codes or passwords, saving time and enjoying a better user experience. A one-time set-up is required via the app where the member user can enable auto connection via settings. The functionality empowers guests visiting a hotel for a meeting, overnight stay or dining at a restaurant in a hotel.
"We know that our guests expect seamless instant connectivity and convenience, especially when it comes to Wi-Fi. At IHG, we are constantly looking for ways to enhance the guest experience, and IHG Wi-Fi Auto Connect is just one example of how we are doing that," highlighted Brian McGuinness, Senior Vice President, Global Guest Experience of the hotel group. "The solution will deliver IHG One Rewards members with even better connectivity and a seamless experience across 5,000+ hotels around the world."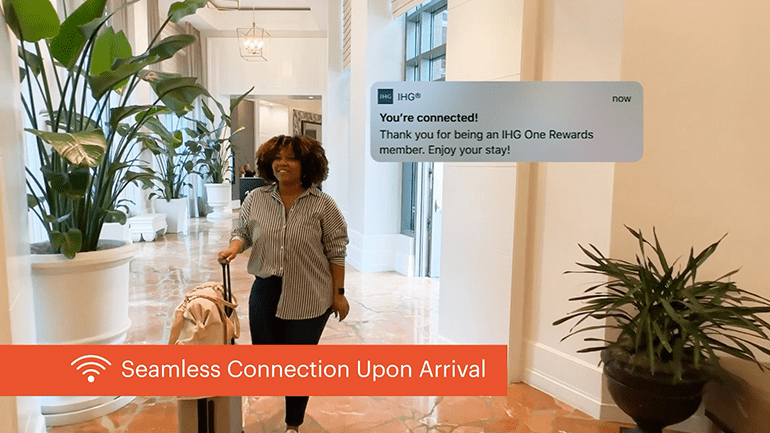 Motivated to improve the guest experience for loyalty members, the company continues to innovate and prioritize technology, comfort, and convenience. In addition to the improved Wi-Fi experience, the app has new enhancements designed for speed and convenience, including a new lock screen widget feature on iOS. Widgets allow guests to see their points balance and upcoming stays from the lock screen of their device, and to quickly launch the app.  The app has also recently launched booking features allowing guests to select room enhancements during booking. The larger range of services on the app. include rooms with specific views or more space. In addition, on iOS devices, a new lock screen widget feature allows guests to view their points balance and upcoming stays directly from their device's lock screen, providing quick access to the app.
The IHG One Rewards mobile app is the fastest way for guests to book a stay at a hotel and is the company's fastest growing booking channel. The IHG One Rewards app. is available on the Apple App or Google Play stores.