Sydney's spectacular modern project at the Art Gallery of NSW adds to the city cultural appeal
Since December, visitors to Sydney have a new iconic building to add to their itinerary
After encountering the Sydney Opera House and the Sydney Harbour Bridge, tourists must head to the spectacular new Sydney Modern Project at the Art Gallery of New South Wales.
Sydney is known worldwide for its magical Opera House with its structure evoking either shells or sails of a ship. It stands next to another architectural icon, the Sydney Harbour Bridge. Since the end of last year, a third architectural masterpiece is open to the public: the Sydney Modern Project at the Art Gallery of New South Wales.
This once-in-a-generation project is an important transformation of the flagship public institution into a two-building art museum that almost doubles the space for the display and enjoyment of art, providing more art for more people. Visitors now can walk around 40,000 m2 of spaces compared to 23,000 m2 prior to expansion.
Opened in December 2022, the museum is an extension of the Art Gallery of New South Wales built at the end of the 19th century. It has been designed by Japanese architects Kazuyo Sejima and Ryue Nishizawa of Tokyo-based firm SANAA. Its simple design with vast open spaces give a new breath of life to art pieces on multiple levels. A large part of the building highlights the collection of aboriginal and Torres Strait Islander art. Other galleries welcome major temporary exhibitions and new media. An incredible part of the museum is a huge underground exhibition space of almost 2,500 m2 which was formerly a World War II naval oil tank.
Architectural features of the US$227 million structure include three limestone-clad art pavilions that gently step down towards the harbour; 250 metres of rammed earth wall over two levels made with natural local material; and a double-height atrium in the centre of the building reaching over 11 metres at its highest point.
Indoor and outdoor areas of the new building are seamlessly integrated with more than 3,400 m2 of accessible roof 'art terraces' and courtyards. Linking the new and the historical building, a public Art Garden includes major art pieces by local and international artists. The enhanced landscape comprises over 50,000 plants and 70% more trees than existed on the site before construction. More than 8,000 m2 of green roof and landscaped areas are planted with Australian native species.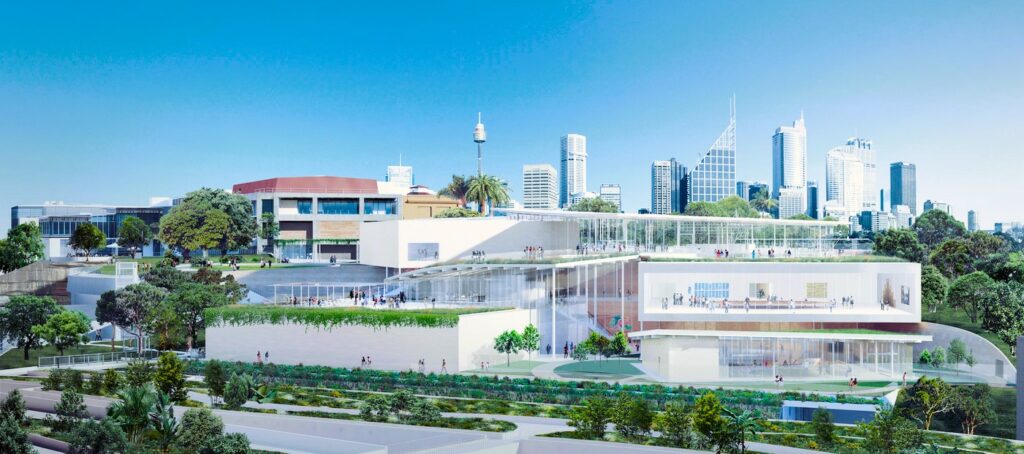 Museums are a major asset for Sydney's international visitors
The Sydney Modern Project is also the first public art museum in Australia to achieve a 6-star Green Star design rating, with 100% of the new building's energy powered by renewable energy. Over 10% of energy needs are generated by solar panels while rainwater is captured for re-use in irrigation and cooling towers. 
For Art Gallery of New South Wales director Michael Brand, the vision "was to transform the Art Gallery into an art museum campus with seamless connections between art, architecture and landscape".
He adds: "The result is a striking example of contemporary architecture".
Sydney Art Gallery wants to be Australia's equivalent of the world's most famous art institutions such as the MOMA for New York, the Tate Gallery for London or the Louvre for Paris.
Culture remains one of the top activities for visitors to Sydney. According to data for 2019, the last "normal year" prior to the Covid pandemic, 56% of international travellers to New South Wales involved in cultural activities named the visit of a museum or art gallery. It was second to visiting history and heritage buildings, sites or monuments (67%) and ahead of participating at an experience of aboriginal art /craft and cultural
displays (17%), according to the National and International Visitors Surveys of Tourism Research Australia.