NYC TOURISM MARKETING CONTINUES @ FULL FORCE DESPITE BORDER CLOSURES
NYC and Co. is stepping out in Europe, with a major ad campaign for the iconic city continuing despite the fact people can't visit right now.
Christopher Heywood, Executive Vice President, Global Communications for NYC & Company, the city's official destination marketing organisation, explains that "NYC Misses You Too" launched in summer 2020 and will continue until "we are able to safely welcome international visitors back to New York City."
So, when will that be, exactly?
"For us to give specific timelines regarding the return of international travel, given ongoing uncertainties around vaccination rollouts, public health figures and protocols, and travel restrictions. What we can say is that NYC's tourism recovery will be gradual but certain," explains Heywood.
According to the NYC & Co communications VP, the goal of the campaign is to keep New York City top of mind for future visits, while acknowledging the current global reality.

In the European region, "NYC Misses You Too" is currently on view in France, Germany, Sweden and the UK, with future allotments in The Netherlands, the Republic of Ireland and Northern Ireland. It has also been seen in Denmark, Italy, The Netherlands, Norway and Spain. Outside of Europe, the campaign is currently in Brazil and Mexico, with plans scheduled in Australia, Colombia, Israel, Mexico, New Zealand, Peru, Singapore and South Korea. Japan, Mexico and Peru have also seen similar promotions over the past months.

Those visiting New York City when borders (hopefully) open later this year will have the chance to see the brand-new Moynihan Train Hall at Penn Station, which should soon feature connections from the new station to the High Line park.

This year will also see the opening of new hotels, including Ace Hotel Brooklyn, and Aman New York. Six Senses New York is expected to open in 2022, as the brand's first property in the United States.

This autumn, an observation deck, Summit, will open atop an all-new skyscraper near Grand Central, named One Vanderbilt. This will be New York City's fifth observation deck.

NYC tourism: bullish outlook through 2024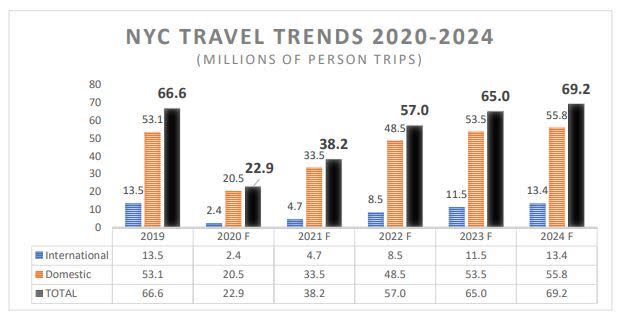 The New York City travel industry began 2020 in good position for another record year, with very strong performance in January, February and early March. The public health and safety measures put in place in mid-March to address the pandemic put practically all leisure and most business travel on hold.
The result has been an unmatched drop in visitation during the remaining nine months of 2020. The year-end forecast for 22.9 million visitors now looks to be 66% below 2019 levels. The domestic market was only one-third of typical annual travel (20.5 million. Domestic inbound visitation (i.e., travel from more than 50 miles one-way or with an overnight stay) was partially sustained by regional travel which began to pick up in summer. The international market was down over 80% compared to last year as inbound international has been frozen since April (2.4 million visitors).
With a plan for widespread vaccination taking shape for Q1 2021, the outlook for a pick-up in regional and short-haul domestic travel will, says NYC & Co. begin to lift the levels of visitation in the late spring/early summer. If the health breakthroughs align with lifting restrictions on activities and gatherings the pace may move more quickly. The international market will take longer to catch up, but could, says the DMO, pick up 2 million visitors by year end.
"Given the uncertainty generated by the pandemic for economic recovery and consumer confidence in travel, the conservative outlook takes us to 2024 to top the 2019 benchmark", says NYC & Co in an official statement, adding, "The overall industry could be back to 2019 levels in three years, especially if business travel restrictions affecting large events and meetings are eased in 2022. At the same time, New York City's strong position with international travellers could help revive the cautious global travel market sooner. It is worth noting that international travel after September 11, 2001 took fully four years to recover."
"While the full recovery of global tourism will be gradual following the wide distribution of successful vaccines in 2021, said NYC & Company President and CEO Fred Dixon, adding, "We are bullish on New York City's recovery and its enduring appeal to travellers. Given significant pent-up demand, we target regaining half our 2019 volume by end of 2021 and to be fully back three years from then."