WYNDHAM EXPANDS MEETINGS COLLECTION ACROSS AMERICAS AND REST OF THE WORLD
One of the world's largest hotel companies, Wyndham Hotels & Resorts, has revealed plans to expand its Meetings Collection in the Americas and around the world.
The Meetings Collection is a curated collection of Wyndham hotels and resorts located in destinations popular for meetings and events. The collection launched in the United States in 2021, and is a part of the company's Wyndham Business programme.
"Whether you're booking a block of rooms for a sports tournament or planning a special event like a wedding or family reunion, we've got the ideal hotel and flexible spaces for your group to meet and reconnect," the company explains.
"In addition to meeting spaces and conference rooms, many of our hotels offer amenities like complimentary breakfast, free WiFi, pools, fitness centres, and on-site parking, so you'll have everything you need for your group reservation. Explore our hotels and filter by location, capacity, amenities, and more."
Wyndham Hotels & Resorts has around 9,000 hotels in over 95 countries, with the Meetings Collection comprising 160 hotels and resorts in the Americas, as well as Asia, Europe, Africa and the Middle East. 
"Over the last several years, Wyndham has continued adding to an already robust portfolio of aspirational hotels and resorts, introducing new offerings in some of the world's most popular and sought-after destinations," said Carol Lynch, senior vice president of global sales at Wyndham Hotels & Resorts.
"This growth, combined with the continued recovery of group travel, make now the right time to expand The Meetings Collection globally. These hotels and their teams are experts in delivering exceptional experiences and, through The Meetings Collection, Wyndham is making it easier than ever for planners—specifically those booking two or more events at one or multiple hotels—save time, save money and get rewarded in the process."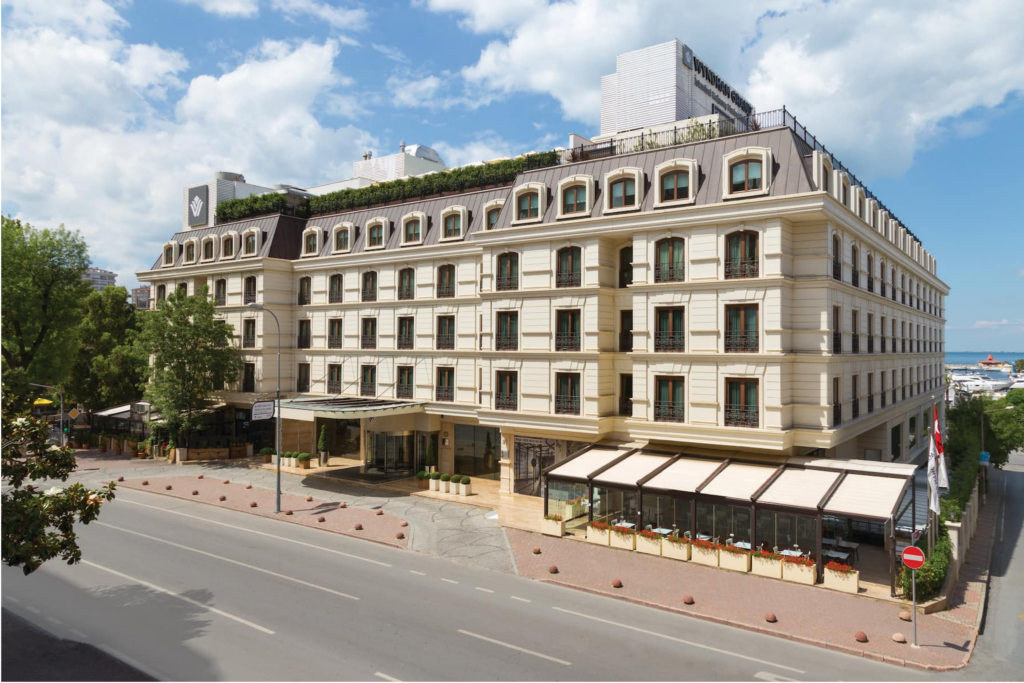 Features of Wyndham's Meetings Collection
The Meetings Collection offers planners a range of benefits, including multi-meeting discounts, enhanced flexibility, streamlined contracting process, exclusive destination experiences and double Wyndham Rewards points.
The perks are offered to qualified bookings at all Meetings Collection hotels and resorts located in the United States.
Properties in Wyndham's Meetings Collection also offer organisers activities and experiences that are intended to enhance meetings, make them "memorable and impactful for participants." Such activities include locally-sourced spirit tastings, as well as food competitions and racing excursions.
There are reportedly over a dozen brands featured in the Meetings Collection, including Wyndham, Wyndham Grand, Wyndham Alltra, Trademark Collection by Wyndham, Dolce by Wyndham, TRYP by Wyndham and Ramada by Wyndham.
"The Meetings Collection is designed to accommodate groups of virtually all sizes and needs," reads a public statement.
In the United States, there are 20 hotels and resorts featured in the Meetings Collection, such as The Grandover Resort & Spa, a Wyndham Grand Hotel in Greensboro, North Carolina, The New Yorker, a Wyndham Hotel in New York, Wyndham Lake Buena Vista near Orlando, Florida, and Cheyenne Mountain Resort, a Dolce by Wyndham in Colorado Springs, Colorado.
In Latin America and Mexico, there are over a dozen hotels, resorts and all-inclusive resorts in the collection. These include Wyndham Alltra Cancun in Cancun, Mexico, Wyndham Alltra Playa del Carmen in Playa del Carmen, Mexico, Esplendor by Wyndham Buenos Aires in Buenos Aires, Argentina, Dazzler by Wyndham Rosario in Santa Fe, Argentina, and Wyndham Garden Sao Paulo Convention Centre in Sao Paulo.
In Europe, there is the Dolce by Wyndham Athens Attica Riviera in Vravrona, Greece, near Athens and the Wyndham Grand Istanbul Kalamis Marina in Istanbul. The Middle East is home to the Wyndham Dubai Deira in Dubai, United Arab Emirates.
In Asia, Meetings Collection hotels and resorts include the Howard Johnson by Wyndham Incheon Airport in Incheon, South Korea; Days Hotel & Suites by Wyndham Fraser Business Park Kuala Lumpur in Kuala Lumpur, Malaysia and Wyndham Garden Hanoi in Hanoi, Vietnam. There are nearly 70 hotels and resorts in Greater China alone, including the Wyndham Chongqing Yuelai in Chongqing, Wyndham Grand Foshan Gaoming in Guangdong, Wyndham Kunming Panlong in Yunnan, and Wyndham Garden Nanjing in Jiangsu.