NEW TV CAMPAIGN: A K-POP TOUR OF SEOUL
BTS, the face of K-pop, are highlighting "the beauty of Seoul" in the worldwide release of the 2020 Seoul City TV commercial.
The Seoul Metropolitan Government and Seoul Tourism Organisation co-produce new videos of various themes every year that promote the beauty of Seoul and vitalise Seoul tourism. Due to the COVID-19 pandemic's halting of travel worldwide, this year's promotional video has been designed with a different concept from that of all the previous videos, focusing mainly on major tourist attractions.
The focus of this year's video is "recovery marketing" with aims to attract tourists to visit Seoul in the future and to convey the message of hope to those waiting for eased travel restrictions all the while gaining ground for Seoul tourism.
The video, says its producers, will allow Seoul to establish itself as a must-visit destination for worldwide fans. STO's message of "we hope you begin your journey in Seoul [when COVID-19 subsides]" is embodied in the slogan "See you in Seoul."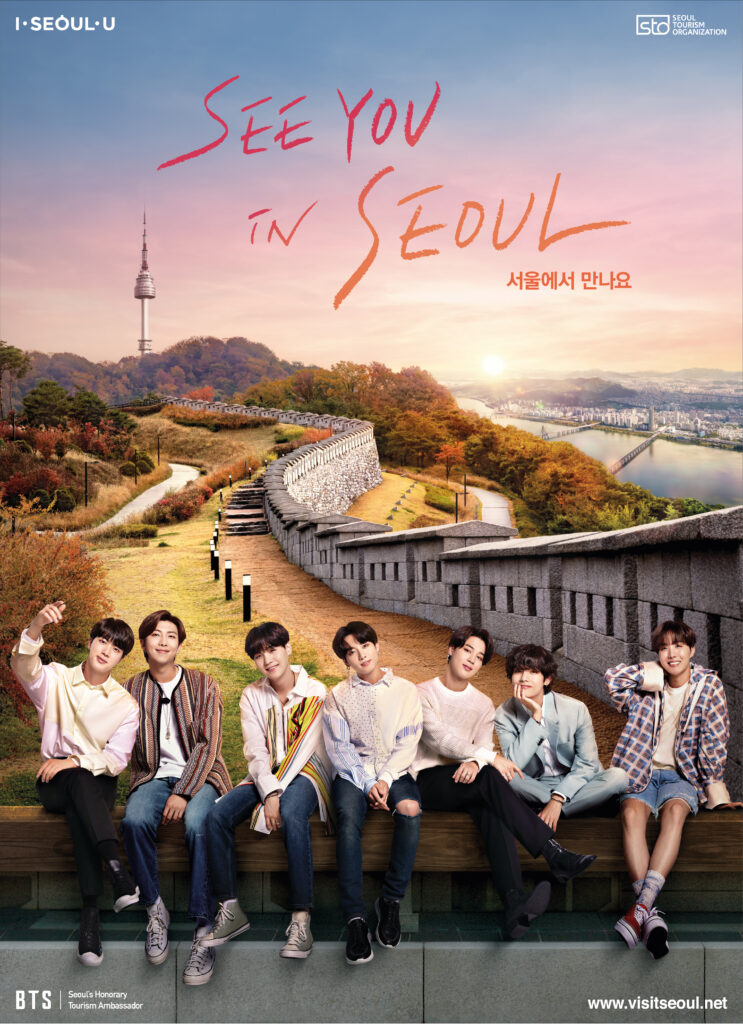 The new video was produced to make viewers feel like "they are on a journey visiting Seoul with BTS" – the first act in Korea to hit #1 on the Billboard Hot 100 for two consecutive weeks.
The video stars all seven members of BTS, each of them giving a thematic tour guide of Seoul from start to finish, capturing the eyes and ears of Hallyu fans and effectively depicting the colourful beauty of Seoul.
Hong Jae-sun, head of the Global Marketing Team at STO, said, "We hope that viewers will enjoy their journey of Seoul through the seven doors that BTS will guide them through and enjoy the experience of seeing the charm of Seoul in seven different ways", "Also, we hope that this video can serve as a way to send greetings from Seoul and alleviate the anxious minds of everyone waiting for global travel restrictions to ease." he added.
Joo Yong-tae, Director-General of SMG's Tourism & Sports Bureau, said, "Seeing the passionate love that BTS has for Seoul, we hope that this video can serve as a gift to those eagerly waiting to travel to Seoul as well as a way to offer comfort and hope to Hallyu fans around the world who are affected by COVID-19." "Although it is unfortunate that global travel has halted for the most part, we sincerely hope that Seoul will be the first destination of choice for international tourists when COVID-19 subsides and travel restrictions ease," he added.
The TVC was released worldwide on STO's VisitSeoul website (www.visitseoul.net), YouTube (www.youtube.com/visitseoul), Facebook, Instagram and other social media channels on 11 September.