A NEW TAKE ON ULTRA-LUXURY IN PARIS
Cheval Blanc Paris opened its doors on 7 September in the former Samaritaine Department Store, which now belongs to LVMH group. The hotel, with only 72 rooms aims to give its guests the feeling of total privacy with the best of what the French capital has to offer.
While Parisian hotels have some trouble filling up their rooms due to the pandemic, it does not seem to deter new brands from coming to the French capital. Integrated in the former department store of La Samaritaine, a pure masterpiece blending both art nouveau and art deco style, Cheval Blanc Paris offers 72 keys — 26 rooms, 46 suites — and 4 restaurants.
Cheval Blanc Paris aims to represent a certain idea of Parisian style and spirit. The floors of the art deco building of the Samaritaine department store have been fully remodelled by architect Edouard François – to be turned into the exclusive hotel.
The property came to life thanks to passionate visionaries, artisans and artists following the ideas of architect Peter Marino. The task was to fully preserve the Art Deco splendour of a building classified as a Historic Monument. It took a total of five years to fully reconfigure the building structure. Cheval Blanc wants to be perceived as a model of timeless heritage set for the future.
Service wants to be totally exclusive and private at Cheval Blanc. Each guest is considered unique as Cheval Blanc Paris wishes to offer a promise of harmony. Each guest has his own dedicated butler. Most of the rooms have striking panoramic views of the Seine river with its romantic sunsets.
The spaces are always generous and exclusive: rooms, starting from 45 sq m, which all have a large bay window providing a private perspective on Paris. The jewel in the crown is definitely "L'Appartement", a 1,000 m2 apartment on the 8th and 9th floors. It has its own 12.5 metre swimming pool, a wellness area and a projection room, seven bedrooms, a panoramic terrace, several lounges and dining rooms, private access with a secure car park and a private entrance. For the rich and famous Cheval Blanc Paris can provide full privacy.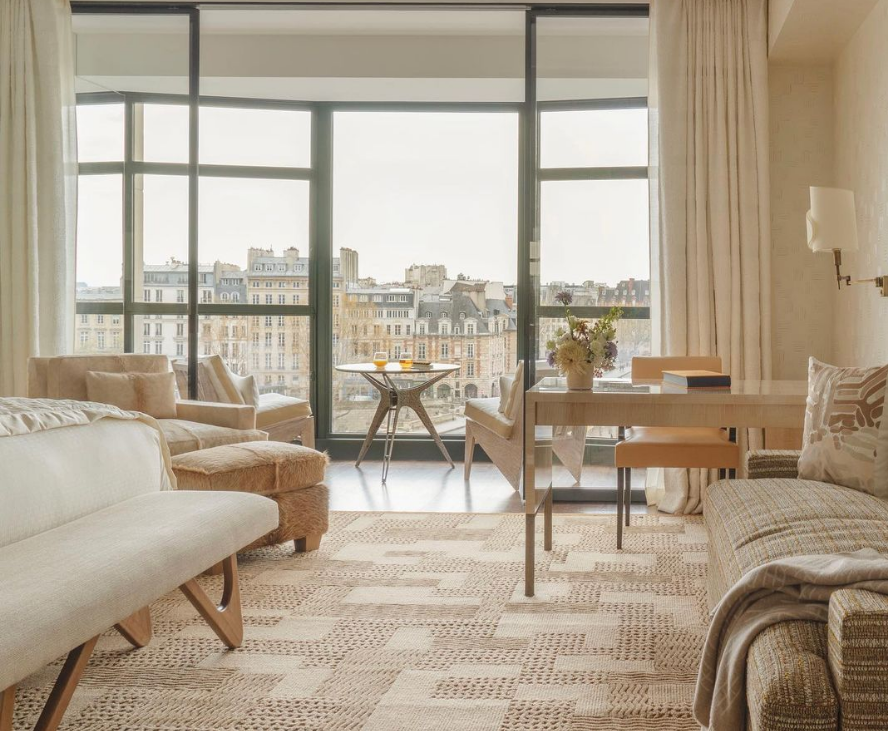 The new property takes the style of a Parisian residence with the best of gastronomy, well-being and comfort. Visitors to the hotel will be delighted by Arnaud Donckele, Chef of the gastronomic restaurant, and Maxime Frédéric, Pastry Chef.
The Dior Spa Cheval Blanc Paris boasts 6 treatment rooms for bespoke rituals, a large swimming pool and state-of-the-art exercise facilities. Le Carrousel is an area for children's activities. Rooms at Cheval Blanc Paris come with a price tag. A night in the sumptuous hotel will start at €1,200 while the menu at the fancy restaurant of Donckele starts from €320.
Developed by LVMH Hotel Management, Cheval Blanc is a brand of exceptional properties. The first one, Cheval Blanc Courchevel, opened in 2006, followed by Cheval Blanc Randheli, which opened in the Maldives in autumn 2013. The brand has continued its development with the opening of Cheval Blanc St-Barth Isle de France in the French West Indies in October 2014, followed by Cheval Blanc St-Tropez in 2019.