DUSIT INTERNATIONAL EXPANDS DUSIT-D2 BRAND WITH 3 NEW PROPERTIES
Oman, China's Yunnan province and Hua Hin in Thailand are the locations for the three latest properties under the brand dusitD2 opened by Thailand-based Dusit Thani International.
2021 has been a good year for expansion for Dusit International Group. The group, which for many years had a strong presence mostly in Thailand, has, over the past 15 years, embarked upon an ambitious expansion plan. The group now manages a portfolio of 300 properties operating under six brands across 17 countries.
Oman
This year, the company embarked upon the addition of new properties for its first-class brand, dusitD2, a more contemporary-style brand particularly targeting millennials. In early July, the company opened its dusitD2 Naseem Resort, Jabal Akhdar. The hotel is the first Dusit-branded hotel in Oman.
Owned by the Oman Tourism Development Company (OMRAN), the executive arm of the Sultanate for tourism development, the deluxe resort is located within a brand new 8,000 sq m Adventure Park on the Saiq Plateau in the Jabal Akhdar area, just a five-minute drive from the "Grand Canyon of the Middle East", and two hours by car from Muscat International Airport.
Comprising 252 rooms and suites, the contemporary resort has been built in such a way to fully blend with its stunning natural surrounds. The hotel comprises an all-day dining restaurant, a fitness centre, and a large outdoor swimming pool. The resort is also equipped for future business events and social gatherings, with a grand ballroom that can cater for up to 150 guests, and several adjoining meeting rooms featuring the latest audio-visual equipment.A specialty restaurant, a Kids Club, and a signature Namm spa offering traditional Thai-inspired massage therapies and treatments are set to open later in the year.
Hua Hin
Dusit International has also inaugurated its dusitD2 Hua Hin, an upscale pet-friendly retreat in the heart of Hua Hin, a popular seaside destination just three hours by car from Bangkok.
Located just a seven-minute walk from Hua Hin's main beach and near popular local attractions such as Cicada Market and Bluport Hua Hin Resort Mall, the new hotel is targeting families and groups of friends. It is one of the few first-class hotels in the resort city to also accept pets. Part of the 152 contemporary-style guest rooms and suites are equipped with pet-friendly amenities for up to two pets (which are accommodated free of charge).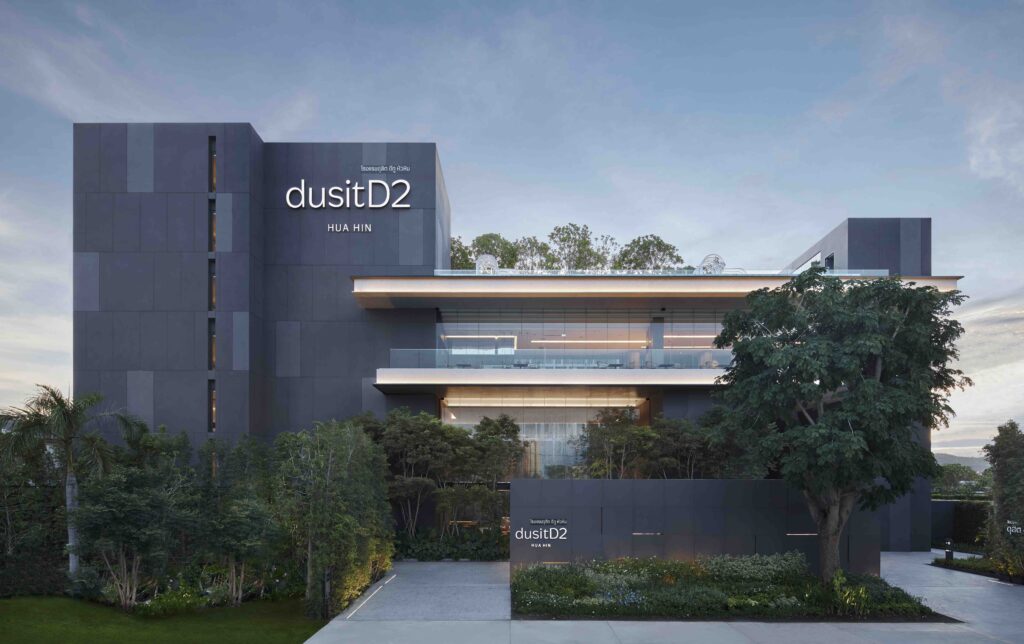 The property offers dining facilities include a southern Thai-style restaurant, a rooftop bar and a Dusit Gourmet bakery and coffee shop. Guests find as well a rooftop infinity pool, a large garden, a fully equipped gym and an extensive kids club.
Yunnan
Finally, the group just signed a hotel management agreement with Chuxiong Rongda Real Estate Development Company Ltd to operate dusitD2 Chuxiong, Yunnan in the heart of Chuxiong City.
The dusitD2 will then be the first internationally branded hotel in the Chuxiong Yi Autonomous Prefecture. It will comprise 275 rooms, suites and villas. It will be easily accessible for travellers as it is located just 10 minutes away from Chuxiong High-Speed Train Station.
The hotel will blend Dusit's distinctive Thai-inspired hospitality with local customs and traditions. Hotel facilities will include an all-day dining restaurant, a specialty restaurant, and a spa offering wellness therapies. A range of meeting rooms featuring the latest audio-visual facilities will cater to the city's growing meetings business. "We look forward to making the property a resounding success when it opens its doors in the second quarter of 2023, " said Ms Suphajee Suthumpun, Group CEO, Dusit International.
China remains the second biggest market for Dusit International after Thailand. The company currently operates 10 hotels in China and has more than 20 properties in the pipeline.