Karisma Hotels & Resorts, ultimate luxury along the Carribean Sea
Karisma Hotels & Resorts is an well-established luxury hotel collection that owns and manages an important portfolio of properties in Latin America, the Caribbean as well as in Montenegro. The company recently inaugurated its Nichelodeon Hotels & Resorts Rivera Maya, a top property targeting families in Cancun. It also recently inaugurated the intimate high-end Margaritaville Island Reserve Cap Cana resort in the Dominican Republic.
Karisma Hotels & Resorts is making waves in Mexico and in Carribean islands with a quick expansion with luxury, high-end resorts. The group has now a dozen brands including the luxurious Margaritaville Island Reserve as well as the management of the Nickelodeon Hotels & Resorts brand in Mexico.
Laid-back luxury for Margaritaville Island Reserve
Margaritaville Island Reserve is positioned on a segment combining luxury, intimacy and a rather relaxed unpretentious way of enjoying a holiday. "We want to be known as a high-end resort offering the best food, the best beach, the best entertainment in a great location. And it is an all inclusive holiday which gives us a unique advantage for our latest property in the Dominican Republic," says Marylin Cairo, Vice President Sales & Marketing for Premier Worldwide Marketing, which represents the sales and marketing provider for Karisma Hotels & Resorts.
Margaritaville Island Reserve Cap Cana is the latest to open near Punta Cana in the Dominican Republic. The five-star property is located on Juanillo Beach, considered as one of the most beautiful stretch of shoreline in the country. It offers 228 suites, 40 luxury villas, 6 restaurants, 5 bars, a spa and 2 pools. The resort wants to keep its lay-back unpretentious feeling but offers all the time music events, entertainment and culinary delights. "We are completing another property along the Riviera Maya which is due to open this year. We are also looking at three other islands' locations in the Carribean", reveals Cairo.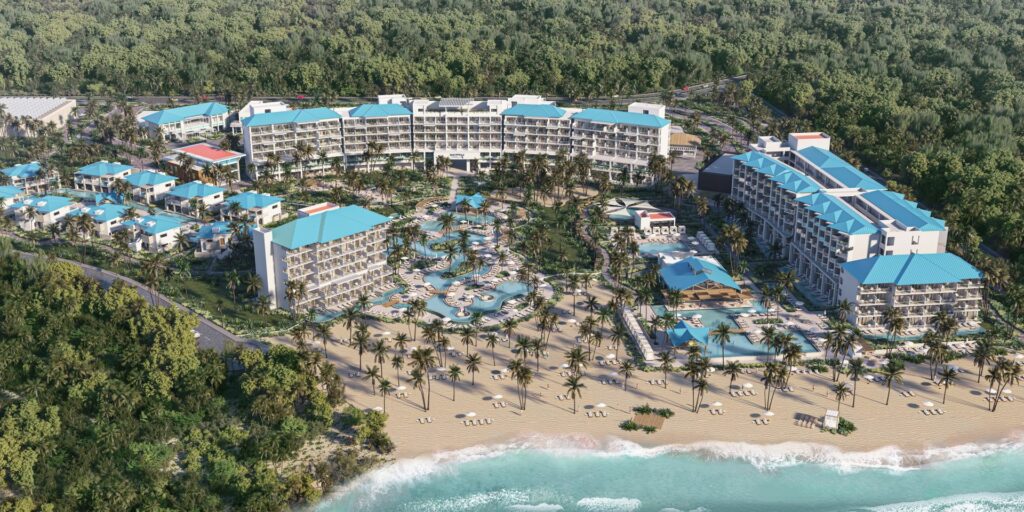 First Nickelodeon themed-resort in Mexico
An other spectacular opening on the Riviera Maya was the new Nickelodeon Hotels & Resorts, a famous US brand among kids and parents. Opened last August, it is the first branded Nickelodeon property in Mexico.
"As Mexico's first and only Nickelodeon resort, Nickelodeon Hotels & Resorts Riviera Maya transports kids and adults alike into the imagination-expanding worlds of the entertainment brand's beloved shows," said Mario Mathieu Senior Vice President of Business Development, Design and Construction at Karisma Hotels & Resorts. "From surprise and delight interactions with an expanded cast of 20 characters and one of the country's largest water attractions, to signature themed accommodations, such as the first-ever Lair Suite and more, there is a one-of-a-kind experience waiting to ignite the spark of play for all guests."
The hotel features 280 Oceanfront Swim-Up Suites with balconies giving sweeping views over the Carribean Sea. With a size of 58 m2, the room can comfortably accommodate families of five, complete with two full bathrooms.
The five-star, all-inclusive Nickelodeon Hotels & Resorts Riviera Maya wants to be the ultimate family-friendly destination in the Cancun region. Here, Nickelodeon's renowned Slimings and Character Experiences are combined with Karisma Hotels &Resorts' and Grupo Lomas' unmatched hospitality. For kids and their parents, the resort integrates an enormous six-acre Aqua Nick® water park, one of the largest of its kind along the Riviera Maya. The water park encompasses among others 200 m2 of slides and 182 m2 of river rides.
With both properties, we want to push up our European markets. We expect this year to have at least 5% of all our guests coming from Europe – particularly from Spain, Germany, the Netherlands and the UK. But we target more Europeans in the year to come as we will add new properties and increase our visibility", adds Marilyn Cairo.