17 EUROPEAN CITIES DEDICATED TO BICYCLE LOVERS REVEALED IN NEW STUDY
Berlin-based insurance company Luko has released its Global Bicycle Cities Index 2022 and Europe dominates the chart with 17 destinations in the top 20.
Over the last decade, cycling city tours have become a huge pull for tourists looking for the opportunity to discover a destination on two wheels.
The first city that immediately springs to mind when you think about cycling as a mode of transport has to be Amsterdam. It is a long standing tradition in the Dutch metropolis. Or maybe even Copenhagen, which has been a bicycle-friendly capital for decades.
Surprisingly though, they are not the most bicycle-friendly cities in the world according to Luko's Global Bicycle Cities Index 2022.
The insurance company analysed the conditions for cycling in 90 cities across the globe to determine if they are good for cyclists. The criteria for the 90 selected cities is based on their willingness to invest and work on initiatives to improve cycling infrastructure and safety. Luko explains that the study does not reflect the best and worst cities for cycling, but rather evaluates the cycling climate for these 90 cities based on factors related to bike-users.
This year's study revealed Utrecht in the Netherlands, followed by Münster in Germany and Antwerp in Belgium as the most bicycle-friendly cities in Europe. Model cities Amsterdam and Copenhagen were placed 5 and 4 respectively. Of the top 20 most bicycle-friendly towns, 17 are located in Europe compared to two in the Asia Pacific region and one in the Americas.
The study focuses on six main categories with the following factors that make a city cycling-friendly:
Weather
Percentage Bicycle Usage.
Crime & Safety: Fatalities / 100,000 Cyclists, Accidents / 100,000 Cyclists, Bicycle Theft Score.
Infrastructure: Number of Bicycle Shops / 100,000 Cyclists, Specialised Roads & Road Quality Score, Investment & Infrastructure Quality Score.
Sharing: Number of Bicycle Sharing & Rental Stations / 100,000 Score, # Shared Bicycles / 100,000 Score.
Events: No Car Day, Critical Mass Score.
A weighted average was used for all of the factors in order to create the final scores for each category, for example the Weather Score was generated by analysing and aggregating the Hours of Sunshine, Rainfall and Extreme Weather Days of each city.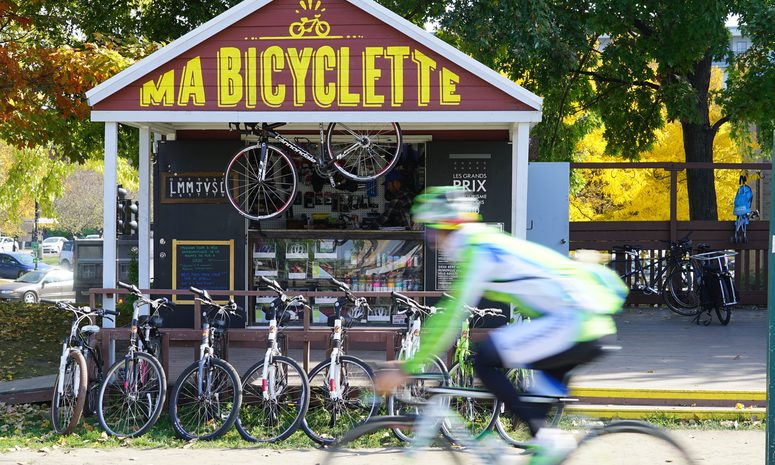 Surprising results
From 90 cities, only 18 were located in the Americas with half of them in the USA. The best biking city on the continent was Montreal in Canada (rank 16) followed by Vancouver (37) and San Francisco (39). New York and Chicago fared rather badly at rank 67 and 71. While the first South American city to appear in the index is Santiago de Chile, ranking 58.
The Asia Pacific region had a total of 15 cities, the best bicycle town being Hangzhou in China PRC (rank 7) followed by Melbourne, Australia (20) and Tokyo (24). Surprisingly, global cosmopolitan cities such as Singapore, Seoul or Hong Kong finished respectively 52, 69 and 84 in the global ranking.
Africa had the least number of towns featured in the study at four, with Cairo considered the best place for cycling at rank 75, followed by Johannesburg, Nairobi and Lagos – finishing last in the index.
In Europe, 63 cities were considered "bike towns". Interestingly capital cities generally did not have the best ranking. London ranks 62, far behind Bristol which ranked 15. Paris ranked 32, far behind Strasbourg (11) and Bordeaux (12). Madrid (44) was taken over by Sevilla (31) and Vienna (33) by Innsbruck (18).
Among global European cities, Frankfurt came rank 23, Geneva at 29, Brussels at 56 and Milan at 65. Surprising are also the performances of large Scandinavian capitals beside Copenhagen. Helsinki ranked 35, Oslo at 55 and Stockholm in 64th place.
The full details of the study can be found on the Luko website.