VIENNA MARKS PRIDE WITH A VIDEO CELEBRATING ITS FAMOUS DRAG QUEENS
To mark pride month, the Vienna Tourist Board has released Queens of Vienna, Queens of Vienna, a video that shows Viennese drag queens in private and live on stage. 
To coincide with Pride Month this month and fully in step with its theme for the year of 'Celebrate the Extraordinary', the Vienna Tourist Board recently published the new 'Queens of Vienna' video on YouTube to highlight how 21st century Vienna totally embraces the diversity of its visitors.
The stars of this unusual production are three famous Viennese drag queens: Kleinkunstprinzessin (which could be translated into Small Art Princess) Grazia Patricia, Metamorkid and Ryta Tale. Over the past few years, the trio have set the capital's drag scene alight, getting numerous new events up and running along the way such as Club Couleur at Das Vindobona and Drag Lab at Schikaneder.
"In Vienna I can be who I really am," gushes Upper Austria-born Metamorkid. Grazia Patricia adds: "For me Vienna is open and cheerful".
Around 10 minutes long, the witty, extremely colourful video follows Grazia, Metamorkid and Ryta as they perform, delivering exclusive backstage insights as well as personal interviews.
Discovering Vienna's native drag queens
The trio can be seen in various locations around Vienna that opened their doors especially for filming. Schönbrunn Palace, the Belvedere, Burgtheater, Gartenbaukino and the Ernst Fuchs Museum provide the perfect backdrop for the queens' eccentric performances.
Each year Vienna is transformed into a rainbow capital: running for two weeks, the 2022 Vienna Pride took place this year until June 12, spreading its defining message of equal opportunities and LGBTQ+ rights at numerous events. The event attracts hundreds of thousands of people each year with the flamboyant festival reaching its peak with the Rainbow Parade on Vienna's famous Ringstrasse boulevard.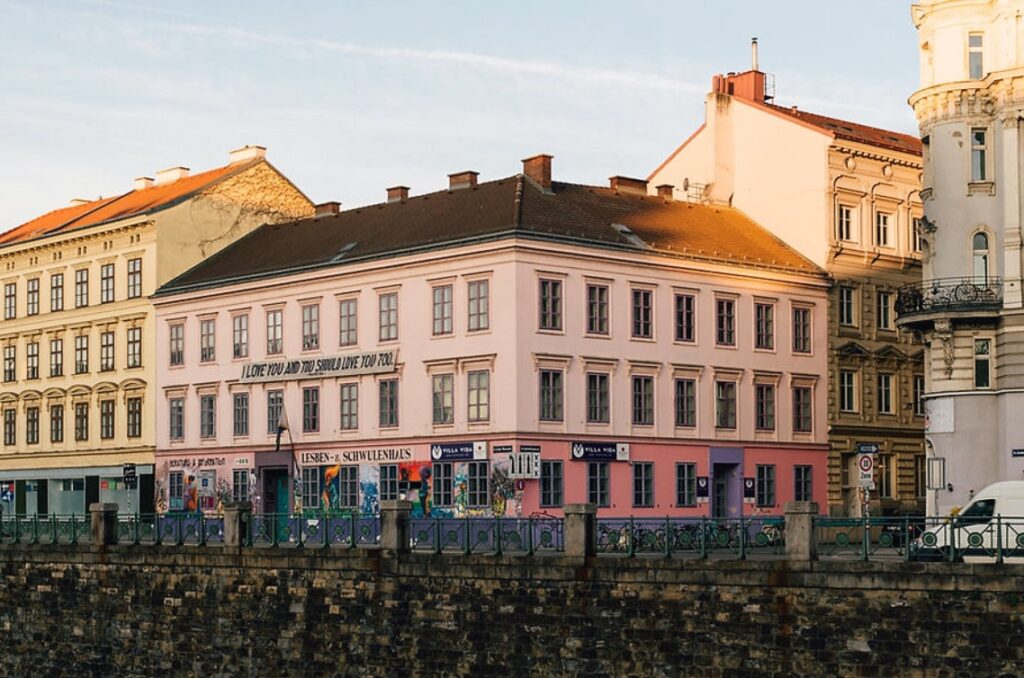 LGBTQ+ Guide on Vienna Tourist Board own ivie App
Paying further tribute to the LGBTQ+ community, Vienna has also launched a dedicated guide for the tourist board's award-winning destination app, ivie. It features a new walk taking in some of the capital's LGBTQ+ highlights opens up a completely different way to explore the city.
The app highlights locations such as the legendary bookstore Löwenherz, the community rendezvous Türkis Rosa Lila Villa, the opulent Café Savoy, women's meeting space Flinte and Vienna's oldest gay club Why Not. These locations are just some of the stops that the new guide takes in, giving LGBTQ+ travellers new ideas to discover a less known Vienna.
Other highlights include historic landmarks which have their own fascinating LGBTQ+ stories to tell, such as the Albertina and the Belvedere. The walk is available in German and English. On the general website of Vienna Tourist Board, a dedicated section is also available for the LGBTQ+ community. This time in 11 languages!