NEW HOCH-TIROL-TRAIL, LINKING THE SOUTH TIROL MOUNTAINS IN ITALY TO THE EAST TIROL RANGE IN AUSTRIA, OPENS TO TRAVELLERS
The Hoch-Tirol-Trail, which opened earlier this month, is an exciting new hiking adventure linking the Austrian and Italian mountains over the province of Tirol.
The Hoch-Tirol-Trail leads from South Tirol in Italy to East Tirol in Austria is Europe's newest cross-border long-distance hiking trail.
The Hoch-Tirol-Trail connects the village of Prettau in South Tirol at the head of the Ahrntal valley with the village of Prägraten at Großvendiger in East Tirol in three stages. The trail crosses the magnificent Rieserferner-Ahrn Nature Park in South Tirol as well as the National Park Hohe Tauern in East Tirol. On 27.8 kilometres of trail, 1,490 metres of ascent and 1,000 metres of descent are covered.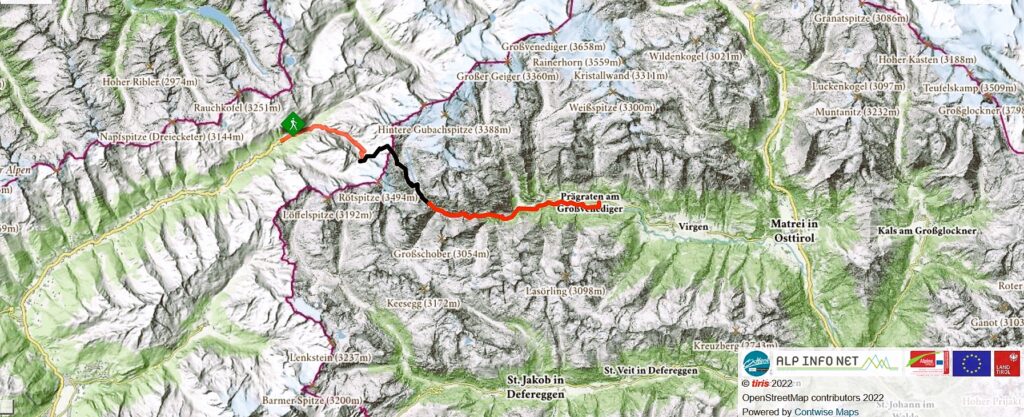 Walking time for the route is estimated to take 12h30 and, due to the difficulty of the trail, it is recommended for experienced hikers.
On the Italian side, the Lenkjöchlhütte, 2,603 metres above sea level, serves as a base, while on the Austrian side, the Clarahütte – at 2038 metres above sea level – offers overnight accommodation. The hut approaches on both sides are popular hiking destinations.
Between the two huts, the Hoch-Tirol-Trail leads through a quiet and wild area where hikers will hardly encounter any mountaineers. The journey to and from the starting and end points of the trail can however be done by public transport. More information is available on the Ost-Tirol tourism website.