ENJOY 'SEATTLE MUSEUM MONTH' AND DISCOVER THE CITY'S KEY ATTRACTIONS IN FEBRUARY 2023
Seattle Museum Month is a good reason to pay a visit to this beautiful US metropolis in February.
The scheme – which runs from February 1-28 – is supported by Visit Seattle and funded by the Seattle Tourism Improvement Area. It offers substantial discounts and activities at over 20 museums in the city area and its surroundings. The offer is valid for guests staying in hotels in Seattle downtown.
Throughout February, guests staying in any of the 70 downtown Seattle hotels will receive a Museum Month pass for up to four people, granting 50% off admission at all participating museums. That includes major attractions like the Seattle Art Museum, Chihuly Garden and Glass, Seattle Aquarium, Woodland Park Zoo, Museum of Pop Culture, The Museum of Flight, The Wing Luke Museum, Museum of Glass, Pacific Science Centre and many others. Seven museums even offer free entry during the month of February.
For Benjamin Ward, west coast area manager of the hotel chain citizenM, the special month pass is a great opportunity to enjoy one of the USA's most casual cities. "As a brand that celebrates the culture of the cities we are in, citizenM is excited to participate in Seattle Museum Month once again," he said. "Our two hotels – in South Lake Union and Pioneer Square – are located near some of the best museums in the city, including the Museum of Pop Culture, Bill & Melinda Gates Foundation Discovery Centre, and the Seattle Pinball Museum.
"It is great to be able to share the Museum Month offer with our guests and encourage them to dive into the culture and history of Seattle."
Highlighting Seattle's appeal in February
Several new displays and exhibits will be open in February, including the Seattle Art Museum's dramatic reinstallation of its American art galleries – the first in 15 years – called "American Art: The Stories We Carry." The exhibition reflects America's complicated history and explores the multiplicity of American identities.
"As the largest visual arts institution in the Pacific Northwest, we love welcoming visitors to the museum during Seattle Museum Month to discover art from around the world," said Amada Cruz, Seattle Art Museum's Illsley Ball Nordstrom director and CEO. "This year, we have standout shows across the entire museum, including the updated American art galleries created in collaboration with artists and community members and a new thematic installation of our modern andcontemporary galleries highlighting BIPOC artists. It's a great time of year to make a day of it at the Seattle Art Museum." 
Chihuly Garden and Glass has also opened a new light and music show, "Winter Brilliance." Using innovative video projection technology, this immersive installation was created to project onto the stunning glass pieces, inspired by fire, ice, and the dramatic use of light. And music fans won't want to miss the last chance to experience "Contact High" at the Museum of Pop Culture, exploring the evolution of hip-hop and how it connects listeners with the experiences, identities and places that have shaped the world's most popular music genre.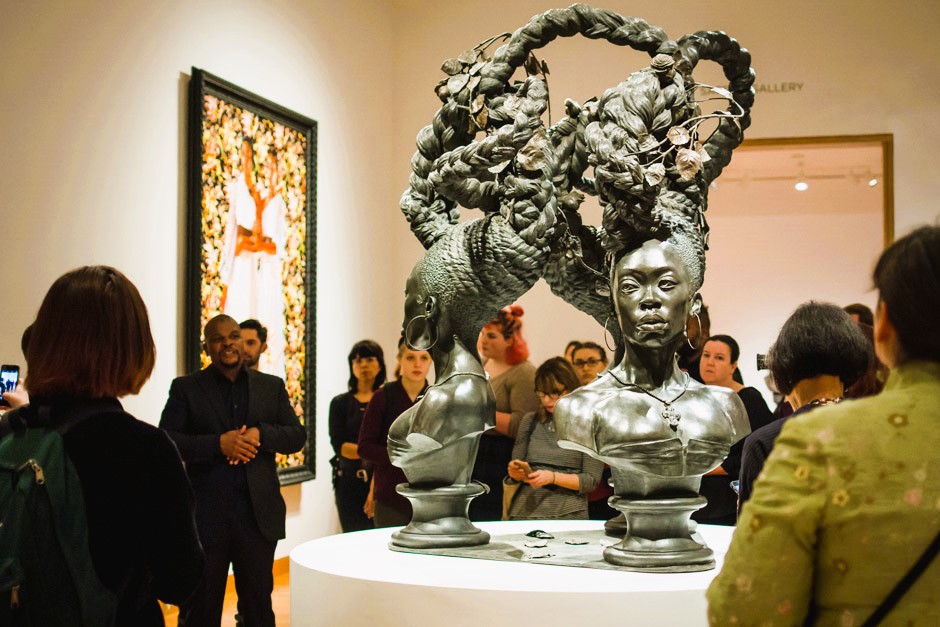 "Seattle's cozy season is the perfect time for tourists and residents alike to explore some of our indoor attractions," explainedTim Kuniholm, senior director of public relations and strategic partnerships at the Seattle Aquarium. "Only in Seattle can you get an up-close look at creatures from the depths of the Puget Sound and beyond, all within walking distance to some of the city's historical attractions, such as Pike Place Market and the Seattle Art Museum." 
Promoting Seattle culture
With half-off savings at these venues, visitors who make the most of the Seattle Museum Month offer can essentially recoup the cost of their hotel stay, making for a very affordable, budget-friendly vacation. They simply stay at a participating hotel and request an official Seattle Museum Month guest pass for use at any of the below museums to redeem the discounts.
"Seattle Museum Month offers unbeatable value for our visitors, but it's also a great option for locals to take advantage of," said Visit Seattle's senior director of cultural tourism, Tracey Wickersham. "This is truly the best and most affordable time to enjoy a staycation, exploring the arts and culture available in our own backyard – at a discount."
To see the full list of participating museums and hotels, visit seattlemuseummonth.com. Seattle Museum Month is produced by Visit Seattle and funded by the Seattle Tourism Improvement Area (STIA), a dedicated marketing fund assessed from guests at several downtown Seattle hotels. The program was created to encourage travellers to visit Seattle in February.