Amsterdam sets up an urban tourism policy based on quality in 2023
Amsterdam is one of Europe's most popular cities. However in recent years, both the population and the city administration have felt uncomfortable with some tourists' behaviour. City authorities consequently decided to restrict some undesired visitors' activities while boosting at the same time its cultural offers. Amsterdam's regulation towards a better control of tourism activities could become a model for other cities…
Amsterdam needs to find a balance between its residents and visitors. The Dutch metropolis has been suffering increasingly of over-tourism in the last decade. In 2019, Amsterdam welcomed over 22 million visitors while its total population reaches approximately 900,000 inhabitants. In 2023, Amsterdam expects to see 18 million travellers. It could actually be more but this number is now the upper limit that Amsterdam authorities fixed back in an ordinance in June 2021. It sets a cap on the number of tourist stays and day visits in the city.The plan is called "Tourism in Balance in Amsterdam".
Amsterdam wants to boost its appeal towards tourists with r a good motivation. In an interview in July 2022 with Bloomberg CityLab, Amsterdam mayor Femke Halsema, told that "we love tourists in our city. They are an important part of our local economy. Especially when tourists come for the beauty of our city, for our museums or for our night culture. But we do have a problem with […] the behaviour of a minority of tourists. What we do not welcome is people who come here on a vacation from morals. They express a form of behaviour they would not express at home. People coming here to lose their morals is a problem for us […] We should correct the way we advertised the city in the last 15 years," she explained.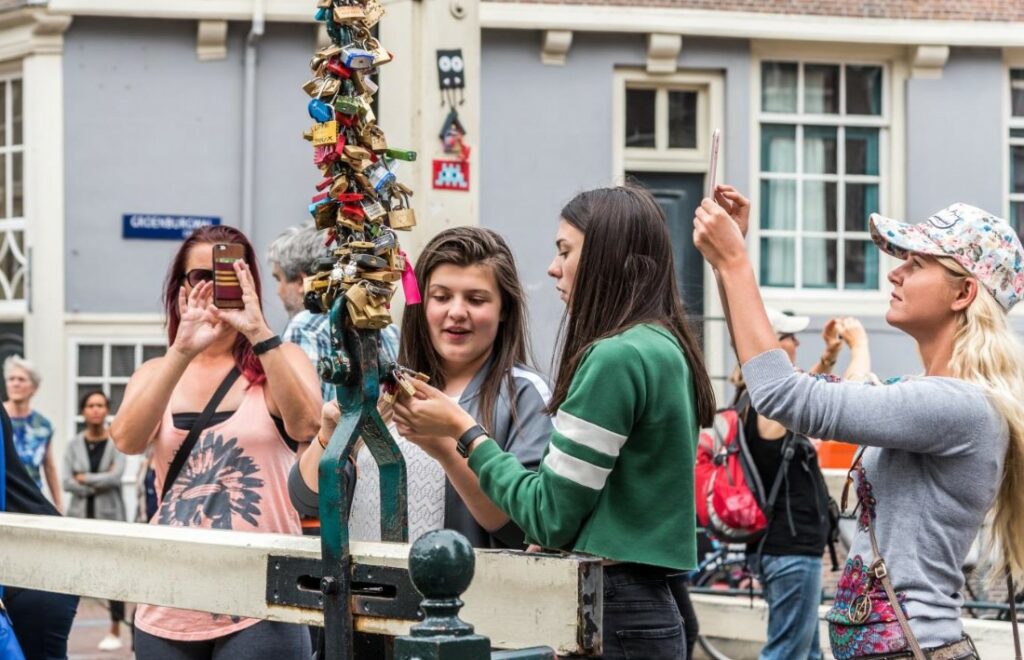 "Tourism in balance" to discourage undesirable foreign travellers
With the plan, efforts have been done to clean up Amsterdam centre from unwanted developments to foster a better balance between the quality of life for residents and hospitality for visitors. Already in the last few years, important improvements have taken place. These include: a new policy for 'shop diversity' (a ban on new tourist shops), a ban on holiday rentals in 3 neighbourhoods in the city centre, and a new restrictive policy to minimise the number of new hotels. In addition, large tour groups are no longer allowed, the Water and boating policy is dealing with nuisances related to the waterways, and an investigation has taken place into the tourism carrying capacity of the city's various neighbourhoods and districts.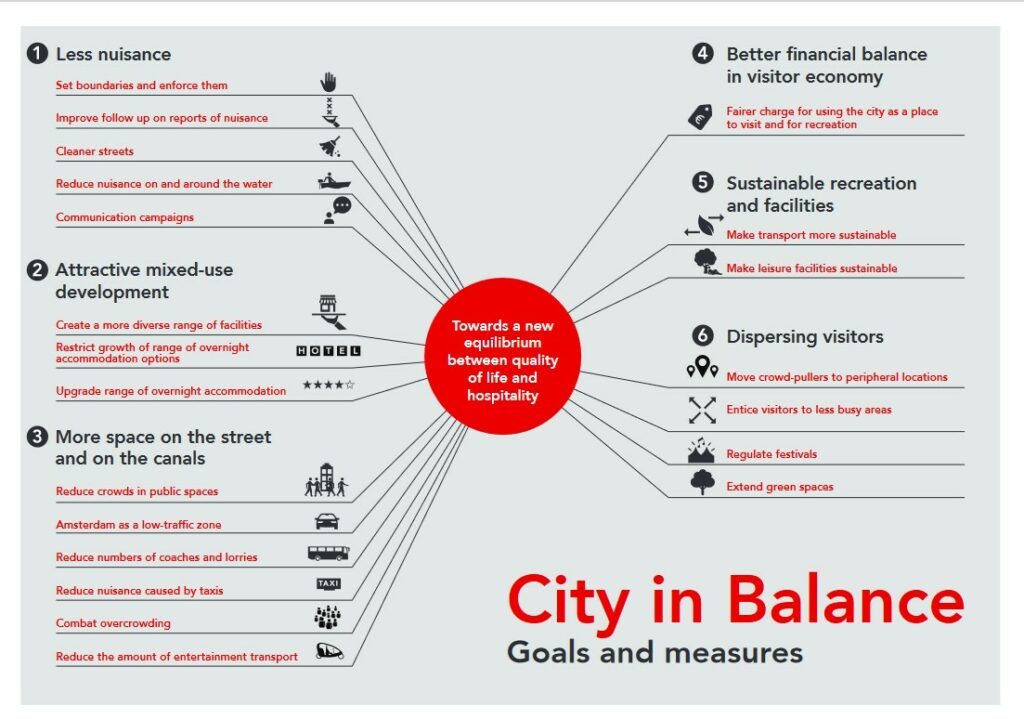 Amsterdam's administration is now going a step further. A campaign called "Stay Away" this spring is being launched to discourage tourists who come to "go wild"as a main motivation to visit Amsterdam. This includes activities related to alcohol, drugs and sex. The city council wants to tackle nuisance during bachelor parties and organised pub crawls, limit the number of river cruises, bring forward closing times of pubs and window prostitution in the Red Light District and introduce a ban on illicit products and alcohol consumption in many areas of the city centre.
Amsterdam for culture lovers and tourists looking for an authentic experience
Other measures foresee to spread tourist flows by developing leisure facilities in North, Southeast, New West and relocating leisure facilities from the city centre. A focus on transforming some hotels to residential units or office offices. The city administration succeeded already by banning most Airbnb-style supply in town. Total units diminished from roughly 30,000 to 5,000 units. Renting an apartment for tourism purposes is also limited to only 30 days per year.
Visitors are and will remain welcome in Amsterdam, but this should no longer be at the expense of the city's livability. Said Amsterdam Mayor Femke Haselma in Bloomberg Citylab interview: "Amsterdam is a place where you should go if you are looking for beautiful museums, or to see the underground culture, or if you want to attend our Pride. We don't want our traditional liberalism to be replaced by conservatism. That is not what we are aiming for."