SHARJAH NOW OFFICIALLY HAS THE WORLD'S LARGEST SAFARI PARK OUTSIDE AFRICA
With around 50,000 animals Sharjah, in the UAE, is now home to the largest safari park in the world outside the African continent.
Sharjah's newest attraction was opened, Sharjah Safari, was officially opened by His Highness Sheikh Dr. Sultan bin Muhammad Al Qasimi, Supreme Council Member and Ruler of Sharjah.
Sharjah Safari is the Emirate's newest spot for adventure and animal lovers. A picturesque place nestled in the lap of nature, Sharjah Safari offers tourists and visitors to observe the endemic wildlife in Africa. Native African animals roam without fences, in an environment similar to their natural environment. Sharjah Safari plays host to more than 120 species of animals, which are native to Africa and up to 50,000 animals, ranging from birds, reptiles and mammals; such as lions, elephants, giraffes, black and white rhinoceros, crocodiles, deer, bulls and many other endangered species.
Inspired by the diversity of Africa, the park is divided into 12 different environments representing the life and terrain of the continent, and the animals and birds that live in it.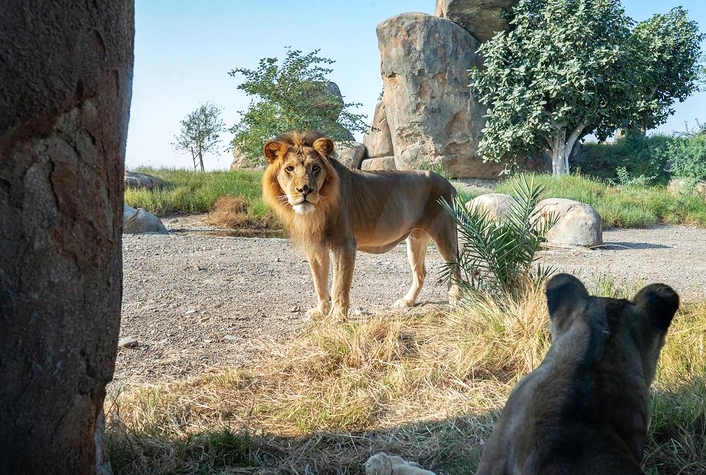 Five regions of Africa in one destination
Sharjah Safari contains several areas that simulate the real regions of Africa. The first area, "To Africa", takes visitors on a unique walking experience to explore the wildlife native to the islands and archipelagos scattered along the eastern coast of Africa in the Indian Ocean.
The second region, the Sahel, is represented by deserts, pastures and diverse wildlife. It extends in Africa from the Atlantic coast of Mauritania in the west to Eritrea and the Red Sea in the east, and is a transitional area – rich in wildlife – between the Sahara Desert in the north and the Savannah to the south.
The third region, the Savannah, extends in eastern and southern Africa from the coast in the north to the Kalahari in the southwest. This tropical grassland covers half the area of the African continent and is home to the largest concentration of biodiversity on Earth.
While the fourth region, the Serengeti, celebrates the largest migration of animals in the world every year. Large groups of herbivores migrate across the Serengeti plains, and works to attract predators and animals that feed on carrion, crossing the Mara River, where Nile crocodiles lie in the murky waters, a dangerous predator to migratory herbivores.
The fifth region, Nkorongoro, formed from an extinct crater, is a unique ecosystem and home to some of Africa's most famous species. While the sixth region, Moremi, is inspired by the canyons and valleys of southwest Africa that were formed over centuries by heavy monsoon rains, and these dry and sandy riverbeds contain aquifers that support life throughout the dry season.
Sharjah Safari offers a variety of entry packages suitable for a range of tourists as well as a choice of restaurants, cafes and special activities for children.