QATAR AIRWAYS LEADS MIDDLE EAST IN TESTING IATA COVID TRAVEL PASS
Qatar Airways has become the first airline in the Middle East to trial the IATA Travel Pass "Digital Passport" mobile app.
Since 11 March, passengers travelling on the airline's Doha to Istanbul route have begun trialling the digital platform offering a more safe, secure and contactless experience for travellers.
The trial is being undertaken in partnership with the International Air Transport Association (IATA), Qatar Ministry of Public Health, Primary Health Care Corporation and Hamad Medical Corporation.
IATA Travel Pass ensures passengers receive up-to-date information on COVID-19 health regulations at their destination country, as well as complying with strict global data privacy regulations to enable the sharing of COVID-19 test results with airlines to verify they are eligible to undertake their journey.
Qatar Airways Group Chief Executive, HE Akbar Al Baker, said: "We have confidence in the credibility of the IATA Travel Pass as the industry's most reliable and innovative solution given its strong data privacy compliance, long-standing entry rules engine and ability to provide an end-to-end solution. We are proud to be at the forefront of trialling this platform, being one of the first globally and the first airline in the Middle East to trial the technology."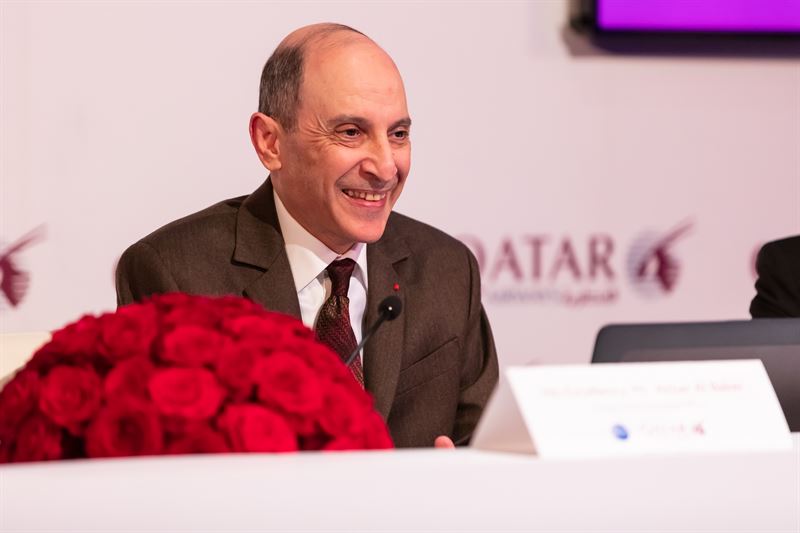 Al Baker added, "With the strictest data privacy regulations, IATA Travel Pass is a huge step towards proving that ICAO's global standards for digital passports do work. It will also assist in laying the foundation for governments across the world to come together in the development of standardised regulations to reduce the current patchwork of red tape across the international travel industry. In partnership with the World Health Organisation, IATA is also engaged in helping to define a standardised vaccine certificate that will be necessary for the opening of borders and scalable increase of global travel"
IATA Director General and CEO, Alexandre de Juniac, said: "Qatar Airways' full deployment of IATA Travel Pass is a significant milestone in restarting global connectivity. Governments are requiring testing or vaccination certifications to enable travel and the IATA travel app helps travellers to securely and conveniently manage and provide their credentials. All passengers using IATA Travel Pass can be confident that their data is protected and governments can trust that the "OK to travel" means both a genuine credential and a verified identity,"
QATAR CLAIMS TITLE OF "WORLD'S BIGGEST AIRLINE"
New data from OAG recently reaffirmed Qatar Airways as "the largest airline in the world" in terms of Available Seat Kilometres (ASK). Qatar Airways' network of more than 1,000 weekly flights to over 130 destinations, provided over 2.6 billion ASKs during March 2021, offering the most flights to international destinations.
The airline has added seven new destinations in the past 12 months, including San Francisco and Seattle in the US, Abuja, Accra and Luanda in Africa, and Brisbane and Cebu in Asia Pacific.
THAWING OF RELATIONS A BOON FOR REGION
The rekindled success of Qatar Airways comes as relations earlier this year were "unfrozen" between the Qatar state and its neighbours. On 5 January, diplomatic relations were restored with four Arab states that had imposed an embargo against it for three years, and Saudi Arabia agreed to reopen its land and sea borders and airspace to Qatar.
Saudi Arabia's Foreign Minister, Prince Faisal bin Farhad told reporters that the countries had agreed to "fully set differences aside" at a Gulf Co-operation Council summit in January.
Saudi Arabia, the UAE, Bahrain and Egypt cut ties with Qatar in 2017, accusing it of supporting terrorism. The tiny, gas- and oil-rich state denied the accusation and rejected the conditions for ending the partial blockade, including closing the Doha-based Al Jazeera broadcast network and curbing relations with Iran.
At January's GCC summit in the Saudi heritage site of al-Ula, leaders of the six GCC member states signed an agreement that Saudi Crown Prince Mohammed bin Salman said affirmed "Gulf, Arab and Islamic solidarity and stability".
"There is a desperate need today to unite our efforts to promote our region and to confront challenges that surround us, especially the threats posed by the Iranian regime's nuclear and ballistic missile programme and its plans for sabotage and destruction," he added.
Later, Prince Faisal told a news conference: "What happened today is… the turning of the page on all points of difference and a full return of diplomatic relations."