OSLO INAUGURATES A MUSEUM DEDICATED TO FAMED NORWEGIAN ARTIST MUNCH
Oslo has a new cultural attraction. On October 22, Munch museum was inaugurated in the Norwegian capital.
The brand new building is likely to become a new icon in Oslo's skyline with its 13 floors, home to the world's largest collection of works by Norwegian artist Edvard Munch. The museum will boost Norway's cultural appeal for travellers.
Norwegian painter Edvard Munch is best known for its world-famous painting "the Scream". But there is far more to be learned about the artist at Munch, Oslo's newest museum. Overlooking the Oslo Fjord, the museum's architectural originality comes from the idea of a tower-shaped structure, where the main functions are organised vertically. Sixty metres in height, clad in recycled, perforated aluminium panels of varying degrees of translucency, and with its distinctively leaning top section, the tower is a highly visible landmark from all sides. Its aluminium façade reflects the ever changing lights and colours of Oslo's skies and seaside.
Spain's architectural cabinet Estudio Herreros is behind the ambitious project. Architects explain that the new building has been created as a nod to Edvard Munch's connection to the Norwegian landscape and his penchant for painting outside in all seasons.
The tower's 13 floors are dedicated to the museum's permanent collection, temporary exhibitions as well as dining and drinking spaces. The museum is crowned by a terrace with a panoramic view over Oslo skyline. The museum offers distinctive features such as :
One of the world's largest museums dedicated to a single artist.
The museum's collection consists of more than 42,000 works of art and objects. The collection also includes thousands of other items including Munch's printing plates and lithographic stones as well as thousands of letters and approximately 10,000 objects from the painter's own personal belongings.
The permanent exhibition displays over 220 Munch works.
The museum is one of 50 role models in the Future Built program, the Oslo region's prestigious program consisting of buildings of high architectural quality and a 50% reduction in greenhouse gas emissions in transport, energy use and material use compared to similar buildings.
Highlights in the new museum include monumental mural paintings including The Sun (1909), which stretches nearly 8 meters, as well as several versions of Munch's iconic work, The Scream, including an early study in pastel from 1893 and a later painted version from 1910.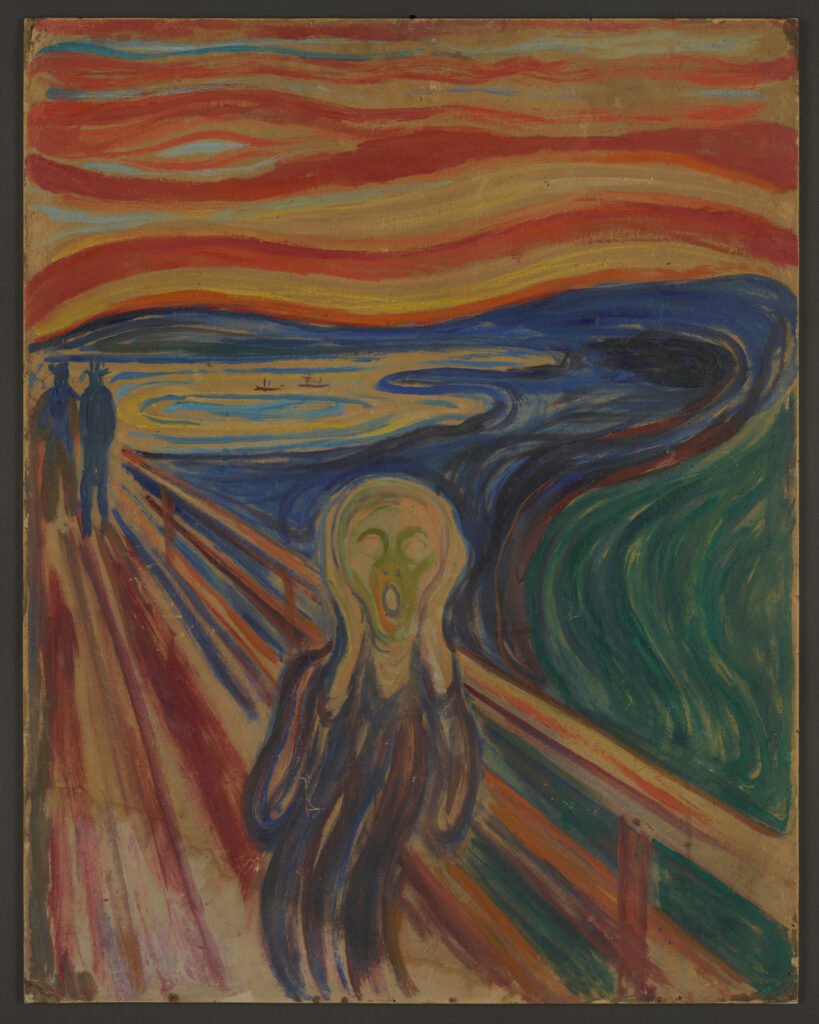 A museum open to all
The new museum also highlights Munch profound influence both on modern art and on artists through to the present day. Alongside displays of iconic artworks from the renowned permanent collection, temporary exhibitions will show Edvard Munch's lasting influence in his own contemporary society, as well as on today's generation of artists.
The philosophy behind the Munch museum concept is to be a fully accessible, vibrant venue, offering a wide-ranging programme of events and experiences for visitors of all ages with enhanced studio spaces. Research and conservation facilities are accessible to the public, allowing visitors insight into the ongoing work taking place to preserve and celebrate Edvard Munch's legacy. The programme of events includes concerts, literature readings, performance and art workshops, integrating the museum within Oslo's new cultural district of Bjørvika.
Munch aims to make Oslo more attractive to its inhabitants, and create another excellent reason to visit Oslo for foreign visitors.
"The Munch is a great venue in Oslo," said Munch's press officer Maren Lindeberg. "Architecture, a central location, and a calendar full of varied events will truly put art at the heart of Oslo, and give the museum a key role in developing the community.
"Bjørvika, the area where Munch is built, adds a new dimension to Oslo, which makes the city an international metropolis and an exciting destination offering a wide variety of things to do. Oslo is about to be reborn."