CZECH RAILWAYS SET TO DEVELOP 666 KM HIGH-SPEED RAIL NETWORK
Czech Railways should provide 666 km of high-speed rail tracks by 2040. The first high-speed lines are due to open around 2027/2028, linking Pilsen to the German border as well as Prague to Dresden. A second rail line is due to link Prague to Brno and Brno to Ostrava/Poland.
Czech Railways see their future in building a high speed network. The rail company is currently in the pre-investment phase. The first pilot sections are expected to start from 2025.
The construction plans include up to five trunk lines. In 2025, it is expected to start the construction works for the Prague – Brno – Ostrava and Brno – Břeclav connections, linking Moravia to the Czech capital city. From Břeclav, trains would further go either to Bratislava in Slovakia or to Vienna. Another high speed track will also connect Brno to Ostrava and go further into Katowice and Krakow in Poland. Another 58km high speed rail link in Western Bohemia will also link Pilsen to Regensburg and Munich.
In 2022, Správa železnic (SŽ), the Czech rail company also intends to complete a feasibility study for another high speed section. It would then link Prague to Wroclaw in Poland via Hradec Králové and Pardubice.
Another important high speed rail link is the line between Prague and Dresden in Southeastern Germany. The new high speed rail line is one of the most important railway projects in Central Europe linking Germany and the Czech Republic with a tunnel through the Ore Mountains. This Cross Border Base Tunnel will be the most impressive infrastructure of this new line. It will have a total length of 26.53 km – 15.10 km at the German side and 11.43 km at the Czech side. In total, 42 km of new tracks will be needed to upgrade the current line. The Dresden-Prague line is a vital part of the Trans-European Transport Network.
The newly planned railway line, which will serve for both passenger and freight transport, will reduce travel time for passengers between Dresden and Prague from current more than two hours to one hour. It is expected to be launched in 2027. it would then help reducing as well the travel time by rail between Berlin and Prague to less than four hours.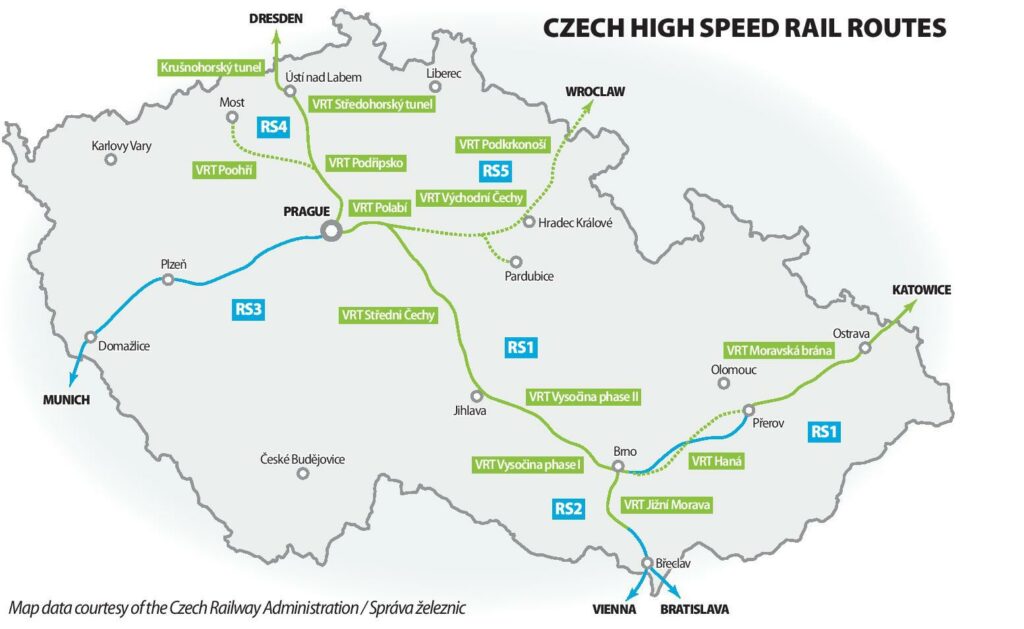 Czech high speed rail infrastructure supported by SNCF Réseau
Showing its commitment to the development of these high-speed rail links, Správa železnic (SŽ), the Czech rail infrastructure manager and French SNCF Réseau signed, in early November, a new cooperation agreement for the preparation of the high-speed rail network (VRT). Under the agreement, the French company will provide consultation for the next 8 years.
The two companies are already cooperating for the implementation of the projects for which "the SNCF has shortened the preparation of high-speed lines in the Czech Republic by several years," SŽ says.
The main reason is the use of French know-how, which is based on more than 50 years of experience in the design and operation of its high-speed network. "If we want to adhere to the current work schedule and start construction of the first VRT [high-speed rail] sections in 2025, we need quality experts with experience in preparing and operating such lines," Jiří Svoboda, the Director General of SŽ said at the signing ceremony.
When completed, experts estimate that 5.5 million people – roughly half of the Czech population – will be served by high speed trains able to travel at 320km/h. Currently, the maximum speed allowed on the Czech railway network is 145-160 kilometres per hour using Italian Pendolino trains. These speeds can be reached by the passenger trains on the Prague – Olomouc – Přerov – Ostrava line, on the Přerov – Brečlav and Brno – Brečlav routes as well as on some sections of the Prague – Plzeň – Cheb, Prague – Děčín and Prague – České Budějovice lines.
By 2050, the Czech authorities expect to transport 130,000 passengers a day using high speed trains.