SK FINANCED €1.3 BILLION TO BUILD LARGEST TOURIST RESORT IN NORTHEAST ASIA
The South Korean city of Incheon will be home to the largest tourist resort in Northeast Asia. Developers recently received a reported €1.32 billion to start the project.
The Inspire Integrated Resort will be located in the Free Economic Zone of Incheon, with the city's international airport nearby. The first phase of the project will reportedly include the construction of a five-star hotel, featuring over 1,000 rooms, as well as a casino, concert hall, shopping mall and indoor waterpark.
The largest tourist resort In Northeast Asia
Development for the Inspire Integrated Resort is led by a consortium of international companies, including U.S.-based Mohegan Tribal Gaming Authority, UK investor Miura Holdings, South Korean company KCC and the Incheon International Airport Corporation.
An agreement for the project was made in June 2015, with Mohegan formally starting a collaboration with the Incheon International Airport Corporation. At the time, Mohegan stated that the hotel-casino resort will "cement Incheon Airport's position as one of the best airports in the world" and will "create an epicenter for Korea's growing entertainment, tourism and hospitality industry". Incheon Airport concurred in a statement, noting that the resort will be a "top leisure destination in Asia.
In a recent statement, Mohegan Chairman James Gessner Jr. noted "We have a proven track record in developing and operating leading integrated entertainment resorts in North America with our successes in Connecticut, Las Vegas and Niagara Falls". He went on to say "we look forward to taking this success abroad as the first American IR launched in Korea".
Funding complete for the Inspire Integrated Resort
Inspire reportedly has the funding to complete construction of this tourist resort. The funding includes around €504 million ($575 million) in equity, made up of Mohegan's €263 million ($300 million) investment and approx. €241 million ($275 million) that has been raised by private firms Bain Capital and MBK Partners.
In addition to this, around €780 million (1.04 trillion Korean won) has been raised by a South Korean consortium made up of KB Securities, NH Investment & Securities and Hana Financial Investment.
Hanwha Engineering & Construction Corp. has been named as the General Contractor for the construction. According to reports, the Corporation has provided a subordinated investment of around €75 million (100 billion Korean won).
In a statement, Mohegan's International President Bobby Soper said "We anticipate a significant rebound in the tourism and leisure industry following the pandemic, and we look forward to contributing to the Korean economy while at the same time opening and operating a successful, state-of-the-art resort". He went on to say "I'm thrilled to see our international vision for IR development reach this important milestone".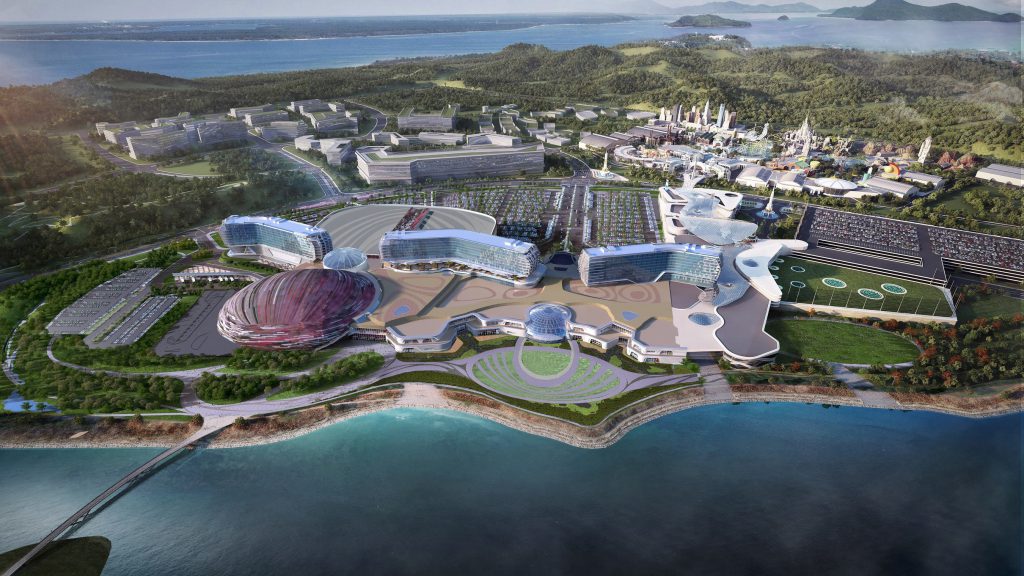 Three tourist resorts in the Incheon Free Economic Zone
The Incheon International Airport Corporation intends to finalise three tourist resorts in the Free Economic Zone. The Inspire Integrated Resort will follow Paradise City, which officials describe as "the first global integrated resort in Northeast Asia", and opened in April 2017.
The third destination will be the RFKR Resort, a casino complex which will reportedly have a foreigner-only casino. Development has been stalled by market disruption in the last two years, yet a March 2024 deadline has been reported for the project.
Mohegan expands Portfolio
The Inspire Integrated Resort joins a list of enterprises developed by Mohegan Gaming & Entertainment. The company is based in Connecticut, U.S., home to the Mohegan Sun, a casino and tourist resort featuring a 10,000-seat arena. Mohegan also developed Fallsview Casino Resort in Niagara, Canada, one of the largest gaming resorts in the country.