KUTAISI, A CITY WITH A UNIQUE FEELING
Kutaisi, the capital of Georgia's Imereti region, is presenting its diverse tourism offering from cozy cafés to dinosaur footprints at ITB Berlin 2023
ADVERTORIAL
Kutaisi, an ancient city that was built on the banks of the Rioni River surrounded by hills, is the largest in the Imereti region, located in western Georgia.
If you know the story about Jason and the Argonauts, you have already heard about Kutaisi. The myth mentions that in the 13th century BC, there was a fabulous gold-rich capital of the Kingdom of Colchis – Aya, Kutaia, Kutatis – which invented a unique method of mining gold. Many amazing artefacts of this era can be seen in the Archaeological Museum of Vani.
Kutaisi is not only an ancient city but was the first capital of United Georgia. It was the residence of many great kings, the centre of education, religion and industry. It also served as the birthplace and cultural centre of Georgia where the most outstanding figures of Georgian literary culture were born, studied, and started their careers.
This ancient city is also fully embracing the 21st century with exciting new developments: Several state of the art hotel developments have seen the day over the past years, becoming sometimes a tourist attraction on their own; new cafes are opening, styled in a mixture of old and contemporary interiors, where visitors can enjoy excellent Imeretian cuisine and hospitality. And many historical buildings are being restored, providing a pleasant mix of old and new. Kutaisi is a city with a truly special atmosphere, which makes it so different from other cities.
With the Hadron Therapy Center being currently in construction, the Kutaisi International University will soon propose new methods of treatment of oncological diseases, further boasting its strong position as a medical tourism destination.
Kutaisi is also re-positioning itself as a University City. Three years ago it became home to the International University (KIU), offering the latest in technology and infrastructure and cooperating with world's leading universities. KIU is the largest campus in the South Caucasus.
What's on in 2023:
This year, "David the Builder" Kutaisi International Airport will offer increased connectivity with top European destinations, as Wizz Air launches direct flights from 5 European destinations from June 1. In addition to current direct routes from Paris, Milan, Prague and Memmingen, Wizz Air will be operating twice-weekly direct flights from Madrid, Brussels, Frankfurt, Hamburg and Poznań.
In 2023, Kutaisi, together with several cities in Georgia, will host the UEFA European U-21 Championship games welcoming a large crowd of fans. On June 22-25-28, 2023, the renovated stadium will host football games between Germany-Israel, England-Israel, and Israel-Czech Republic.
International visitors to Kutaisi can optimize their experience by using the Kutaisi mobile application.
hub 27 / Stand 201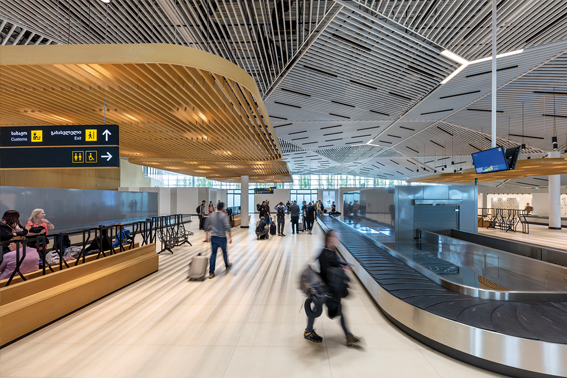 ---
Discovering Imereti Region
The Imereti region benefits from a diverse tourism offering, with plenty of activities to choose from. Wine cellars and agro-houses across the region give visitors the opportunity to taste some of the finest Imeretian wine and authentic cuisine. At the same time, adventure travellers will have much to look forward to, with karst caves, dinosaur footprints and canyons topping the must-see list. Religious, historical-cultural, adventure, extreme, wine, gastronomic itineraries have also been created throughout Kutaisi and the whole Imereti region as a result of the cooperation between Imereti Destination Management Organisation and USAID Economic Security Program.
hub 27 / Stand 201