AN 1834 CHRISTMAS RECIPE MADE IN SAXONY: WACKERBARTH CASTLE MULLED WINE
As Christmas fast approaches, it is interesting to note that the oldest known mulled wine recipe is a Saxon creation made at Wackerbarth Castle in Radebeul.
Saxony's history has a strong connection with Wackerbarth Castle. The Saxon nobility once resided there, while the court of Augustus the Strong also used to hold glittering parties in this place. Today, Wackerbarth Castle is open to visitors, offering a unique combination of a baroque castle surrounded by vineyards and a modern wine factory, all embedded in Saxony's historical wine landscape.
Wintertime is the best season for mulled wine, commonly referred as "Glühwein". In Germany, there is hardly any other beverage that is more closely associated with the Christmas season. But who stands behind the oldest known recipe of "Glühwein"? The answer leads to Saxony.
During a cold December 1834 in Radebeul, a descendant of Count Wackerbarth decided to develop a heart-warming drink which would make the chilling temperature more bearable. He mixed cinnamon, ginger and nutmeg to local white wine. And had a glorious idea: he heated up the liquid !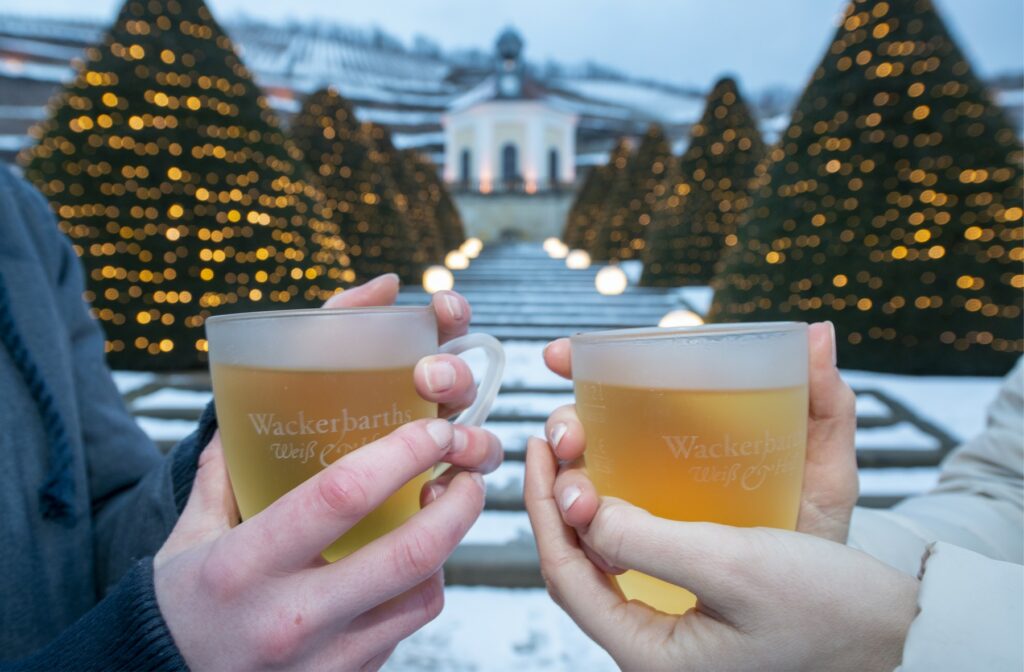 After his death, Wackerbarth's historical recipe went missing and forgotten; until the end of 2013, when the document was rediscovered in the Saxon Central Archive in Dresden by Dr Nils Brübach. After careful examination, it became obvious that this was the recipe for the famed "Glühwein", the oldest known recipe for mulled wine in Germany!
Ingredients for a Dresden jug (0,93 litres)
White wine (ideally from Saxony)
4 Loth of cinnamon powder
2 Loth of ginger
1 Loth of aniseed grains
1 Loth of Galganat (pomegranate)
2 Loth of nutmeg
1 Loth of cardamom
1 Gran of saffron
Heat up, mix and sieve. Season with honey and sugar.
1 Loth = 14 grams
1 Gran = 1/2 gram
Following the document's discovery, the wine makers of Wackerbarth Castle revived the Saxon "Glühwein" tradition and carefully adapted the historical recipe to today's taste with "Wackerbarths Weiß & Heiß" (Wackerbarths white & hot). This fruity winter drink is made of selected Saxon white wine, grape juice and gentle flavouring ingredients. Wackerbarths Weiß & Heiß is a true ambassador for Saxony Christmas and culinary tradition.