DELTA AND AEROMEXICO INTRODUCE TOUCHLESS CHECK-IN WITH SKYTEAM TECHNOLOGY
Airlines Delta and Aeromexico have unveiled a digital check-in for multi-airline travel, in a collaboration with SkyTeam technology.
Delta and Aeromexico are the first two airlines to introduce this "alliance-first" technology. The feature was developed by the Digital Spine unit at SkyTeam, an influential airline alliance. Delta and Aeromexico are two of the 19 members of SkyTeam.
SkyTeam's touchless travel technology
The new technology aims to make travelling on an itinerary that includes flights with both Delta and Aeromexico airlines easier. Travellers are able to check-in digitally, with boarding passes provided by either airline's self-service channels. Travellers are then able to reach security clearance without having to visit a kiosk or liaise with an agent. It is thought this "touchless" experience will make travelling between the airlines faster and easier. 
The technology works by connecting the digital systems of the two airlines, a unique development from the Digital Spine at SkyTeam. For example, a customer could purchase a ticket with two flights, one operated by Delta and one by Aeromexico. The technology allows the customer to use the airlines' online services (such as the Delta or Aeromexico app), to check-in for both flights and receive boarding passes.
The companies estimate that over 50,000 customers will feel the benefit of this innovation every month. It aims to reduce stress among travellers, as well as shorten the wait time in airport queues.
The touchless approach was tested out in 2021, with Aeromexico customers travelling on a Delta flight. Over 300,000 customers have used the service since then, meaning that the technology can be implemented with more members of the SkyTeam alliance later this year.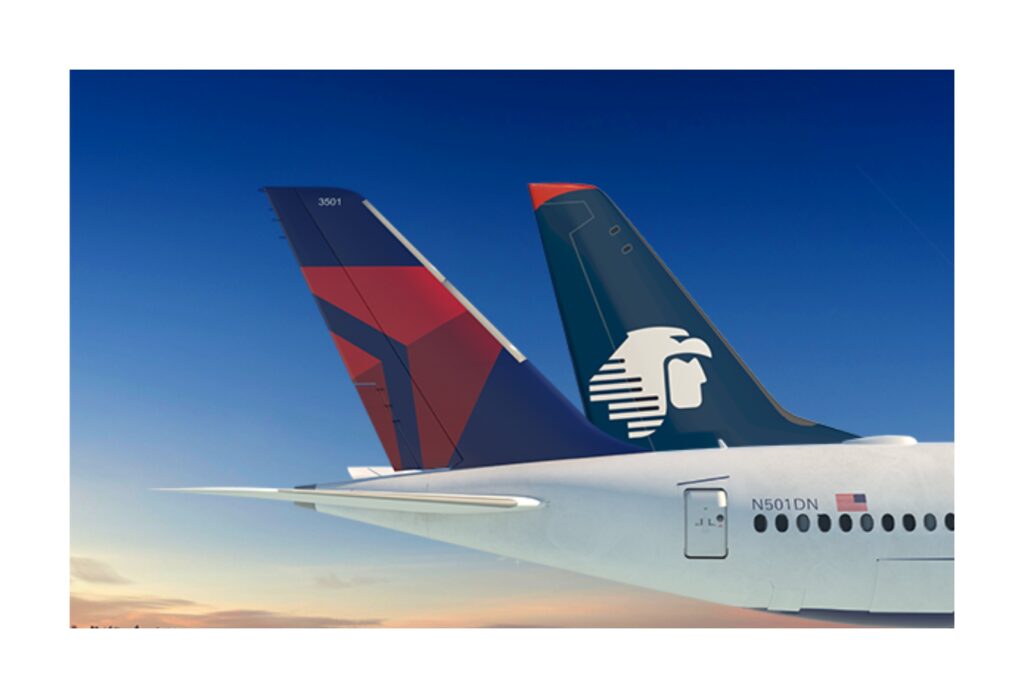 "Digitising the travel experience"
In a public statement, Alliance Board SkyTeam Chairman Walter Cho said "SkyTeam's innovative technology is digitising the travel experience to increase health safety and convenience by avoiding the need to wait in line. 
"Through our mission to be the most seamless global alliance, we are creating a raft of tools that keep customers informed and ready to fly, giving them greater confidence when travelling internationally. We are working fast to implement this new check-in technology across most members in 2022".
In a concurring statement, Delta's International President Alain Bellemare said "We know that using digital channels, such as the Fly Delta app, to check-in and get your boarding pass is an important part of creating a stress-free travel experience.
"We know that using digital channels, such as the Fly Delta app, to check-in and get your boarding pass is an important part of creating a stress-free travel experience."
Aeromexico's executive vice president Andres Castañeda said "Now more than ever it is key to have a reliable digital ecosystem that helps us offer a smooth travel experience. Thanks to our joint efforts with SkyTeam, we have enabled this new functionality that reaffirms the seamless travel journey between Aeromexico and Delta Air Lines, and soon with other alliance partners.
"This work manifests all members' commitment to offering a cutting-edge service for all our customers."
Delta and Aeromexico continue their commitments
Delta and Aeromexico have previously collaborated to offer a streamlined customer experience for their travellers. Both airlines have implemented health-focused policies that safeguard their customers and employees, with a commitment to advance technology that can further improve the travel experience.
The SkyTeam alliance notably has a SkyCare&Protect program, with a collection of 22 health and hygiene policies that are used to safeguard personal health safety along the international travel journey. Other SkyTeam members that could introduce this technology include Air France, China Eastern and Xiamen Airlines.