Malaysia gives new impetus to its tourism industry following MOC with Emirates
With Malaysia reopening its borders to the world without any restrictions, the country is again getting active on international markets. Bringing tourists from all over the world will be facilitated with the recent Memorandum of Collaboration (MOC) signed with Dubai-based carrier Emirates Airlines.
Malaysia pulled the plug on most Covid-19 travel restrictions for fully vaccinated travellers since April 1st, 2022. Fully-vaccinated foreign travellers are no longer required to be submitted to pre-departure and on-arrival Covid-19 tests while travel insurance is no longer compulsory. Only not fully vaccinated travellers still need to take an RT-PCR test two days before their flight departure to Malaysia as well as within 24 hours after arrival in Malaysia. They still must undergo a five-day quarantine.
Recently commenting on the country's reopening, Minister of Tourism Nancy Shukri said, "It is indeed a huge relief for the tourism industry as we welcome more international tourists, newcomers and regulars alike, to further boost our economy. Therefore, we hope for a strong rebound in our market as the border reopening will open doors for the tourism revival to bolster recovery. We are targeting to attract 2 million international tourist arrivals this year with more than RM8.6 billion (US$1.96 billion) in tourism receipts."
The opportunity to visit the country is there again. Especially following the signature of a Memorandum of Collaboration between Tourism Malaysia and Emirates Airlines.
Emirates to help Malaysia bringing back tourists from Europe, America, Africa and the Middle-East
As new strategic partners to boost the tourism recovery, Tourism Malaysia will work together with Emirates to increase air connectivity through a number of flights and flight capacity to Malaysia, from major destinations beyond Dubai and across the globe.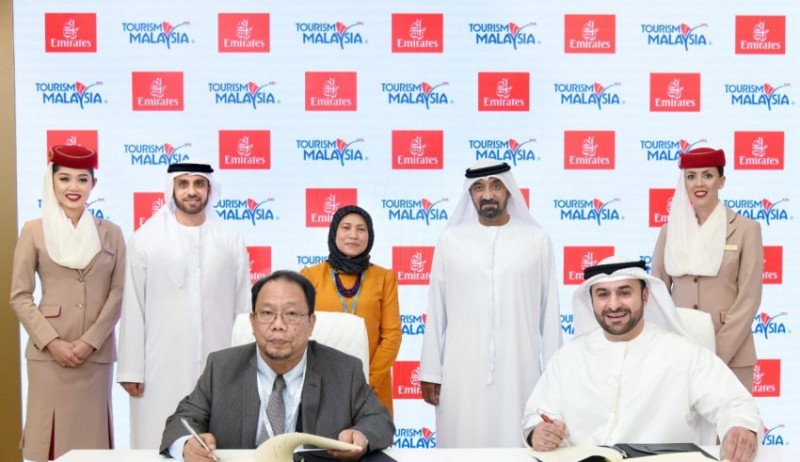 Monitoring the MOC signature, Nancy Shukri, Minister of Tourism, Arts and Culture highlighted: "This collaboration will give a further boost to the tourism industry. We hope Emirates will continue to work together with Tourism Malaysia to promote Malaysia as a unique travel destination. This collaboration also aims to attract potential tourists from markets such as the Middle-East but also Europe, America, and Africa via Emirates' network and services".
This collaboration will explore mutually beneficial initiatives that will drive inbound tourism to Malaysia, and also offers Emirates more opportunities to serve the market. More joint activities are mapped out to drive the tourism recovery through familiarisation trips, workshops, seminars, digital campaigns, in-flight marketing campaigns, and other marketing programmes.
Emirates is expected to expand its wings to other cities in Malaysia as well as promote some of the country's latest attractions and destinations for shopping, family fun, eco-adventure, honeymoon, and luxury holidays.