Latvia offers a royal life style in its castles and manors
Besides its preserved nature and its welcoming people, Latvia is also a land of magnificent castles and splendid manors, with over 100 having been preserved across the country. These outstanding landmarks offer numerous activities, and many of them also propose accommodation. For those dreaming to sleep like a royalty, Latvia is thus the perfect destination.
Latvia is a great destination for exploring castles and manors that have been constructed over centuries, offering an incredible diversity of styles, from a wooden medieval fortress to Art Nouveau and neo-gothic manors, without forgetting renaissance and baroque castles. Latvia is indeed a kaleidoscope of European architecture, and castles reflect this eclecticism.
Castles are everywhere across the country and they are perfect places for a royal-like holiday. In Latvia it is indeed possible to spend the night in a variety of castles and manors. Several of them offer not only accommodation but also active recreation, recharging energy in a spa or delicious meals in specially created restaurants and pubs.
Each of the castles and manors in Latvia has its own history and story. Here we have selected just a few for you.
Arendole Manor is one of the most architecturally interesting structures in Latgale and stands out for its luxury and originality. Located along the Dubna river and surrounded by a splendid park, Arendole Manor has barely changed over the centuries, showing its well-preserved architecture with no alteration. It offers accommodation in "gentlemen's rooms", a historic setting and the tranquility of the countryside.
Around Kuldīga, a great place to spend the night is Virka Manor. The mansion was constructed as a summer manor in wood, copying the styles of Swiss houses. The manor combine antiques with modern furnishings to ensure that guests can enjoy an unforgettable and comfortable stay in one of the 22 design rooms available. Since 2014, the manor has been granted the status of an architectural monument of local significance. Virka Manor is a perfect escape from Riga, only 155 km away.
Heading into nature, walking in flowering meadows, lying in piles of fragrant hay – for many, this brings back fond childhood memories. Milk Manor Berghof invites its guests to enjoy these sensations. Why associate the manor with milk? Because milk is the symbol of strength, health and prosperity, according to the owners. Milk Manor Berghof provides not only superb accommodation but also engage its visitors in a wide range of leisure activities. After a walk in the surrounding nature and a visit to the dairy museum, it is possible to play tennis or visit the manor's spa complex for a massage or a bath. Milk Manor Berghof is not just a place to spend the night – it is a place to visit, to stay, and to enjoy time.
Staying at Liepupe Manor will be a special event for all those architecture fans out there. The manor house was built in 1751 and is one of the best-preserved baroque castles in Vidzeme. Liepupe Manor is however much more than an architectural jewel. Leisurely walks in the Manor park, reading a book in the hammock, painting or riding on a made in Latvia "Ērenpreiss" bicycle, enjoying a meal at the restaurant or relax at the spa.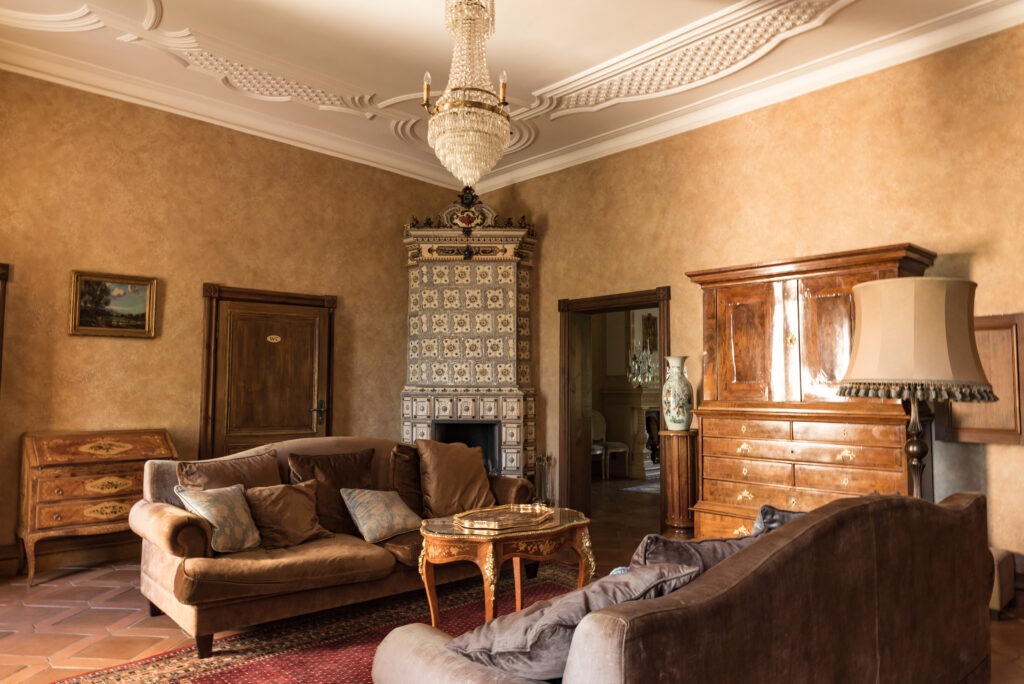 Dikļi Castle is an impressive building rich of a history dating back to the 15th century. The current structure was constructed in 1896 in an expressive neo-baroque style. The castle is today managed by collector Egons Mednis, who invites every visitor to enjoy the collections of paintings, fireplaces and furniture located in the castle premises. Guests can spent their nights in royal suites and dine at the castle's award-winning restaurant, where modern interpretations of Vidzeme countryside culinary specialties are served – pumpkins and apples from the neighbourhood, rabbits and meadow lambs bred by caring owners, fish caught right in the castle pond or in the nearby lake. Dikli Castle nature Spa complex offers massages, saunas and a swimming pool.
For the ones looking to be charmed by a sense of creativity, Abgunste Manor is the ideal place to relax and stay in Latvia. The building is a treasure of creativity and arts with its painting and antique furniture. The manor offers several apartments for overnight stays.
One of Latvia's most luxurious castles is Jaunmoku Castle. The architecture of the castle is a true masterpiece combining neo-Gothic and Art Nouveau styles. The building, which was constructed in 1901, served as the hunting lodge for George Armitstead, the then-mayor of Riga. At present, the castle welcomes guests in its luxurious rooms, also offering possibilities to relax and find back energy. Jaunmoku Castle proposes also to its visitors educational activities and excursions in the castle museum and park, as well as gastronomy experiences n the restaurant.
Not far from Jaunmoku Castle is the magical place of Šlokenbeka Manor, built in 1484. The structure is one of the few examples of a fortified medieval manor in the Baltic States and the only one that has survived to this day in Latvia. The manor is open for visit, for a culinary experience and local fruit and flower wines tasting as well as to spend a couple of night in one of the castle's 15 rooms. Unlike other more luxurious castles, in Šlokenbeka Manor guests will feel the strong history of the building itself, as the property is ranked as an economy class hotel.
For those looking for silence, peace and harmony, Gārsene Castle is a must-visit. Constructed in a neo-Gothic style by Baron von Budberg from 1856 to 1860, it echoes German opulent villas. Gārsene Castle charges reasonable prices, providing an opportunity to spend the night in a castle, even for travellers on a budget. It is possible to learn about the history of the castle itself on guided tours, as well as to go for walks along the nature trails that wind through the picturesque ancient valley of the River Dienvidsusēja.
Mālpils Manor hosts a luxury design hotel and offers one of the best restaurants in Latvia. The range of activities in the manor is adapted for families with children, couples looking for a romantic break from everyday life and anyone looking for some peace and quiet. Staying at the manor can be combined with walks in the park, a bike ride, massage, excursion or a boat ride in the manor pond.
Blankenfelde Manor is located on Zemgale Plain, the right place to enjoy the peace and charm of the countryside. The manor is a cultural monument of national significance with many centuries of history. The renovated manor park includes a modern children's playground, and its hotel rooms are located in the former stables.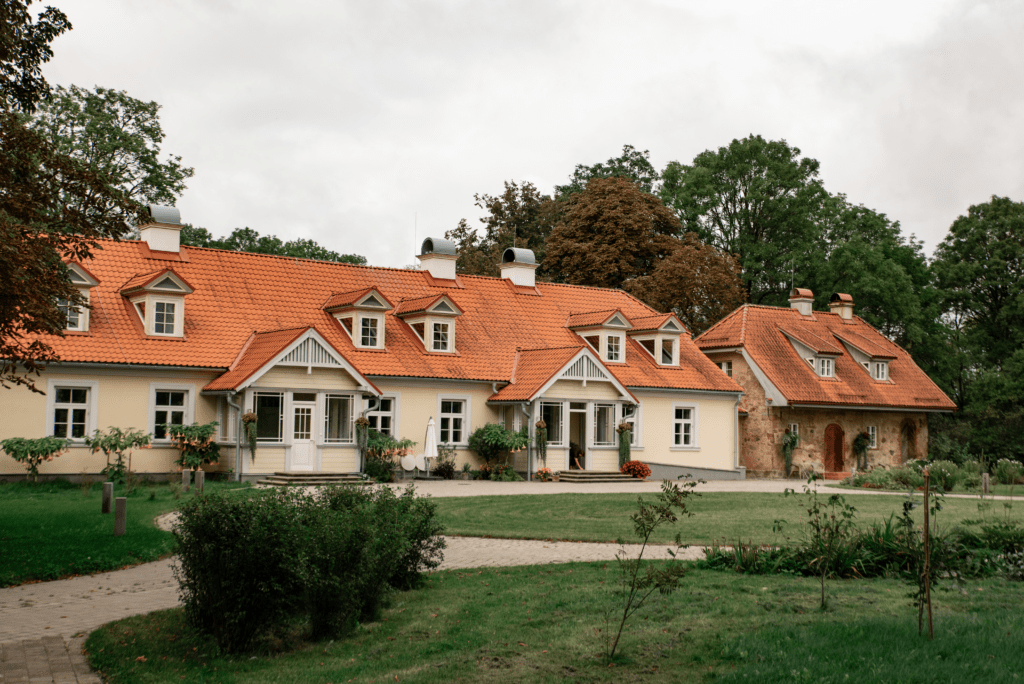 Berķene Manor is one of the oldest small manor houses in Zemgale, situated in a picturesque location near Tērvete. Berķene Manor offers a harmonious stay for guests: accommodation in the restored manor house or in the newly built residential house, as well as various possibilities for active leisure time and rooms for larger parties and seminars.
Skrunda Manor is located on banks of the Venta River, near to Rīga-Liepāja highway. The castle and its annex integrate a hotel with well-equipped rooms, a restaurant serving Latvia locally grown products as well as spa facilities. Banquet halls and conference rooms are also available for various events and celebrations. The manor is surrounded by a scenic park.