Key insights into the global luxury travel market 2023
The global luxury travel market is set to experience significant growth in the coming years, fuelled by the uptake adoption of digital media
A new study provides an in-depth analysis of this market, offering valuable insights into its size and compound annual growth rate (CAGR) for the forecast period of 2023 to 2030, with 2022 as the base year.
Luxury travel encompasses a combination of desirable destinations, luxurious accommodations, convenient transportation, and an overall regal experience. It can be further categorised into adventure and safari, cruise, rail journeys, culinary travel and shopping, customised and private vacations, as well as celebration-based travel.
The report highlights the dominant position held by the baby boomer segment in the luxury travel market in 2022, followed by millennials and generation X. This can be attributed to the increasing disposable income within these age groups. With a growing number of individuals in the workforce, these generations have a continuous source of income, enabling them to indulge in luxury travel experiences.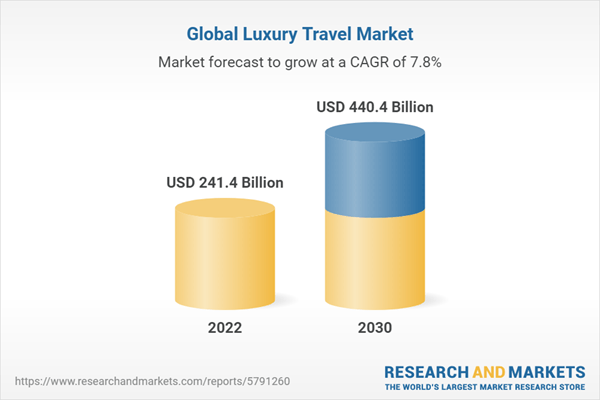 One of the key drivers of growth in the luxury travel industry is the increasing adoption of digital media. The use of online applications and websites has simplified the booking process, allowing travellers to confirm their reservations conveniently. Payments can be made through various online modes such as credit cards, debit cards, or digital payment platforms. Additionally, social media platforms play a crucial role in keeping both travellers and vendors updated on the latest trends and offerings in luxury travel. The widespread use of internet-enabled devices like smartphones, laptops, and tablets has further contributed to the accessibility of information and services in the industry.
The report provides an overview of several key players in the global luxury travel market, including Abercrombie & Kent USA, Absolute Travel, Inspiring Travel Company, TCS World Travel, and more. It outlines their company profiles, financial performance, product portfolio, geographical presence, distribution strategies, key developments, and future plans.
Furthermore, the report highlights the potential revenue opportunities across different segments and offers an attractive investment proposition matrix for the luxury travel market. It also addresses market drivers, restraints, opportunities, new product launches or approvals, regional outlook, and competitive strategies adopted by key players.
Stakeholders in the luxury travel market, including investors, suppliers, manufacturers, distributors, new entrants, and financial analysts, can benefit from the insights provided in this report. The various strategy matrices utilised in analysing the global luxury travel market offer ease in decision-making processes.
With a forecasted market value of €409,13billion by 2030 and a compound annual growth rate of 7.8%, the global luxury travel market presents promising opportunities for growth and investment. The report covers both domestic and international luxury travel, catering to a wide range of travel preferences and destinations.
In conclusion, the global luxury travel market is poised for substantial growth in the coming years. The increasing adoption of digital media has revolutionised the industry, making it easier for travellers to access information, book accommodations, and make payments. With a focus on delivering exceptional experiences, luxury travel continues to captivate discerning travellers worldwide.
Read also : 2023 Luxury travel – A comeback for the US and Maldives as an all-year destination