ISRAEL REACHES OUT TO THE WORLD
The recent signing of a tourism agreement with Greece is the latest in a list of actions being taken by Israel to reach out to the world, following a thawing of relations with a number of middle-eastern neighbours.
In Jerusalem on Monday 8 February, Tourism Ministers from Israel and Greece signed a bilateral agreement on tourism cooperation providing hope to an industry which has come to a standstill because of the COVID crisis.
Israeli Minister Orit Farkash-Hacohen told Greek Minister Harry Theoharis that she looked forward to welcoming Greek and other visitors to Israel, as it continues to vaccinate its population and position itself as a healthy post-COVID destination.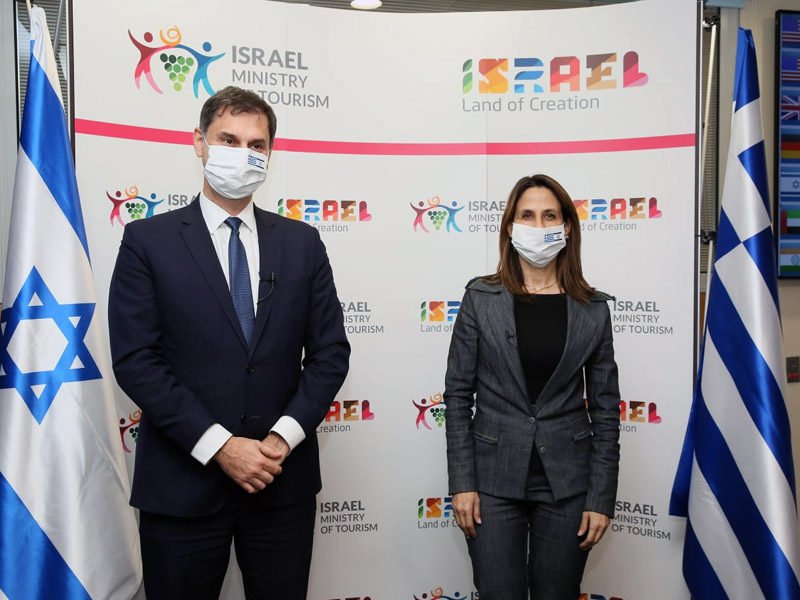 Following a working meeting between the ministers, they signed an agreement to strengthen the cooperation in the fields of research and training in the field of tourism, as well as to promote joined packages and initiatives between the tourism industries in both countries.
"Signing an agreement on international tourism when the skies are closed and vacations seem far away is a beacon of hope: it is a reminder to those working in the entire industry that we are working to make sure they reopen as soon as possible," Farkash-Hacohen said. "Like always, tourism is a two-way street. Any, and all agreement must be mutual, allowing the citizens of both countries the same positive experiences trips and vacations can provide."
Israel's Minister called on tourists to visit Israel. "I want to take this opportunity to encourage Greek people, and everyone else: make Israel your post-COVID destination. Israel has something for everyone: the Snow capped Hermon and Negev Desert; Modern Tel Aviv and Ancient Jerusalem; Family vacations, backpacking trips and religious experiences – we have them all."
"Israel is leading the world in the efforts to vaccinate its population against the pandemic. This means Israel will also be a safe and healthy destination," Farkash-Hacohen concluded. "After a year of limited travel and a lot of stress, a vacation is in order – and I am certain Israel can provide you with the perfect experience."
Greek Minister Theoharis stated: "It is of great satisfaction that we concluded the Agreement on Cooperation in the Field of Tourism between Greece and Israel. This Agreement is part of the strategic plan of the Greek Government and aims to enhance significant partnerships with countries of the wider Mediterranean region. Apart from the ties of friendship, Greece shares with Israel the same belief, that tourism is a central lever for development, in a modern, sustainable, and profitable orientation. Let's also not forget that for our country, the tourism market of Israel is particularly important. In 2019, we hosted around 715,000 Israeli visitors. This number has ranked Israel as the 9th country in terms of tourist arrivals for Greece".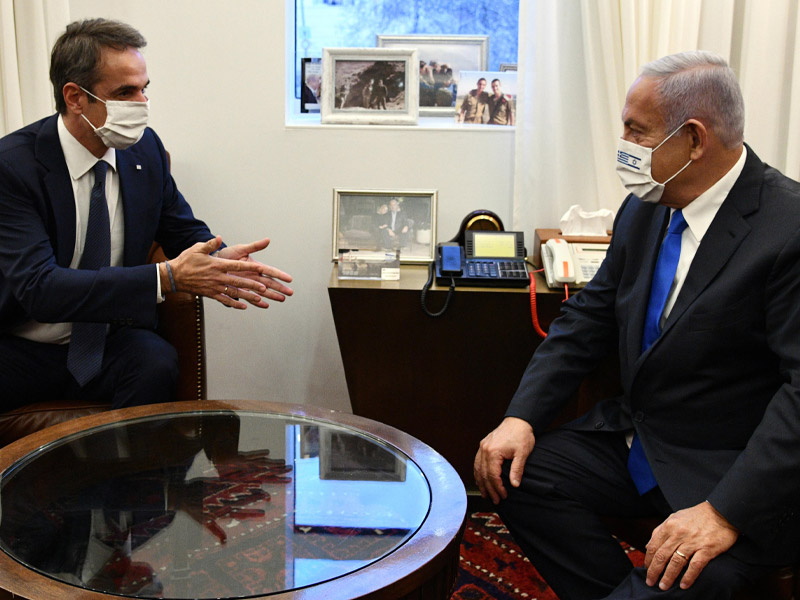 At the same time, a meeting was held between Israeli Prime Minister Benjamin Netanyahu with Greek Prime Minister Kyriakos Mitsotakis at the Prime Minister's Office in Jerusalem.
"We've just discussed a green passport arrangement where Israelis, when we lift the restraints on flights, would be able to go to Greece without any limitations. No self-isolation. Nothing. And I think this is good news for all of us. Our cooperation is good for our countries. It's good for the entire region," stated Netanyahu, adding, "We have a common past. We are very proud of our past and eager to seize the future together. We're two democracies at the edge of the Mediterranean. We have Athens and Jerusalem, as I never tire of saying, are the ones who laid the foundations for our modern Western civilisation and we share common aspirations for stability, prosperity and security."
Earlier this month, Israel and Kosovo established diplomatic relations. On Monday 1 February, in a historic virtual ceremony, Israel's Minister of Foreign Affairs Gabi Ashkenazi and Kosovo Minister of Foreign Affairs Meliza Haradinaj signed an agreement establishing diplomatic relations between the two nations. At the end of the ceremony, FM Ashkenazi unveiled the plaque that will be placed at the entrance to the Kosovo embassy that will be established in Jerusalem.
The thawing of relations between Israel and a number of nations that had previously refused to recognise its existence was spawned with the Abraham Accords Peace Agreement sponsored by the US and signed between Israel and the United Arab Emirates in August 2020. Bahrain and Morocco were quick to follow suit.
While Israel's Prime Minister Netanyahu has recently postponed a visit to Abu Dhabi and Bahrain, due to Covid-19 restrictions, Abu Dhabi last month saw the opening of a temporary Israeli Embassy. The embassy officially opened on 24 January with the arrival of the Head of Mission, Eitan Na'eh. The Israeli embassy in the United Arab Emirates will promote the full range of relations between the two countries in all areas, and expand ties with the Emirati government, economic bodies and the private sector, academic institutions, the media, and more. Until a permanent location is found, the embassy will operate from temporary offices.
"I would like to thank the heir to the throne, His Highness Sheikh Mohammed bin Zayed, and my colleague and friend, Foreign Minister Sheikh Abdullah bin Zayed, for their leadership and hospitality towards our representatives", said Israeli Minister of Foreign Affairs Gabi Ashkenazi, adding, "This is an important decision that will facilitate the promotion of the warm ties between our countries and peoples. We look forward to receiving representatives of the UAE soon".
The Israeli Liaison Office in Rabat and Consulate General of Israel in Dubai are expected to open in the coming days. This is in addition to the Israeli embassy in Manama, Bahrain, which has already been active for several weeks.