Hyatt's newest addition to its UK portfolio strengthens its presence in London
Hyatt's expanding brand portfolio strengthens its presence
Hyatt Hotels Corporation announced the opening of Hyatt Regency London Blackfriars, a notable milestone in the brand's growth strategy in the UK capital. With 204 rooms, this 14th Hyatt property in the country underscores the United Kingdom's significance as a priority market within Hyatt's evolving brand collection. Over the past five years, Hyatt has expanded its UK presence from five to 13 properties, with six of them situated in London.
Located in a grade II listed building on the former grounds of King Henry VIII's Bridewell Palace, Hyatt Regency London Blackfriars occupies a prime position in London's bustling business and leisure district. Guests will enjoy easy access to a wealth of attractions, including St Paul's Cathedral, Tate Modern, and Shakespeare's Globe, all within walking distance. Blackfriars Underground and railway stations are conveniently located just a few minutes away.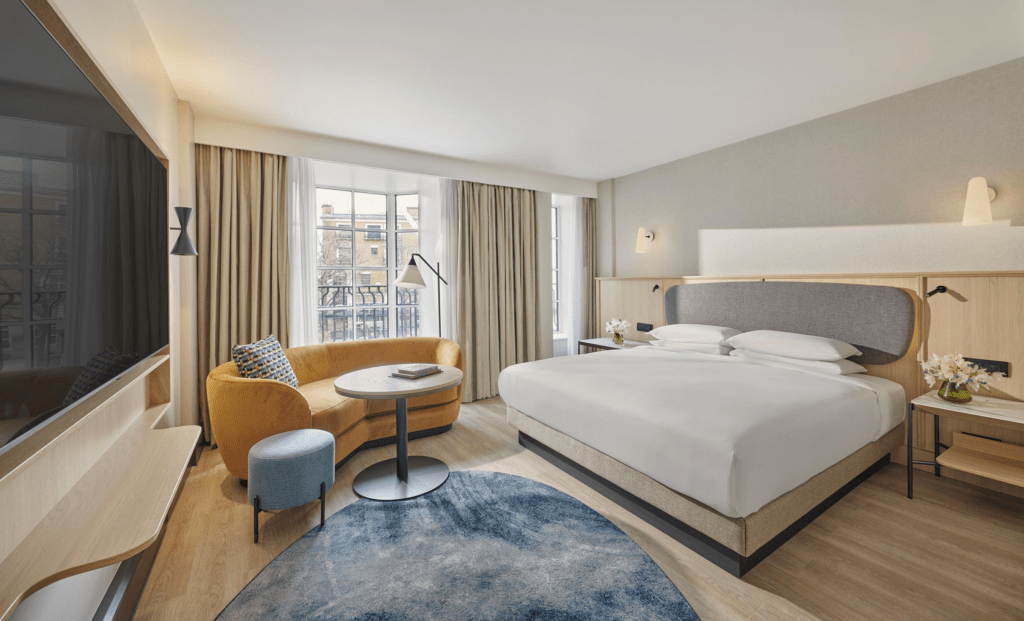 Designed with the Hyatt Regency ethos in mind, the hotel offers a harmonious blend of productivity and relaxation. The thoughtfully furnished guestrooms and suites feature contemporary touches, premium amenities, and dedicated workspaces. Food enthusiasts can look forward to three distinctive culinary venues that aim to become sought-after local dining destinations. The hotel's versatile event spaces cater to a wide range of gatherings, while a 24-hour state-of-the-art fitness center ensures guests can maintain their well-being.
Laurent Schauder, general manager of Hyatt Regency London Blackfriars, expressed his enthusiasm, saying, "We are delighted to welcome guests to Hyatt Regency London Blackfriars, perfectly positioned alongside iconic landmarks, businesses, and cultural attractions. With our warm hospitality, innovative dining options, and prime location, we aspire to offer an exceptional experience in the heart of the city."
The hotel's interiors, meticulously crafted by THDP Ltd, pay tribute to its historical significance and local heritage. Marble ceramics and gold finishes evoke the grandeur of King Henry VIII's royal palaces, while bespoke artwork inspired by the printing and publishing legacy of Fleet Street adds a touch of craftsmanship.
Boasting 204 guestrooms and suites, Hyatt Regency London Blackfriars provides captivating views of the surrounding listed buildings that once housed prestigious printing presses. Ranging across 10 different categories, the modern guestrooms offer spacious comfort, complemented by ergonomic work areas, invigorating rainfall showers, and tasteful aesthetics.
Hyatt Regency London Blackfriars offers three innovative culinary experiences. The Chinese Cricket Club offers a contemporary interpretation of Chinese classics, honoring the story of a Shanghai XI cricket team captain and his wife, who opened London's first traditional Chinese restaurant. NYnLON, a neighborhood-style bistro, celebrates the essence of New York and London through an all-day menu featuring local and sustainable dining. The Leaf and Cane, an inviting 1920s-inspired hideaway, immerses guests in Latin American flavors with street food delights, crafted cocktails, and premium rums.
With a focus on seamless events, Hyatt Regency London Blackfriars presents multifunctional event spaces spanning 4,628 square feet (430 square meters). The venue includes medium-sized rooms tailored for productivity and intimate gatherings, while the main function room can accommodate around 150 people, making it an ideal choice for conferences and large-scale events. Equipped with advanced technology, excellent transportation connections, and a sophisticated city location, the hotel offers an ideal setting for successful business gatherings.