FINALLY! BERLIN BRANDENBURG T1 OPENS
From this evening, Terminal 1 of Berlin Brandenburg Airport will open, with the arrival of the first scheduled flights.
In one week's time, on 7 November, regular flight operations at Berlin Tegel will cease. In between the commissioning of Terminal 1 and the closing of Tegel, the airlines will relocate to Berlin Brandenburg Airport in three stages; either into Terminal 1 or Terminal 5.
Moreover, airlines currently located in T5 (formerly SXF) will move over into T1. Travellers are advised to find out well before their flight from which airport and terminal they should depart and where they will arrive. This information can be found directly from the airline or via the BER website.
9,900 extras test-out BER airport ready for commissioning
After about 47 days of testing, trial operation at BER ended on October 15. Since January, employees of FBB and the process partners were prepared for the commissioning at the end of October. During the trial operation, more than 24,000 employees and 9,897 extras got to know the BER.
Opening of Willy Brandt Memorial Wall
The new airport in the German capital region is named after Willy Brandt, regarded as one of the most outstanding statesmen of the 20th century. Prior to the start of operations, the memorial wall honouring Willy Brandt was officially unveiled in Terminal 1 yesterday.
The memorial wall shows a portrait of Willy Brandt next to his famous words: "If I were asked to say what, apart from peace, was most important to me, then my answer would be: freedom."
Visitors at the airport can also learn more about Willy Brandt's life thanks to an online biography accessible via QR codes. The memorial wall is located in the public area of Terminal 1 on the E0 arrivals level, next to the main staircase leading to the check-in hall. The Willy Brandt wall was unveiled by the airport's management together with the former President of the German Bundestag Dr. h.c. Wolfgang Thierse, Chairman of the Board of Trustees of the Federal Chancellor Willy Brandt Foundation, the Governing Mayor of Berlin, Michael Müller, and Katrin Lange, Minister of Finance and European Affairs of the State of Brandenburg.
Engelbert Lütke Daldrup, CEO, Flughafen Berlin Brandenburg GmbH, said, "Berlin's three airports in Tempelhof, Tegel, and Gatow have stood for the freedom of West Berlin since the Airlift. But Schönefeld Airport was also the gateway to the world for the GDR, despite travel restrictions. The blockade of West Berlin in 1948 left its mark on Willy Brandt and later determined his actions as Governing Mayor of the city. Freedom, as defined by Willy Brandt, also includes freedom of movement and the ability to travel without restrictions. Naming the new airport after Willy Brandt is the ideal choice. Berlin and Brandenburg, and Germany as a whole, can be proud of this."
TIMELINE…
25 October: Schönefeld became BER Terminal 5
The renaming of Schönefeld Airport marked the start of BER's commissioning. From 25 October, with the change to the winter flight schedule, it became BER Terminal 5.
26 October: Start of the S-Bahn route to BER Terminal 1
Terminal 1 has its own underground station. The first S-Bahns (city trains) have been stopping at the station "Flughafen BER – Terminal 1-2" since 26 October 2020.
31 October: Opening of BER Terminal 1 with the first arrivals
This afternoon, at Terminal 1 of Berlin Brandenburg Airport, special flights from easyJet and Lufthansa are set to land parallel to one another. In the evening, regular flight operations will commence and the evening easyJet arrivals will no longer land at Tegel, but rather at Berlin Brandenburg Airport. From there, Terminal 1 will be set in operation and it will open at 8 pm according to the flight schedule. The observation deck will not yet be accessible.
From today, BER will be easily accessible via public transport, including via long-distance and regional trains, S-Bahn connections, as well as coach and bus routes. With the connection of T1, long-distance and regional trains will no longer stop at Terminal 5, the former Schönefeld Airport. Even occasional bus routes from the surrounding area will only travel to Terminal 1, and not Terminal 5. The S-Bahn lines will stop at BER Terminal 5 Station. Those travelling to BER via public transport can find current information regarding departures and arrivals at the website orientation.berlin-airport.de or from the VBB.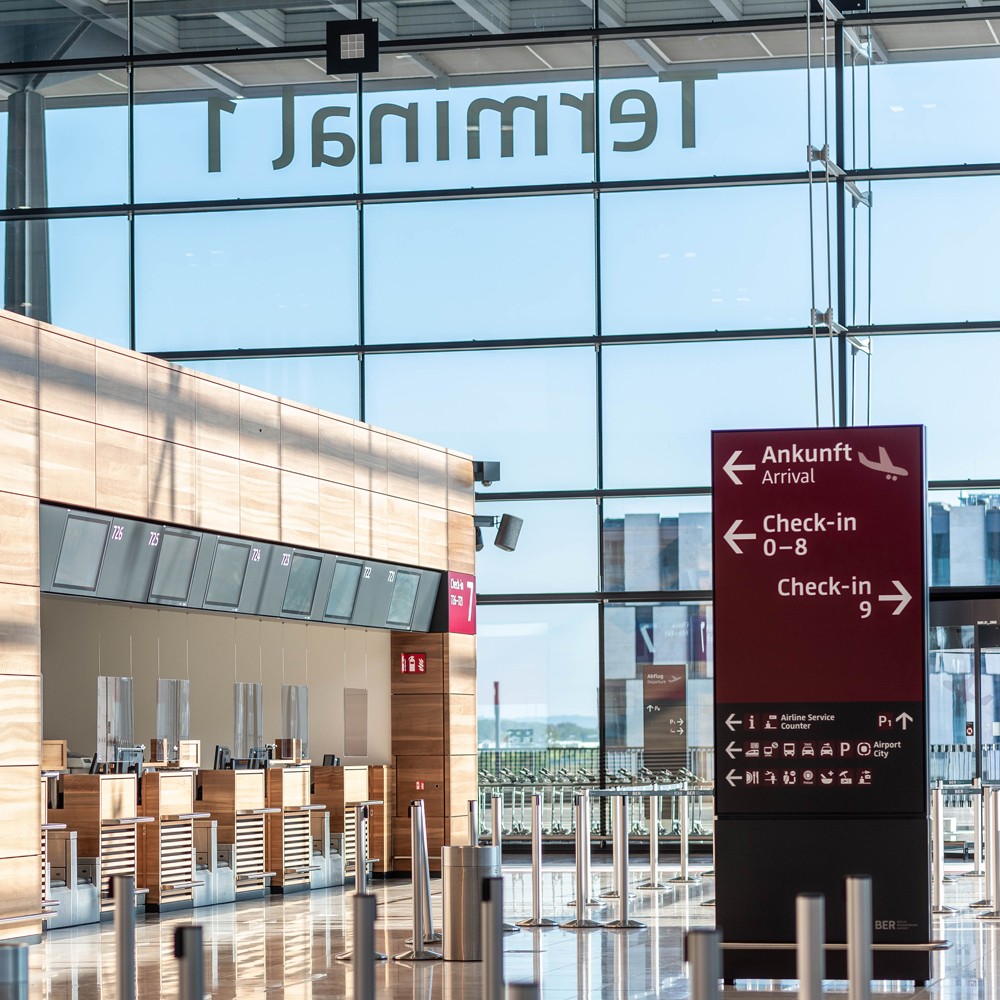 1 November: First departures from Terminal 1
On 1 November, easyJet will be the first airline to depart from Terminal 1. Additionally, flights from Qatar Airways and Turkish Airlines will no longer depart from Tegel, but BER.
4 November: Second wave of airline relocation
From 4 November, Eurowings and Vueling will cease to depart from Tegel, and instead do so from BER Terminal 1. On the evening before, the first flights from Eurowings shall land at BER T1. Furthermore, Ryanair, SunExpress and Sundair shall relocate from Tegel to Terminal 5, whilst Belavia, Georgian Airways, Egyptair and Norwegian shall move from Terminal 5 to Terminal 1.
7 – 8 November: Third and final wave, closing Tegel
Tegel's last commercial flights shall take place on 7 November. The first flights from Lufthansa will land at BER T1 that same evening. With the third and final relocation wave, the following airlines shall also begin operating at BER Terminal 1: Aegean Airlines, Aer Lingus, airBaltic, Air France, Air Malta, Air Serbia, Austrian Airlines, British Airways, Brussels Airlines, Danish Air Transport, Finnair, Iberia Express, KLM Royal Dutch Airlines, LOT Polish Airlines, Lufthansa, Luxair, SAS, Swiss, TAP Portugal.
Air France bids adieu to Tegel as last airline: Farewell flight to Paris-Charles de Gaulle on 8 November 2020
Air France was the first civil airline to land at Berlin-Tegel Airport and it will also be the last to take-off from there.
On 2 January 1960, an Air France aircraft taxied over the airport runway for the first time, which until then had only been used by the military. 60 years later, on 8 November 2020, AF1235 to Paris-Charles de Gaulle will say adieu to Tegel as the last flight.
On 8 November 2020, Air France will take-off twice from the new Berlin Brandenburg Airport (BER) to Paris-Charles de Gaulle. The third Air France flight, AF1235, will be the last airline to leave Berlin-Tegel Airport at 3 pm. An Airbus A320 will be used on the historic route. Air France has come up with a few "surprises" for its passengers both before and during the flight from Tegel to Paris.
Inform in advance
Passengers are urged to inform themselves well in advance from which airport and terminal their flight shall depart between 31 October and 7 November 2020.
Travellers who fly from BER T1 and T5 will always find flight information online three days in advance, can note these flights down and thus always have their flight status in view as long as they are on the website.
Passengers still departing from Tegel can find this info at:
Travellers who have parked their vehicle at Tegel Airport and land again at BER can use the hourly shuttle bus service from BER T1 to TXL (08:00 to midnight), offered from 31 October to 8 November. More information