IHG Hotels & Resorts hand in hand with the Saudi Tourism Authority to speed up tourism growth
A total 37 hotels today, close to 70 units tomorrow
By signing a Memorandum of Understanding (MoU) with Saudi Arabia in early May, IHG Hotels & Resorts are assured to be part of Saudi Arabia tourism development by securing many development projects for new hotels and resorts in the Kingdom…
IHG Hotels & Resorts, one of the world's largest hotel companies with more than 6,000 hotels across 18 brands, has signed a MoU with the Saudi Tourism Authority (STA). Present at the signature ceremony were James Britchford, Vice President Commercial at IHG for India, Middle East and Africa, and Munirah Abanomy, Head of Marketing Partnership for Middle East & Africa at Saudi Tourism Authority.
The MoU provides a framework for both entities to explore methods to increase inbound visitation to Saudi Arabia from key markets across Middle East and Africa region. This includes developing customised promotions, joint marketing campaigns, and promotion through loyalty programs which will showcase Saudi Arabia as one of the world's most exciting destination to an international audience.
Saudi Arabia is turning into a priority development market for IHG Hotels & Resorts, particularly as the Middle-East Kingdom targets 100 million travellers by 2030. The hospitality group aims to support the tourism sector in the country by growing the footprint of its existing brands, as well as introducing new brands from its global portfolio, in addition to running campaigns to promote various destinations within the country. IHG also plans to further support the Kingdom's economic Vision by investing in developing Saudi talent in the Kingdom, with an ambition to hire 6,000 nationals across it's growing portfolio by 2030.
IHG Hotels & Resorts has already a portfolio of 37 hotels across five brands in Saudi Arabia, including InterContinental, Crowne Plaza, Holiday Inn, Staybridge Suites, and voco. To expand its presence in key cities such as Riyadh, Jeddah, Madinah, Makkah, Dammam, Al Khobar and Mega projects, IHG Hotels & Resorts is positioned to add over 10,000 additional rooms to its portfolio in the next two to three years. The number would translate into 31 additional hotels in the development pipeline. This is set to significantly boost the tourism infrastructure in the country and provide a diverse range of accommodation options — across luxury, leisure, religious and business tourism.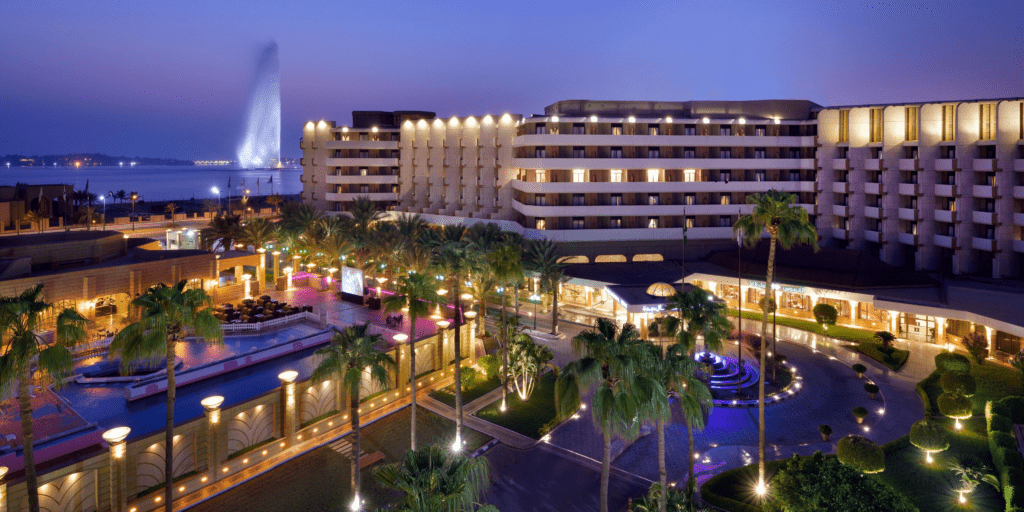 New IHG projects take shape
Among the newest properties recently signed between IHG and Saudi local investors, is the first Kimpton hotel in the region to Riyadh. Due to open in June 2024, the 212-key Kimpton Riyadh will mark the first foray of the luxury brand in the region.
Another agreement will translate into the opening of a Holiday Inn Express also in Riyadh. The new-build hotel, located in the capital's central Olaya district, will comprise of 200 well-appointed rooms designed to meet the needs of value conscious leisure and business travelers when it opens its doors in 2026.
In the same year, IHG will also inaugurate its new voco hotel. The voco Hotel and Suites Riyadh North will be a 246-key, 29-floor hotel situated in a prime location in the centre of Riyadh, approximately 1.5 kilometres from King Abdullah Financial District and just a 30-minute drive from King Khalid International Airport.